"Failure is not an option," said Ed Harris in the movie Apollo 13 when NASA was trying to figure out how to bring the astronauts safely back to earth. That line was also my quote in my high school senior yearbook. (Yes, I was a dork.) And back then, I meant it.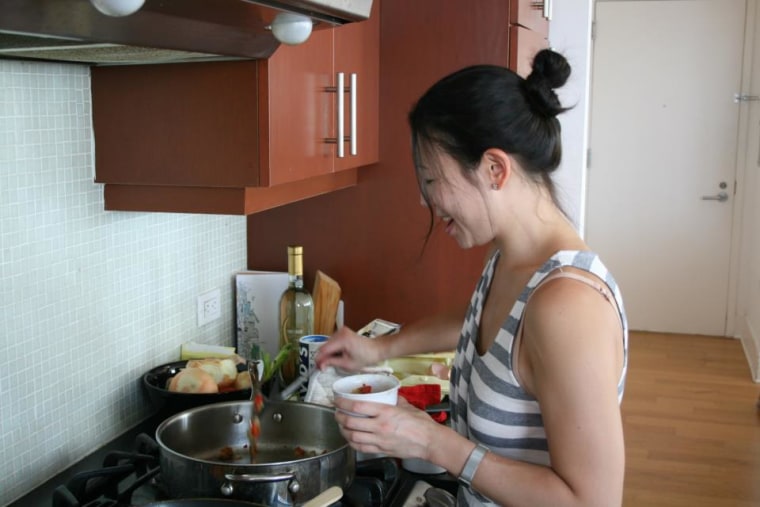 Growing up, I was always striving to be the best, to accomplish things — good grades, varsity tennis player, newspaper editor. When I was in high school I was thought of as "perfect" by my peers. I didn't like answering questions in class unless I was sure that I knew the answer, I worked hard, and I held myself to extremely high standards. After college, I got a job as an editorial assistant at Condé Nast, a major publishing company in New York, and began climbing up the career ladder. Failure was never an option.
RELATED: Tips for using a slow cooker
I had dabbled with cooking in college but it wasn't until I graduated and started living on my own in New York City, and working for a then-unknown website called Epicurious, that I really started experimenting with food. In college I cooked very basic things, maybe pasta with store-bought sauce or a very simple beef stew. But as a budding foodie in the city, playing around with ingredients like artichokes and lemongrass and salmon was pretty exciting. I printed out all kinds of recipes and tested out new cookbooks, trying to hone my skills.
RELATED: 6 myths about cast iron pans busted
In my opinion, there are two kinds of cooks — those who follow recipes to the letter and those who are naturals in the kitchen, comfortable tossing together a few ingredients and somehow coming up with something delicious. I always fell firmly in the former category. I worked my way though recipes, measuring precise amounts of salt, running to the grocery store if I didn't have the necessary fresh lemon juice or dried oregano or capers. My skills improved, but I was always married to a recipe, anxious to follow the directions exactly so that my dish would come out "right."
After a few years in the workforce as a food editor and writer, I decided to go to culinary school, taking classes part-time at New York's Institute of Culinary Education while I continued to work full-time. When I entered culinary school, it was a whole different world from my fancy-pants college. Sure, we had a few on-paper assignments and exams, but the majority of what we were doing was, obviously, hands-on cooking. And hands-on cooking is a very different skill than acing standardized tests or writing persuasive essays. It takes experience, and instinct, and plain common sense.
RELATED: Burned dinner? You can fix it! Here's how...
At first, it was hard to let go. I would get stressed out if my mayonnaise didn't emulsify properly on the first try, or if my medium dice potato came out slightly crooked. My worst day in class was during the baking module, when we were making laminated dough for croissants. Laminated dough involves rolling out dough, folding it over a layer of butter, rolling it out again, folding it over butter, and so on and so on, creating many layers of pastry and butter that then puff up and turn flaky and airy when baked. I couldn't keep my folds even, and my pastry kept skewing out of shape. It was a frustrating experience, one that could only be improved — not by studying or trying harder or paying more attention — but with time and lots of practice.
I may have learned how to chop an onion and make macarons in culinary school, but the biggest thing I learned? Sometimes, you're going to fail. No amount of memorization or studying is going to ensure that your lamb chops cook to a perfect medium-rare every time. Sometimes you'll burn those cookies, or overcook the steak, or try to invent a dish with capers, scallops and grapefruit, only to have it fail miserably. And that's OK. Food is all about trial and error, experimenting with flavors and techniques, and having fun while doing it. It's the only way to learn how to be a better cook. And those croissants I made from my raggedy laminated dough? They may not have been perfect, but they still tasted pretty darn good.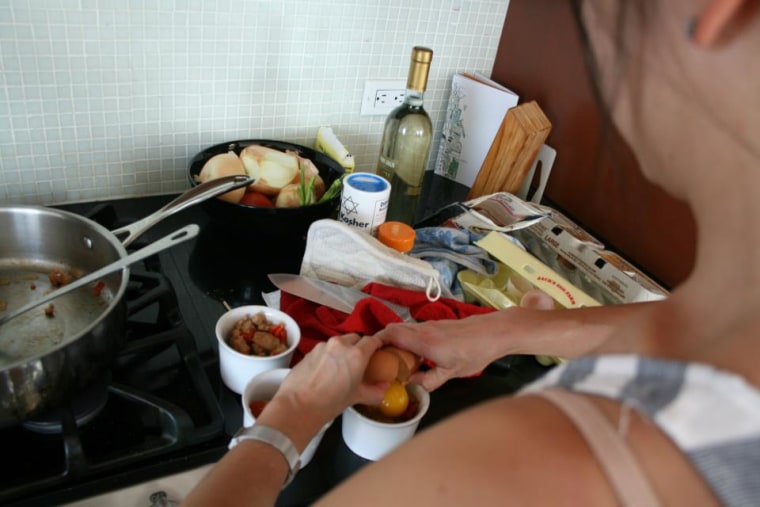 After going to culinary school, I became more confident with cooking. I learned to relax; to try throwing in a little of this, to sub in another ingredient, to use the kitchen timer as an estimate, not an absolute. I now use recipes as a guide, but won't necessarily follow them to the letter. I often don't measure. (I never measure spices, especially never, ever salt; I've found that nearly every recipe underestimates the amount of salt you'll need.)
But it was one class I took, after graduating from culinary school, that really cemented things for me. It was a recipe developing class that lasted just a few hours one evening. The class had a very simple premise — we started with a basic, classic chocolate chip cookie recipe. And then each of us had to change one thing in the recipe. (The exercise was meant to show us how changing one ingredient in a recipe can make such a huge difference.) One person had to swap out the butter with avocados. Someone else had to use honey instead of sugar. I was instructed to use half butter, half almond butter. We all measured, mixed, and baked up our cookies, then tasted each variation. Some turned out fantastic; others were decent, but not great. A couple were total flops. Mine, rather luckily, turned out pretty delicious. But that class taught me a lot. It's OK to mess up. It's OK to try something new and then fail. You can't do everything right on the first try. You make your mistakes, learn from them, and then move on. That's the only way to stretch yourself, make new discoveries, find exciting things.
RELATED: How to fix food that's too salty, spicy, sour or sweet
It's a philosophy you're often told and that you "know" in theory — but it's hard to put into action. So now, in cooking — and in life — I try not to be too hard on myself. Getting it right on the first try, or being perfect, isn't the answer. I've had dinner parties where the fish came out overcooked or the apple crisp got too mushy, and I've learned to just keep pouring the wine, and everyone will have a good time. I've spent endless hours taking Spanish classes, and I still can't conjugate verbs or use the past tense. I ran a 15-kilometer race last year, and I didn't care about my time, or how I measured up to my friends — all that mattered was that I (a novice runner) crossed the finish line.
Failing in cooking — and in life — is inevitable. But failing, and learning from those failures, can only lead to more delicious things.
Maggie Shi is a writer, editor and the author of Slow Cooker Family Favorites: Classic Meals You'll Want to Share.