You know that friend of yours who can whip up dinner for 20 without breaking a sweat? Well, for me, that's Kristin Donnelly, TODAY Food contributor and the author of the new cookbook "Modern Potluck: Beautiful Food to Share." Here, she shares her top tips for throwing a perfect potluck party, plus two fabulous potluck recipes for Peach-Blueberry Slab Pie and Spice-Roasted Carrots with Lentils. Take it away Kristin!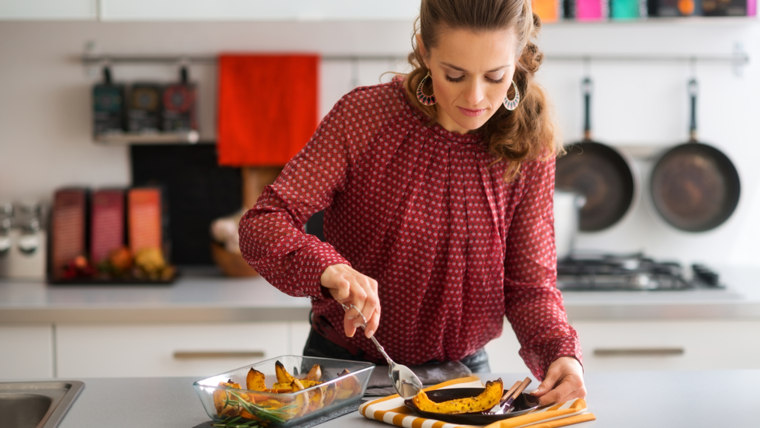 1. Control your inner control freak
Dinner parties are the time you can mastermind every dish and style the look of your table. But when you're hosting a potluck, relax. Sure, you can suggest that someone bring a certain type of dish, but if your friend is dying to bring her famous (infamous?) macaroni salad, just let her bring it (or gently suggest the Spice-Roasted Carrots with Lentils).
To make sure the party doesn't have six platters of deviled eggs (unless you're having a deviled egg potluck, which is a brilliant idea, thanks!), you might want to create a sign-up sheet (setting up a spreadsheet on Google Drive that everyone can access works well). Again, there's no need to be overly controlling—just create a list of categories, such as Dips & Hors d'Oeuvres; Salads and Vegetables; Main Dishes; Desserts; Other, and let your guests fill in from there.
2. Keep your guests in the loop about dietary restrictions
If you know that some people at the party can't eat certain foods, it's nice to tell the other guests so they can consider this as they choose their dishes. Make it clear that their dishes do not need to be gluten-free or vegan (unless it is an absolute must).
3. Pick a theme, or don't
If you host potlucks regularly, choosing a theme can be a fun way of mixing it up. But it's also unnecessary and perhaps even unadvisable for those larger potlucks with lots of unknown guests. If you do want to go the theme route, here are some ideas.
Global street food: You can ask people to bring a dish that is inspired by one they discovered on their travels or from a place they want to go.
Your grandmother's favorite recipe, your way: Ask people to bring the original recipe to display alongside their updates.
Book club: Bring people together around a certain cookbook, or if you're reading fiction, ask guests to make recipes inspired by the book.
Seasonal parties: In the summer, ask people to make dishes that use things from the garden or lots of herbs. In winter, throw a soup party and assign half to bring soups and the other half to bring accompaniments, like bread and desserts.
Wine-pairing potluck: Tell everyone to make a dish and bring a wine that pairs well with it.
Swap parties: In addition to a dish, ask guests to bring gently used clothes, kitchen items, books, or even excess garden produce to swap.
Stand the heat: If your group is a lot of spicy food lovers, have them make dishes that use different kinds of chiles. Then, serve ice cream and sorbet for dessert.
Local pride: Ask your guests to create dishes using one of their favorite local ingredients or food products.
4. Think about the flow and label the food
For a small potluck, putting most of the food on the same table is fine and makes sense. But for a larger one, it's usually easier to divide the food among different tables and different spaces. For example, you could put all the vegetarian food in one place or divide the dishes on tables designated for hot and cold food, or starters and main dishes. If there will be several hot dishes, put down trivets so they have easy spots to land. Have blank tags and pens ready so you or your guests can write down the name of the dish and include any necessary information, like "contains nuts!" or "spicy!" or "gluten-free!" For even more fun, line your tables with butcher paper and encourage people to describe their dishes right alongside, on the paper.
5. Don't forget plates, cups, napkins and utensils
Unless you ask people to bring these things, it's your job to make sure they're on hand. For larger parties, disposable plates and utensils are easiest, and if you're willing to splurge a bit, bamboo or palm leaf plates and wooden utensils are a great choice; they're durable, pretty, and compostable. To help with the flow of traffic, set up a spot for plates and napkins and use trays or jars for holding utensils. High-quality disposable cups are a bit harder to come by. If you have the space and you entertain often, it might be worth investing in a set of wash¬able plastic wineglasses and other types of cups. You can ask people to bring serving utensils—large spoons, pie servers, knives—appropriate for their dishes, but have extras on hand in case they forget. Remember to also have visible receptacles for garbage, and if you want to allow for recycling or composting, label the containers clearly.
6. Make sure your kitchen is as clean as you can manage
People will inevitably want to reheat their dishes or garnish them at the last minute, so try to have clear counters.
7. Stock the bar
Even if you don't have a formal bar, create an area for drinks that includes a large ice chest, cups, and wine and beer openers. Think about how you want to handle water, as well—you can either buy bottled water in bulk or, more sustainable, set out large, refillable containers of water with spigots.
8. If you're hosting or organizing a potluck offsite, find out what's available
Ask about running water, electricity, bathrooms, garbage cans, tables, and seating in advance, so you're not surprised the day of your event. You will likely need to bring coolers for drinks and perishable food, as well as garbage bags.
Reprinted from Modern Potluck: Beautiful Food to Share. Copyright © 2016 by Kristin Donnelly. Photographs copyright © 2016 by Yossy Arefi. Published by Clarkson Potter/Publishers, an imprint of Penguin Random House LLC.