It's that time of the year again, when Olive Garden superfans ready themselves to click away in an effort to get the golden ticket to pasta heaven: the Never Ending Pasta Pass.
Here's the thing: All 21,000 passes sold out in one second this year. Yes, one second. But fear not! TODAY Food has the inside scoop on how you can still get your hands on one — thanks to a never-before-revealed insider secret. Read on for details.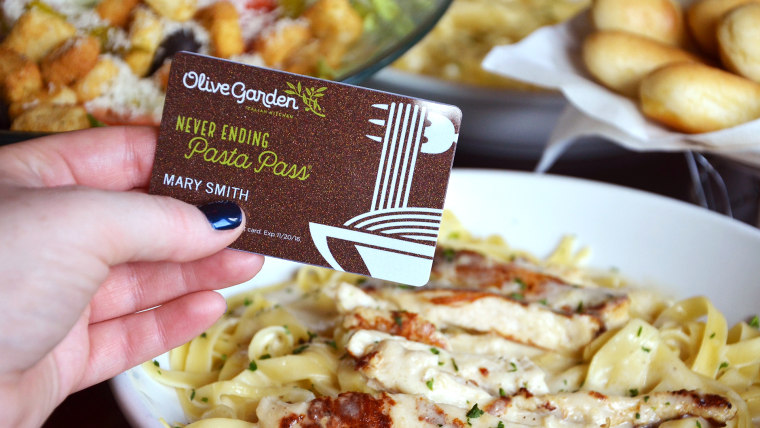 Dining for ~$1.02 a meal
If you're lucky enough to nab one of the passes this year, you're in for seven weeks of unlimited pasta with your choice of sauce and toppings from Oct. 3 to Nov. 20. Each pass costs $100, but if you take full advantage of the promotion by having lunch and dinner at the restaurant daily for those 49 days, it would amount to paying about $1.02 for each meal. And yes, there are people who have done it, like this guy.
RELATED: Man eats 100 Olive Garden meals in 6 weeks with $100 'pasta pass'
The hottest ticket in town
Last year, the pasta giant sold out of its 2,000 passes in under one minute. That's why this year, Olive Garden made 21,000 passes available for purchase online for one hour on Sept. 15 at 2 p.m. Eastern time. They were gone in under a second, literally.
Now, 21 passes will be auctioned on eBay, and the proceeds will go to Feeding America, a hunger relief charity that works with food banks across the country. Once those are snatched up, it would appear that the only remaining option would be to hit the black market; last year, some passes were illegally resold on eBay for up to $400.
RELATED: Make these Olive Garden-style salad and breadsticks at home
How to get a pass — even if it's sold out
If you think you're out of luck, TODAY Food discovered a way to get the Olive Garden Never Ending Pasta Pass into your clutches. It's been a carefully guarded insider OG secret, until now.
Here's the deal: Each manager at every Olive Garden location is given one Never Ending Pasta Pass that he or she is allowed to give away. It's at the manager's discretion to choose the lucky recipient. Before you rush out to buy a dozen roses for your local OG manager (it won't work anyway), here's the criteria they're looking for:
Loyal guests: If the manager knows your name, you're a regular and/or you're super passionate about the restaurant and show it, it could be you. (Editor's note: My friend's mom got her sold-out pass this way in 2015.)
Someone who truly needs help: The restaurant chain partnered with Feeding America this year for the auction, but it is also interested in a grassroots approach.
Mensches: If you've done something very kind for someone in you community, there may be mountainous bowls of pasta in your future.
RELATED: Kind Olive Garden waiter steps in to help baby, leaving new mom in tears
There's no absolute guarantee, but if you play your cards right, the Never Ending Pasta Pass could be yours.
Still can't get your hands on the pass? Make your own Olive Garden-style meal at home with TODAY Food's recipes for spaghetti pie, salad and breadsticks.