I am constantly asked for help by scrambling parents in getting dinners on the table with less time, money and stress. Since most of us do not have the resources to hire a personal chef or chauffeur, here are my top 5 tips for getting dinner on the table each night — even when there doesn't seem to be time:
Plan ahead for a few meals
Many families start thinking about "what should I make for dinner?" at about 5:59pm. That approach increases the likelihood that a) you will start to cook, only to find you are missing one or more key ingredients or b) you will grab takeout or call the pizza guy. Planning ahead, even in the morning, greatly reduces your late day stress; and if you plan a few days in advance your whole week will feel calmer! (After all I created an entire meal planning system in a quest to remove this stress from my daily life!)

Keep recipes simple
Weeknight dinners are generally not a good time to try out a gourmet recipe you spotted on your favorite cooking show or Pinterest. Keep dinners to simple but healthy main dishes with sides of seasonal fruits and vegetables. Most recipes don't need to take more than 30 minutes to prepare (many take less).

Start dinner in the morning (or the night before)
Make sure the kitchen counter is clear and even have the table set in the morning or even the night before. Pull out the recipe and all ingredients and put them on the counter. In all my recipes I mark "do ahead or delegate" steps that help speed things up, like chopping or measuring.

Enlist helpers
Even very young children can help in setting the table, filling water glasses and prepping a meal (for example, those "delegate" items you noted in the last step.)

Sharpen your knives regularly! 
I find that most everyday cooks rarely sharpen their knives. Yet sharpening your knives every week or two is probably the single most important thing that most home cooks can do to make cooking easier and faster. You will be amazed how much more relaxing it will be to make dinner once your tools are in good shape.

To start you off with time-saving inspiration and simplicity, here are some of my favorite 15 minutes (or less) family dinner recipes: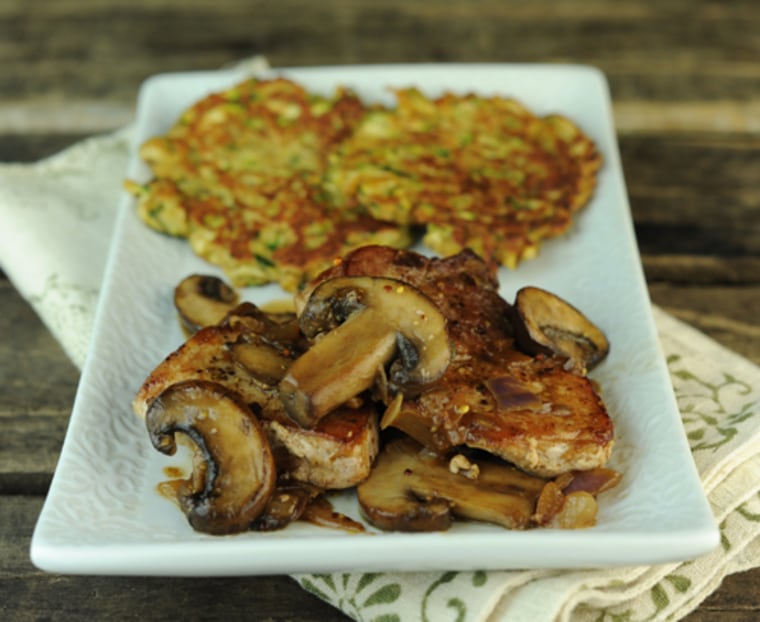 Pork cutlets with mushroom-sherry sauce
Prep and cook: 15 minutes
Serves 4

This simple, elegant meal will make your family feel like they are eating in a fine French restaurant! Serve it with Israeli couscous and steamed peas. 
1 Tbsp. butter or margarine
4 thin pork cutlets, or use turkey cutlets or thin steaks, cut crosswise into 2 pieces
1/2 tsp. salt
1/4 tsp. black pepper
2 shallots, finely chopped
8 oz. sliced mushrooms
1/4 cup sherry
1 tsp. Dijon mustard

1. (*If you are making the side dish of couscous, start it first.) In a large heavy skillet, preferably cast iron, melt 1/2 the butter or margarine over medium-high heat.  
2. Season the pork with salt and pepper to taste, and add it to the skillet. Cook it for 2 – 3 minutes per side until it is lightly browned (don't overcook or it will get rubbery). (Meanwhile, prepare the peas, if you are serving them.) Remove the pork to a plate and set it aside.  
3. Melt the remaining butter in the skillet, and add the shallots. Let them cook for 1 minute until they are fragrant, and then add the mushrooms. Cook them for about 3 minutes until they start to brown and shrink, season them with salt and pepper, then add the sherry and mustard. Continue cooking for 2 – 3 more minutes, and then add the meat and its juices back to the pan. Serve it immediately.
Slow cooker directions: Combine the salt, pepper, sherry and mustard in the slow cooker, and stir until the mustard has (mostly) dissolved. Add shallots and mushrooms, then top with pork cutlets. Cook on low for 8-10 hours or on high for 4-5 hours.
Do ahead or delegate: Cut and refrigerate the pork, chop the shallots.
Tip: Avoid immersing mushrooms in water to clean them. They are like sponges and will absorb water if put in a bowl to soak. Some better alternatives are to clean them with a damp towel or a soft vegetable brush.  
Scramble flavor booster: Use spicy or grainy Dijon mustard in the sauce, and season the cutlets with extra black pepper.  
*Side dish suggestion: Prepare the couscous according to the package directions, using water, broth or bouillon. For a delicious optional preparation of Israeli couscous, heat the olive oil in a medium stockpot. Add the couscous, and toast it in the oil until it is light brown, stirring frequently, 3 - 5 minutes.  

Meanwhile, in the microwave or another small pot, heat 3 parts chicken or vegetable broth and 1 part orange juice (use the total amount of liquid directed on the package). Add the liquid to the pot with the couscous, bring it to a boil, cover and simmer it for the directed amount of time, until all the liquid is absorbed. Remove it from the heat, stir the couscous immediately to loosen the grains, and cover it until you are ready to serve it.

*Side dish suggestion: Heat the peas in the microwave at full power for 2 - 4 minutes, or prepare them on the stovetop according to the package directions, cooking them a little less time than suggested so they don't get mushy.
Nutritional Information per serving (% based upon daily values) (4.5 oz. pork per serving): Calories 310, Total Fat 14g, 22%, Saturated Fat 5g, 25%, Cholesterol 115mg, 38%, Sodium 420mg, 18%, Total Carbohydrate 3g, 1% Dietary Fiber 0g, 0% Sugar 1g, Protein 41g
Pineapple chicken stir fry
Prep and cook: 15 minutes
4 servings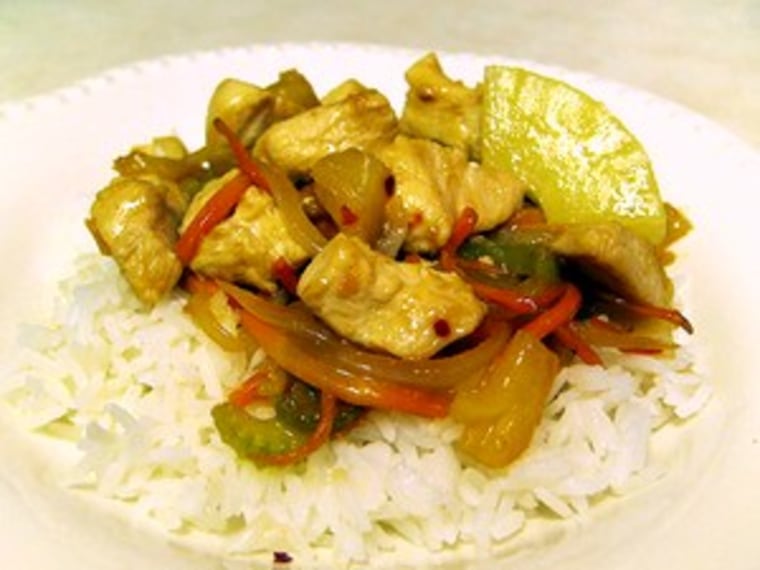 20 oz. canned pineapple slices in 100% juice
3 Tbsp. reduced-sodium soy sauce
1 Tbsp. brown sugar
1/4 – 1/2 tsp. ground ginger
1 Tbsp. cornstarch
1 Tbsp. peanut oil
2 stalks celery, thinly sliced
2 carrots, thinly sliced
1 lb. boneless, skinless chicken breast (or use vegetarian quorn or extra-firm tofu), cut into bite-sized pieces
1/4 yellow or white onion, slivered
1. (*Start the rice and the salad first, if you are serving them.) In a small bowl, combine 3 Tbsp. pineapple juice (from the can of pineapple slices) with the soy sauce, sugar, ginger, and cornstarch. Set it aside. (Reserve remaining juice to drink or make popsicles or smoothies).  
2. In a large nonstick skillet or wok, heat the oil over medium-high heat. Add the celery and carrots and stir-fry for about 3 minutes. Add the chicken, onions, and 2 pineapple rings, cut into small chunks (reserve remaining 8 pineapple slices to serve on the side). Stir-fry it for about 3 more minutes until the chicken is white on the outside and cooked about halfway through. 

3.Add the sauce and stir-fry everything for 1 – 2 more minutes until the chicken is just cooked through.
4. Remove it from the heat and serve it over the rice, or refrigerate it for up to 24 hours.  

Do ahead or delegate: Combine (and refrigerate) the ingredients for the sauce, slice the carrots and celery, dice (and refrigerate) the chicken or the tofu, sliver the onion.
Scramble flavor booster: Add chili garlic sauce or hot pepper flakes to taste with the vegetables. Tip: Check the can's label before purchasing the pineapple for this recipe (or when purchasing any canned fruit). Opt for fruits that are packed in 100% juice, as opposed to syrup, as it will be lower in sugar and calories, but still delicious.
*Side dish suggestion: Cook 1 - 2 cups white or quick-cooking brown rice according to the package directions, using 2 - 4 cups water, or chicken or vegetable broth for the liquid.  
*Side dish suggestion: To make the salad, in a large bowl, combine 6 - 8 cups lettuce, 1 carrot, diced or shredded, 1 cup snow or snap peas, chopped, and 1/4 cup roasted peanuts. Toss it with 2 - 4 Tbsp. vinaigrette or salad dressing of your choice (an Asian vinaigrette or peanut dressing goes well with this combination). 
Nutritional Information per serving (% based upon daily values): Calories 280, Total Fat 5g, 8%, Saturated Fat 1g, 5%, Cholesterol 65mg, 22%, Sodium 570mg, 24%, Total Carbohydrate 29g, 10% Dietary Fiber 3g, 12% Sugar 22g, Protein 27g
Mozzarella, tomato and pesto melts
Prep and cook: 15 minutes
Serves 4

This sandwich has a delicate flavor that is ideal for a light dinner. You can make your own variations by adding sweet peppers, baby spinach, prosciutto, smoked turkey or ham, or using sundried tomato or artichoke pesto instead of basil pesto. Serve it with tropical island smoothies.

1 (2-foot long) soft baguette or 4 (6-inch) French rolls
1/2 lb. fresh mozzarella cheese (often sold in deli section of supermarket or with gourmet cheeses)
1/4 cup refrigerated pesto sauce (store-bought or see recipe below to make fresh pesto), or use sundried tomato or artichoke pesto 
2 tomatoes, thinly sliced
1/2 cup sweet peppers, roasted red peppers, baby spinach, prosciutto, or sliced smoked turkey or ham (optional)

1. Preheat the oven to 400 degrees or preheat the broiler with the oven rack at least 6 inches from the heating element (alternatively, use a panini maker, if you have one).  
2. Carefully cut open the baguette or sandwich rolls, but try to avoid slicing all the way through, so the halves remain attached. On a baking sheet, toast the rolls in the oven for about 5 minutes until lightly toasted.  
3. Meanwhile, thinly slice the mozzarella cheese. Remove the bread from the oven and spread the pesto evenly on the inside bottom half of the baguette or rolls. Top the pesto with the tomatoes (and any optional ingredients) and the cheese. 
4. Put each open sandwich on the baking tray with the fillings facing up, and bake it for 2-3 minutes, until the cheese is melted and the baguette is slightly browned on the edges. (Alternatively, broil the sandwiches for 2-3 minutes). *(Meanwhile, prepare the smoothies if you are serving them.) Cut it into smaller servings and serve it hot. 
Do ahead or delegate: Slice the mozzarella cheese and refrigerate, prepare the pesto if making your own, slice the tomatoes, slice any optional ingredients if necessary.
Tip: To make fresh pesto, in a blender or food processor, combine 2 cups tightly packed fresh basil leaves, 4 cloves chopped or minced garlic (about 2 tsp.), 1/2 cup pine nuts, 1/2 cup olive oil, 1/2 cup grated or shredded Parmesan cheese, 3/4 tsp. salt, and 1/4 tsp. black pepper. Toss extra pesto with noodles or vegetables, use it as a dip with crackers, or freeze it for another time. 
Scramble flavor booster: Season the sandwiches with freshly ground black pepper or crushed red pepper flakes.  
*Side dish suggestion: In a blender, combine the pineapple juice, orange juice, bananas, yogurt and 1 cup of ice. (Makes about 6 one-cup servings.) 

Nutritional Information per serving (% based upon daily values): Calories 330, Total Fat14g, 22%, Saturated Fat 7g, 35%, Cholesterol 35mg, 12%, Sodium 750mg, 31%, Total Carbohydrate 31g, 10%, Fiber 3g, 12%, Sugar 2g, Protein 23g
Aviva Goldfarb is a Family Dinner Expert and founder and CEO of the family dinner planning site, the Six O'Clock Scramble.