Entenmann's Donut Variety Packs are a supermarket staple from coast to coast so it should come as no surprise that a single plant location pumps out anywhere from 10 to 15 million doughnuts a week.
If you're anything like me, choosing just one Entenmann's Donut (notice I said one) from the iconic variety pack is anything but easy.
TODAY Food took on the difficult job of visiting an Entenmann's factory in Carlisle, Pennsylvania to investigate how the variety pack is made from start to finish as part of our series, "The Follow." Immediately after stepping out of the car, I was greeted with the familiar and oh-so-comforting scent of sweet, warm dough in the air. It was heavenly.
So what did we learn after watching dozens of circle-shaped pastries get glazed, frosted and boxed? Each and every Entenmann's Donut is infused with one very special ingredient: love.
"Doughnuts are little moments of joy. It's a bite of happiness. We make billions of those moments. Not everybody can say that," plant manager Jay Schumacher told TODAY Food.
That joy has been a focus of the company since the start.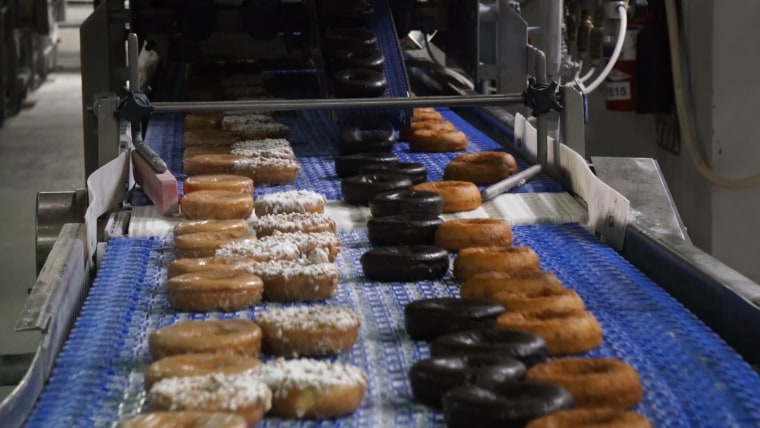 When William Entenmann started the bakery in 1898, it operated out of a single, small storefront where deliveries were completed by horse and carriage. Take that, Seamless!
So, what's the secret to creating the perfect doughnut? According to Schumacher, the rich, chocolate frosting is the most popular option to date.
"It's the great recipes plus the great people," said Schumacher of his factory. "They make them [the doughnuts] with love every day."
And that, we can confirm, is a theory without any holes.