When we think of "Star Wars" and the Force, we think of mind-bending power plays. We don't normally think of cakes.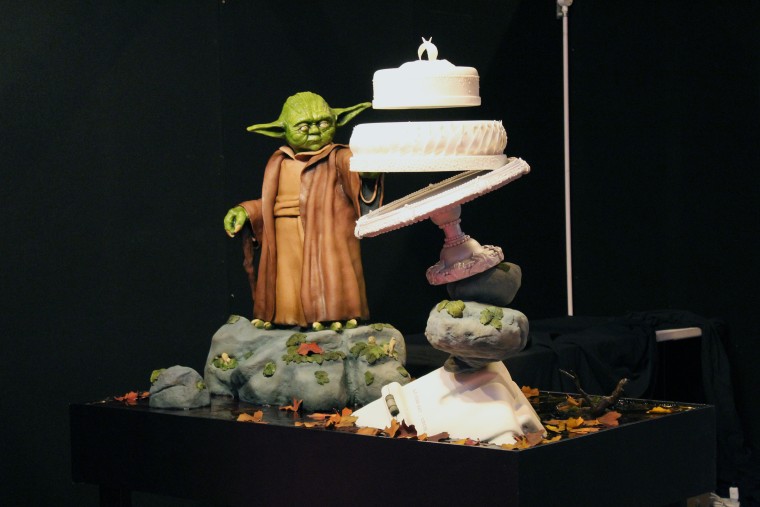 But Christine Jensen, who runs Peboryon bakery (it's a Cornish word for "baker") in Cornwall, U.K., did. Perhaps inspired by Yoda's prowess in lifting Luke's X-wing starfighter from the Dagobah swamp in "The Empire Strikes Back," Jensen (and her husband, who has a background in architecture) thought they could wow everybody at the Cake International Show by getting half of their cake to simply ... levitate.
And oh, boy, did they ever.
"It messes with your head," Jensen told TODAY.com. "I was standing there staring at it for three days [at the show] and we've lived with this cake for months, planning it. Every so often I would turn around and go, oh my goodness, it's so cool."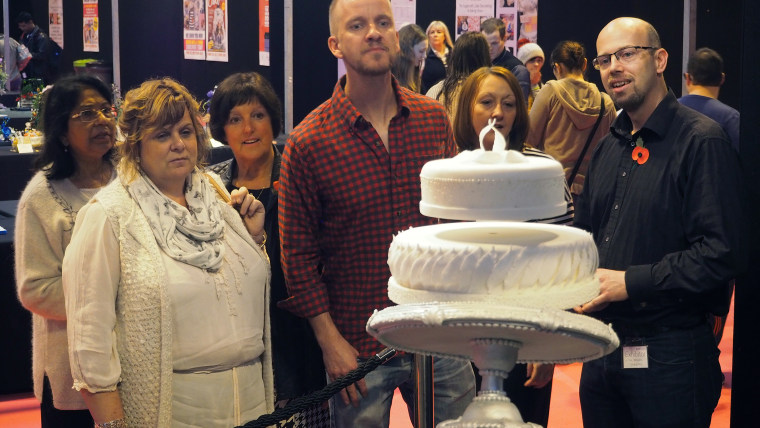 She wasn't alone; pretty much everybody who sees the lemon-and-elderflower cake, which not only hangs suspended in midair above its lower layer but spins, walks away goggle-eyed. "It was totally worthwhile to see people walk up and see their faces," she recalled. "The children would get up on chairs so they could see the gap. We'd explain that Yoda, even though he is small, he's very powerful."
Ah, yes, Yoda: See, not only is there a levitating spinning cake, but there's a delicious Yoda (a fruitcake soaked in brandy) standing nearby. And it's Yoda who is doing the levitating, Jensen insisted.
"All we had to do was find a Jedi master and put him at the other end of the cake board, and with his help we were able to raise the cake," she said. "That and some good self-rising flour."
Ha, ha. But seriously, how does it levitate? Jensen would not give it up. "There's no smoke, there's no mirrors, there's no string," she said. It's not plugged in and there's no mini-drone inside, either, she promised.
So, it's Yoda. And the Force. And with a little luck, Jensen hopes the man behind the latest edition in the "Star Wars" franchise, J.J. Abrams, might take a shine to what she's accomplished.
"Yoda serves 600 people, so if [Abrams] has a party we'll make that happen," she said. "We think of Yoda as a third person in our marriage."
Follow Randee Dawn on Google+ and Twitter.