When it's hot out, who wants to have their oven blasting for an hour or more just to roast vegetables? Using a slow cooker means that the kitchen can stay cool, and you can leave the veggies to cook on their own. Just make sure the vegetables are around the same size to ensure even cooking.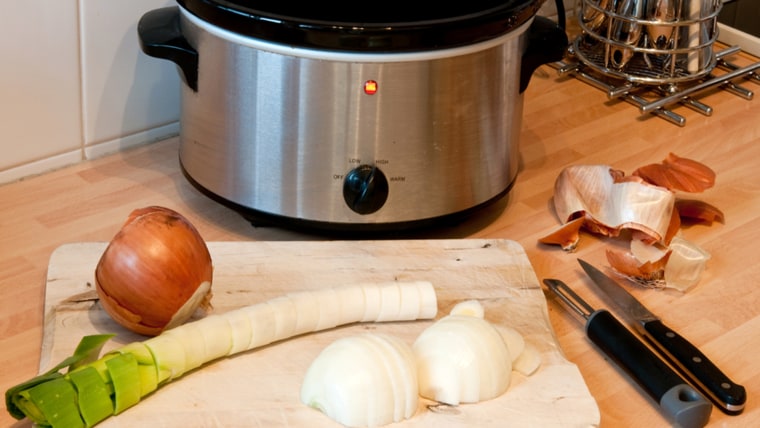 Beets
Wash each beet and remove any greens, using those for a salad or discarding. Wrap each washed beet in foil and drop into the slow cooker. Cook on high for about 4 hours, depending on the beet size and insert a knife into the beet to check for doneness. Carefully remove the skins of each beet and eat a variety of ways: in an arugula salad with goat cheese and walnuts; tossed with chopped fresh mint and quinoa; or packed into a mason jar with vinegar and spices for a few days resulting in a light pickling.
Russet potatoes or sweet potatoes
Wash medium russet potatoes or sweet potatoes, prick a few times with a fork, and then wrap securely in foil (if you'd like, drizzle with olive oil and salt before placing in foil). Add to the slow cooker, fitting potatoes in layers on top of each other, and cook until tender, about 4 to 5 hours on high or 8 to 10 hours on low. Split open and serve the potatoes with butter and sour cream; serve the sweet potatoes with slices of a compound butter spiked with honey and cayenne.
Eggplant
Eggplant is another vegetable that can be rendered tender by the magic of a slow cooker. The eggplant can be the main star in a recipe, such as eggplant Parmesan or a stew. For a whole eggplant, prick it a few time and place into a slow cooker on high for at least 3 hours. Scoop the flesh from the eggplant and puree it for the Middle Eastern dip, baba ganoush, or stuff the eggplant with couscous and dried fruit for an entrée.
Onions
Have a recipe that calls for caramelized onions (hello, French onion soup or French onion dip), but don't want to stand over the stove monitoring onions for at least an hour? Caramelized onions are one of the genius tricks for a slow cooker. Peel and thinly slice a few pounds of onions. Although this sounds like a crazy amount, remember that the onions are going to cook down tremendously. Add onions into the slow cooker, drizzle with a few tablespoons of olive oil, and season with salt and pepper. Cook on low for about 10 hours. For a deeper caramelization, leave the lid ajar and cook an additional few hours. Since onions can't ever caramelize too much, there's no worry about overcooking.
Artichokes
Prep the artichokes just as you would for other cooking methods: trim the stem, remove the tough outer layer of leaves, and cut the top 1/3 off the artichoke. Add as many that will fit (about 4 to 6) into a slow cooker, along with 3 cups of water and a large squirt of lemon juice. Cook until the leaves easily pull off, about 4 to 5 hours on high or 8 to 9 hours on low. Serve one artichoke per person, letting them pull off the leaves and dip into butter until reaching the highly desirable artichoke hearts. Also consider marinating the hearts in olive oil and spices to use for an upcoming salad.
Spaghetti squash
Not only can a slow cooker do justice to a spaghetti squash but it also means skipping the dreaded task of trying to cut open the squash without injury to prepare it for oven baking. For the slow cooker, just make 15 to 20 pricks and then add the entire squash into the slow cooker bowl along with 1½ cups of water. Beware not to get too large of a squash for the size of your slow cooker. Cook until tender, about 3 hours on high or 6 hours on low. Halve the squash to remove the seeds and use a fork to shred the squash to serve with a marinara sauce or in this spaghetti squash with walnuts and sage recipe.