Fall is obviously squash season, with the star of the show being the pumpkin in all of its spiced-up forms, of course.
But there are plenty of other delicious and nutrient-packed winter squashes available abound this time of year and they're amazing in an abundance of autumn dishes, from casseroles and soups, to pastas and even desserts. Let's take a look at how to buy and prepare some of the popular members of the curbitaceae family.
How to cook Butternut squash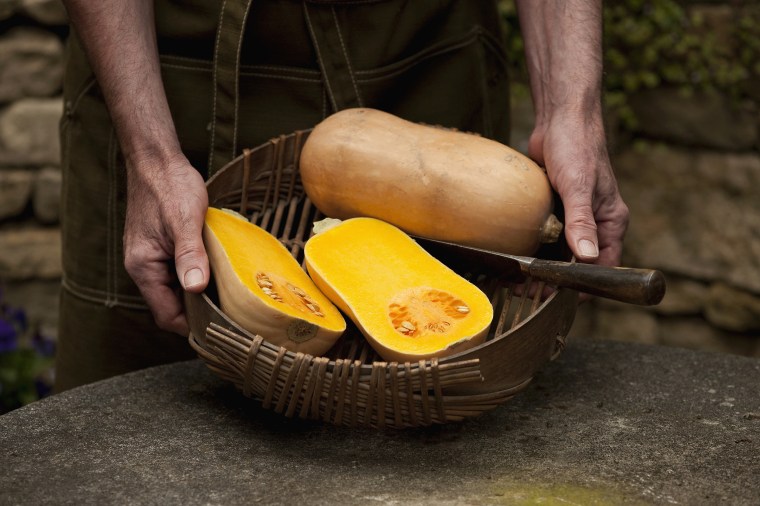 This bell-shaped gourd has a thick, beige skin, hiding the bright orange flesh inside. That orange color is an indication that this veggie is loaded with beta-carotene (yup, just like carrots), which protects your eyes and helps keep your immune system strong. Butternut squash is also a great source of fiber — one cup of cooked squash contains 25 percent of the fiber you need for the day, plus as much potassium as a potato.
When you're at the store, look for butternut squash that is heavy for its size, with no soft spots or cracks.
When it's time to prep the squash, don't let its tough exterior intimidate you. They are definitely a challenge to cut open, but a few steps should make it easier. Note: This method actually works well with any hard-skinned winter squash.
Wash the outside of the squash under warm running water.
Place the squash on a cutting board and slice off the curved bottom with a sharp knife to create a flat surface. Now you can use a sturdy vegetable peeler to remove the skin, peeling in a downward motion.
Next, slice the squash in half, lengthwise, and scoop out the seeds. You can discard them or save them for roasting. You can now cut the squash into cubes, slices or whatever shape your recipe needs.
In addition to roasting and sauteing, you can also steam or puree the squash. For a boost of fiber, try adding one cup of mashed butternut to your next batch of muffins. This adds a lot of moisture, which lets you reduce the butter or oil needed in the recipe by about half.
How to cook Acorn Squash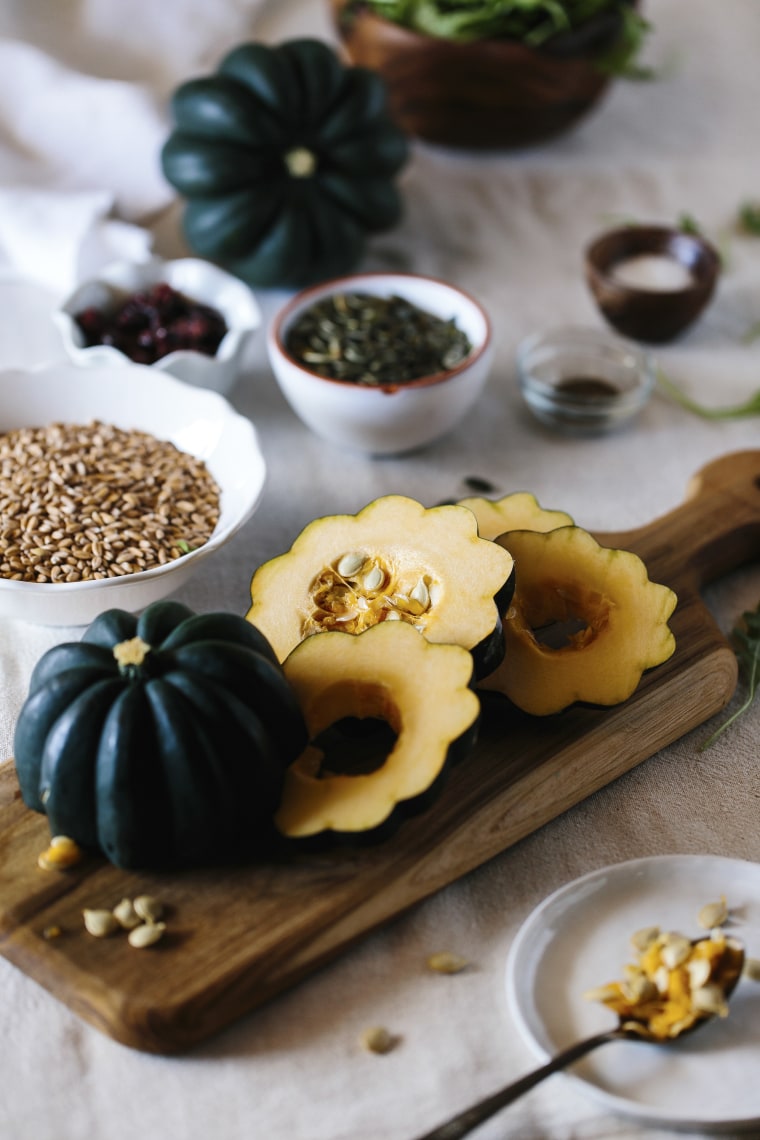 The wonderful shape of these small winter squashes lend them to be used as fall decoration, as well as a hearty meal ingredient. You can find acorn squash with green, white or gold skin. The flesh inside can range from light yellow to deep orange. There are actually several varieties of acorn squash, including Des Moines, Table Queen and Tuffy.
Look for acorn squash with a hard, uniform skin and no moldy spots. The skin is actually edible if roasted well.
Acorn squash make wonderful vessels for stuffing with a flavorful combination of meat, herbs and grains (or dried fruit) like in Guy Fieri's Stuffed Acorn Squash recipe.
Like butternut squash, acorn squash is a wonderful source of beta-carotene and one cup also provides nearly 2 milligrams of iron.
How to cook Spaghetti Squash
Named for the thin, noodle-like strands that form inside, spaghetti squash is yellow-gold on the outside and light golden inside. It's oblong shaped and similar in size to a small watermelon.
Look for spaghetti squash with a hard skin that's free of mold and soft spots. If the skin is tender to the touch, that means the squash was picked too early.
If you like zoodles, you'll love spaghetti squash! For those looking to limit their carbohydrate intake, this squash can be a great addition to any diet since one cup of cooked spaghetti squash has just a quarter of the amount of carbs as a cup of regular cooked pasta.
Once spaghetti squash is cooked (you can boil it, roast it or even microwave it), simply take a fork and run it along the length of the squash, which will separate the strands into delicate noodles. Unlike the bolder flavor of butternut and acorn squash, spaghetti squash is much more mild and can be used as the base of many saucy dishes, similar to pasta.
The popularity of this squash grew during World War II when packaged pasta was difficult to find and Americans were encouraged to grow the squash in their victory gardens.
Delicata Squash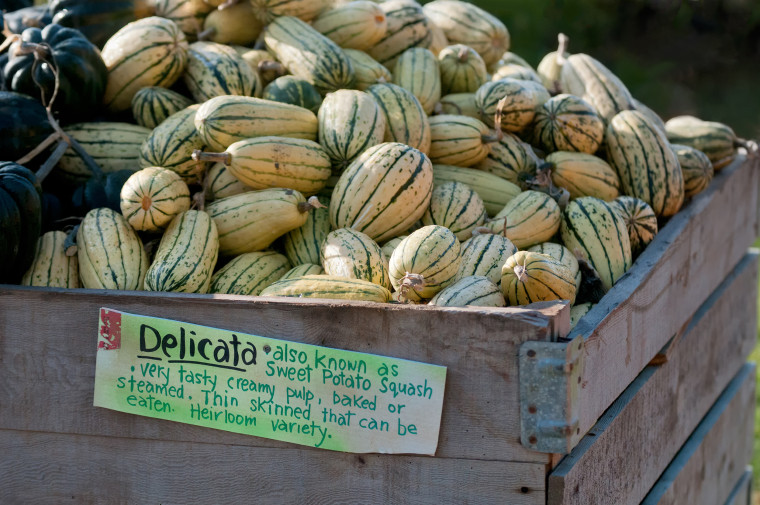 One of the smallest of the winter squashes, delicata (also called peanut and bohemian squash) truly lives up to its sweet name. While still hard, this squash's skin is much easier to cut though and can be eaten if properly cooked. This squash variety has a lovely, creamy white or yellow exterior, with thin bands of green. It also tastes similar to a sweet potato. Look for delicata squashes with hard, evenly colored skin and no soft spots.
Because the skin of the delicata is thinner than other winter squash, it doesn't last as long after you buy it and it's best enjoyed now, during the early fall season. You can also buy extra, slice it up and store it in a freezer bag if you want to enjoy it through the season.
Once you've squashed the basics, this type of veggie is super simple to prepare: Slice the squash lengthwise, scoop out the seeds (they're delicious when roasted), then slice crosswise into half circles. Place the slices on a baking sheet, drizzle with olive oil, sprinkle with salt and pepper (and maybe a little paprika) and roast at 400 degrees for 25-30 minutes, until golden. They are seriously as tasty and addictive as french fries! And at just 40 calories per cup, you can enjoy those squash fries for a fraction of the calories.
If you're as gaga about gourds as I am, don't worry about loading up at the store or farmer's market. If you keep them in a cool, dark, well-ventilated area of your kitchen, winter squash will last for at least a month thanks to that hard, protective skin.
Frances Largeman-Roth, RDN, is a nutrition expert, writer, mom of three and best-selling author. Her books include "Feed the Belly, The CarbLovers Diet" and "Eating in Color." Follow her on Instagram and check out her website.