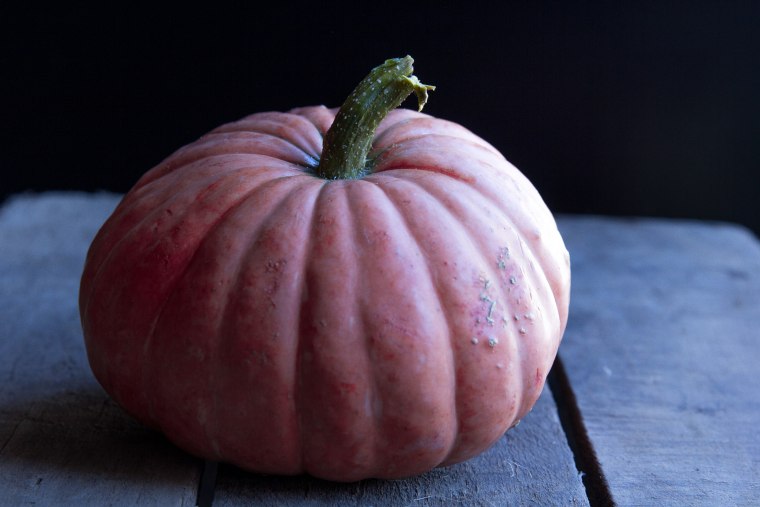 We're so used to pumpkin in canned form, it can hard to know where to start when you want to tackle the real thing. So if you're chomping at the bit to head to the pumpkin patch this fall with the intent to do some serious cooking, here's everything you need to know about selecting and prepping a pumpkin for use in the kitchen:
How to pick a pumpkin for eating
Bypass the big pumpkins, and save those for the jack-o'-lanterns. For cooking and baking, you want to look for small "sugar" or "pie" pumpkins; they are sweeter and have a smoother, less fibrous texture. Look for a squash with a dull surface (shiny means it's not quite ripe), and a smooth skin, with no bruises or cuts.
How to store pumpkins
Unlike the pumpkins you're going to carve, don't let the pumpkins you're going to eat hang out on the dining room table at room temperature. Instead, store in a cool, dry, shaded place, like under a covered porch or in a shed. Once it gets cooler, if you still haven't used them, move them into the garage or basement—the sweet spot is between 50˚ and 55.˚ Just put a cushion of cardboard or newspaper underneath the squash so they're not directly on cement, to keep that air circulating and prevent rotting.
Related: Everything you need to know about cooking fall produce
How to prep pumpkins
You've got this: Carving jack-o'-lanterns is a lot like prepping a pumpkin to eat, at least at first. First, wash off and dry. Then, cut a hole around the stem, remove the top and scoop out the seeds. (You can save the seeds, toss them in a little olive oil and salt and throw them in the oven at 400F for about 20 minutes, until they start to make popping noises.) Now, here's where it veers off, depending on what you want to do with the pumpkin; there's no one right way to roast or purée a pumpkin, but here are some simple methods:
To roast
If you want to skip peeling altogether, you can use a chef's knife to slice the pumpkin into ½ inch to 1-inch rings, then toss with olive oil, salt and spices of your choice, and bake at 400˚ for 20 to 25 minutes.
To use a pumpkin as a soup "bowl"
After cleaning, rub the inside of the pumpkin with olive oil and sprinkle with salt. Bake pumpkins right side up, with lids off to the side, all on a baking sheet lined with parchment paper at 350˚ for about 25 minutes. (Alternatively, for things like a fondue, you could bake cheese right in it; see recipe below.)
To purée pumpkin
Use a chef's knife to slice the pumpkin in half lengthwise (vertically). Rub the cut surfaces with oil and place cut-side down in a roasting pan. Add a cup of water to the pan and bake at 350˚ for about an hour and a half. Once it's cooled, the pumpkin flesh will be tender enough to scoop out and purée in a blender. Typically, 3 pounds of fresh pumpkin will get you 3 cups of purée.
Pumpkin recipes
Try Dr. Oz's family recipe for pumpkin pie, using real pumpkin
Make your own Pumpkin Spice Latte with this recipe from TODAY contributor Casey Barber: