There's no doubt that a slow cooker can be your best friend when it comes to convenient dishes. But that doesn't necessarily mean they can't be healthy. "Lots of people don't realize the range of foods that can be slow-cooked," says cookbook author Kitty Broihier, MS, RD. "There's no rule that says slow-cooked food needs to be a version of a soup or stew." Use the device in you favor and make nutritious food the norm with these ideas and tips.

1. Start the morning off right
Who says the slow cooker is just for dinner? Let it work its magic overnight to create healthy breakfasts, such as oatmeal. Add 4 ½ to 5 cups of water to the slow cooker, depending on desired oatmeal thickness, along with 1 cup steel-cut oats. Cover and cook on low for 8 hours. In the morning, stir in sweetener like honey or maple syrup and top with fruit or nuts. Nutrition Communications Consultant Kathy K. Downie, RDN, says granola (can be accomplished in just a few hours ) or this overnight multigrain hot cereal is also a winner.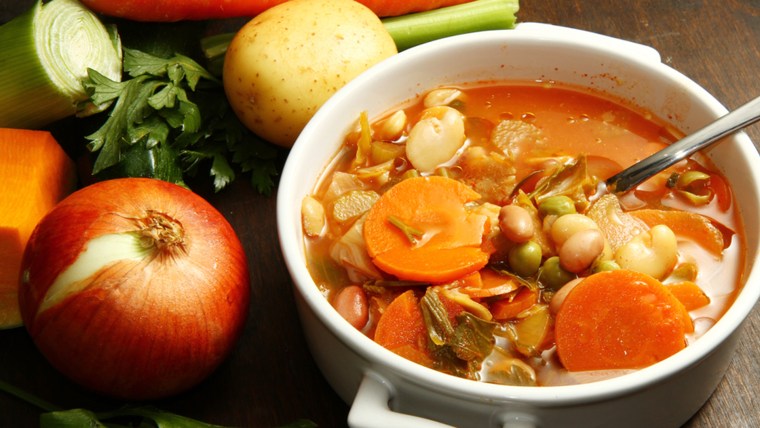 2. Add Parmesan rinds for added oomph
Downie has a genius tip for umami flavor into a slow cooker dish without added calories. "If you have it, you can throw in a Parmigiano-Reggiano rind to the mix to bump up the savory flavor in the juices, gravy or broth if you're making soup," says Downie. Store the rinds in the freezer until needed.
3. Choose lean cuts of meat
"The slow cooker can be used to create healthy meals, despite the abundance of recipes using fatty, tough cuts of meat that need a long time to cook to yield meltingly tender results," says Downie. For this, rely on boneless, skinless chicken breasts or thighs which especially work their magic in soups. And lean pork tenderloin can be simmered in chicken broth or citrus juice and shredded for carnitas or tacos. When cooking lean meat cuts, Broihier says "low and slow" is the way to go: "Add some moisture to the dish, and cook it on low heat for a long time in order to get it tender, 8 to 10 or even 12 hours in some cases." Lean meat cooked on high heat in a slow cooker usually results in toughness.
4. Trim and strain the fat
Before adding any meat into the slow cooker, make sure to trim it of any fat. "Not only does this cut down on your fat intake, it also makes the dish more appealing," says Broihier. If using ground meat, always first sauté it on the stovetop, draining to remove excess fat before adding to the slow cooker. As far as fat that accumulates during the cooking process, ladle off the top layer of liquid to remove any obvious fat or refrigerate all the liquid to later remove the entire layer of congealed fat.
5. Expand your recipe repertoire
Broihier says her favorite standby slow cooker recipes go beyond the typical stew. "Crustless quiches and stratas don't take all day to cook, and therefore make wonderful choices for brunch or lunch for your family or company," she says. Seafood dishes, like her Lemon-Dill Salmon recipe, take just a few hours on low heat—ideal to add to the slow cooker on a weekend afternoon to have done by dinner.
6. Use it for a healthy snack
While Broihier and her co-author Kim Mayone were working on cookbook "Everyday Gluten-Free Slow Cooking, they realized that roasting nuts for snacks was far easier when done in the slow cooker. "Since nuts are expensive, it is tragic when they burn—which is easy to do when toasting in a skillet or roasting in oven," she says. Add 1 pound of raw nuts into a slow cooker, drizzle with 2 tablespoons melted butter and a mix of spices, and stir together. Cover and cook for 2 hours on low, stirring several times during cooking. Turn the slow cooker off and let the nut mixture cool for 2 hours.
7. Go veggie heavy
Consider throwing in quick-cooking vegetables into the slow cooker during the last 15 to 30 minutes of most dishes. Toss thawed frozen peas in with chicken or a roast, or stir in fresh or thawed frozen spinach or kale into a stew or soup. Fresh vegetables that are chopped—like asparagus, green beans, snow peas—can also be added with minimal effort.
8. Throw in whole grains and beans
Both experts agree the slow cooker removes a bit of the hassle out of making healthy foods that normally take time on the stovetop, like whole grains and beans. Broihier uses it to cook an assortment of grains and legumes like rice, amaranth, millet, quinoa, lentils, split peas, and dry beans. For dried beans, soak overnight before adding into a slow cooker covered with at least 2 inches of water; cover and cook on low heat for 8 hours.
9. Don't forget the fruit
Harness the slow cooking power of fruit. Turn berries into jam, chopped apples into applesauce, and pears into a compote to spoon over yogurt. Or, rely on it for a fruit-based dessert, like baked stuffed apples or a cobbler.
10. Watch portion sizes and pair with a crunch
Does all this mean the Mississippi Roast or other beef-centric dishes are off limits? Not necessarily. As with anything, practice moderation and consider the serving size. Downie says stick to a deck of playing cards-size portion to enjoy a healthy three ounces of beef while Broihier notes that the soft texture of slow cooked food is just begging to be served with something fresh and crunchy such as salad or slaw.