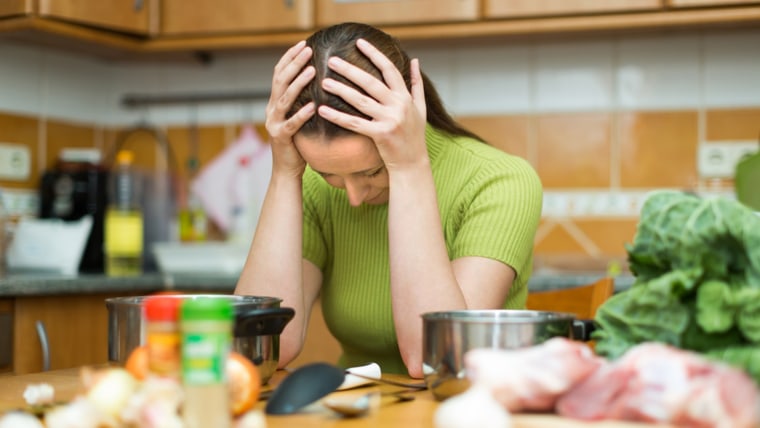 Whether you're hosting your family's holiday dinner for the first time, or are already a seasoned "hostess with the mostest" type, it's not exactly breaking news that this end-of-the-year entertaining stuff is hugely stressful and draining. We're here to help, with one of those handy-dandy guides to making holiday meal planning easier—it's our little gift to you. But first, how about giving yourself a gift? This year, give yourself the gift of not giving a cranberry what anybody thinks. About anything: how clean your house is or whether you've got enough space at the table; about how perfect your tree is, or imperfect your family is; or if the meal you're going to slave over for days is magazine-spread beautiful, or, frankly, even all that good. Here's why: nobody cares. Frozen piecrust, eggnog from the carton, or lumpy potatoes, it's all the same to most of them. As for the few snobby judges in your life, imagine them taking a long, running jump off a pier. Actually imagine it.
Related: 47 decadent desserts to make your Christmas the sweetest ever
If you can just let go of expectations, and achieve this sort of self-compassion, you will have not only eliminated the annual exhaustion, frustration and resentment usually associated with the holidays, you may actually have fun. And chances are if you're happy and relaxed, everyone else will enjoy themselves more, too. So do everyone a solid. Take all your cares and stresses, put them in a box, tie a big bow around it, and toss it up the chimney.
Here you go: 11 tips for making hosting your holiday dinner easier…
1. ASK FOR HELP! This is the biggest one (see above) but perhaps the hardest for some. If you're like me you just feel like you need to do it all, just don't. Ask everyone to bring a side dish. Scandalous! Or have everyone come an hour early and delegate each a job they're suited to. That means every single person, even Grandpa and your wife's boss. There's plenty of time for football when everyone's in food coma, and they'll enjoy the meal a bit more if they helped make it!
2. Grocery shopping goes straightjacket insane the week before a major holiday, so order everything well in advance, and either have it delivered or send someone else to make the runs: booze and mixers, the butcher, flowers, non-perishable groceries. You may need two deliveries — one for right before the big day, but put the order in now, or reserve the delivery slot before they're gone. Self-compassion means not trying to cut corners on fees and tips. C'mon Scrooge McDuck, this is no time for penny pinching.
3. Start emptying out your fridge and freezer now. Otherwise you're gonna use every inch of space and have no room to chill the wine, or refrigerate the extra two desserts that showed up. I also clear my counters for the day so at crunch time I'm not spinning in circles looking for a place to carve or toss the salad.
4. Do not try and make everything from scratch. Obviously, right? But go one step further and plan your menu around some shortcuts whether it's pre-chopped garlic, an hors d'oevres that uses prepared food like these Sausage Puffs or these Salted Pistachio Crusted Cream Cheese Ball with Saltines, or a bakery bought dessert. No one will think less of you.
5. Repeat after me: "What can be made in advance, I will make in advance. Everything else, I will simplify." Fresh veggies are wonderful, but trimming, blanching and sautéing string beans for 15 people is a lot of work. Why not buy good quality frozen, organic veggies and then steam them? Because…
6. Compound butters are your friend. For anyone who didn't go to chef school, compound butter is just softened butter blended with aromatics--think the butter you spread on garlic bread, or the one from this Pepper-crusted ribeye with bacon and blue cheese butter. To make your own, pulse softened butter in a food processer with citrus zest and chives, for example, or hazelnuts and sautéed mushrooms, or just a dollop of pesto (or chop fine and mix with a fork). Season with salt and pepper or something spicier, and freeze. Then, a few minutes before you're ready to serve your lightly steamed, frozen (shhh…) veggies, toss them with the compound butter of your choosing. Or add some to smashed potatoes. Turkey breast turned out a little dry? Trust me, just have compound butter on speed dial.
7. It's all gravy, baby. As much as I want to empower and liberate you from the tyranny of homemade everything this year, there is one thing no one should abide and that is gravy from a jar or a mix. I'm not trying to be a snob, but it's just gross. It's super easy to make basic brown or chicken gravy days in advance, or more if you're going to freeze it. You just melt butter, whisk in flour, then pour hot chicken, or beef broth into it, season and cook until thick. The magic happens when right before serving you whisk in all the pan drippings (minus the grease) that have been thinned out by wine (make sure you cook out the alcohol so it doesn't taste "winey" or a little vinegar or lemon juice. See how easy that was?
8. Follow your bliss. By all means bake your heart out if that's what makes you happy. But for heaven's sake do it now and not the night before. Make your breakfast sweetbreads and freeze them, or freeze unbaked scones now that you pop in the oven that morning. Sugar cookies you can bake and ice later, or just slice and bake cookie dough. Plus, end with a prepared-in-advance but killer dessert, and pretty much anything else that went wrong with the meal will be forgotten.
9. Set the table the day before (or even earlier) when you have a clear head and aren't rushed. Also, pick out your platters, bowls and serving utensils so in the heat of the moment you can just bark orders at your minions.
10. Self-service is the way to go. Set up a beverage bar and let guests serve themselves for the rest of the day. Instead of freshening up everyone's drink individually, you can just re-stock the table periodically. And consider buffet style service if you've got a large crowd. It just keeps things flowing, and you'll be jumping up from the table less.
11. Do try to have fun, and if all my zen advice isn't enough, splash some brandy in your morning coffee and don't look back till you see the last taillights disappearing down the road. If you aren't a drinker, indulge yourself in a nice morning bubble bath. Everything else can wait for you to unwrap your present to yourself.