As the world continues to marvel at the news of Prince Harry and Meghan Markle's engagement, we can't help but wonder what royal traditions the couple will feature at their wedding in May next year.
While any royal wedding is a tremendous event, this will be a rare one since it will mesh the actress' American traditions with British royal family decorum. Of course, both cultures share plenty of nuptial similarities — there will be cocktails, plenty of food and, of course, cake — there are also a few notables differences. And on top that, there are even more unique details when your wedding gets the true royal treatment!
The finest food
In the U.S., many couples hold a rehearsal dinner the night before the wedding, a large wedding feast after the ceremony and a send-off brunch the next day.
Across the pond, they do things a little differently. "In the U.K., drinks and a wedding breakfast is served, followed by an evening buffet," Kylie Carlson of U.K. Academy of Wedding & Event Planning tells TODAY Food. In 2011, Prince William and Kate Middleton chose a buffet style lunch after their wedding ceremony instead of a lavish sit down meal that had been previously favored at royal weddings.
And while rehearsal dinners are pretty common here, they're not a big thing in the U.K. — but, says Carlson, for Brits the wedding itself is a multi-tiered event. "It is very traditional in the U.K. to have daytime guests and evening guests, and with that, a variation on menus," says Carlson. If you're a close friend or family member, you get invited to the ceremony and wedding breakfast.
Guests are always treated to variety of different foods including canapés (Will and Kate served little bites ranging from wild mushroom and celeriac chausson to smoked haddock fishcake). For the main meal, British etiquette experts say it's safe to expect that Harry and his bride will consider a set menu for the event reception, in the same vein as Wills and Kate, as well as Sophie and Edward before them.
"We can safely assume accommodations will be made for dietary restrictions but otherwise, a set menu for all is the most practical choice. Expect a protein, such as lamb, as well as perhaps seafood," says Carlson.
The cocktails
In the U.S., guests are often treated to cocktails immediately following the wedding ceremony and it turns out that Brits share a similar tradition of post "I do" imbibing.
"In the U.K., following the wedding ceremony, a pre-dinner champagne reception is usually held and is circa 90 minutes," Sophie Hall, Senior Wedding Planner at London's Quintessentially Weddings, tells TODAY Food. "Prosecco [Italian sparkling wine that is cheaper than champagne] has become equally popular and the etiquette of having to serve champagne for such an occasion isn't so prevalent any longer, this is entirely down to the couple's personal preference."
As for other drinks that may be served next year? Markle is such big fan of bold, red wines, that she actually named her (now defunct) lifestyle blog The Tig: which is short for Tignanello, a popular Tuscan wine. She also loves Argentinian Malbecs, French Cabernet and Pinot Noir from Oregon. Markle has also has shared that she loves spicy tequila cocktails, Negronis, or good scotch, so any of these libations could find their way onto the menu, too.
The cake
In the U.S., a time-honored tradition of enjoying a mini feast at cake tastings has become pretty common for many engaged couples. Not so overseas, says Carlson, where cake tastings do happen but are far less common, especially for royals who adhere to pretty traditional style of cake.
Among royals, fruitcake has been the traditional selection for years. Prince Charles and Diana, for example, enjoyed a fruitcake with cream cheese frosting at their own wedding. But these days, modern couples are exercising the option to get a bit creative. "It is British tradition to have all-fruitcake wedding cakes, but with time, there has been more creativity in the tradition and all sorts of cakes are seen," says Hall.
British fruitcakes are "typically be filled with a variety of dried fruits, and repeatedly brushed with brandy. Kate and Will's cake included grated oranges, raisins and walnuts, among other things, as well as French brandy," says Carlson.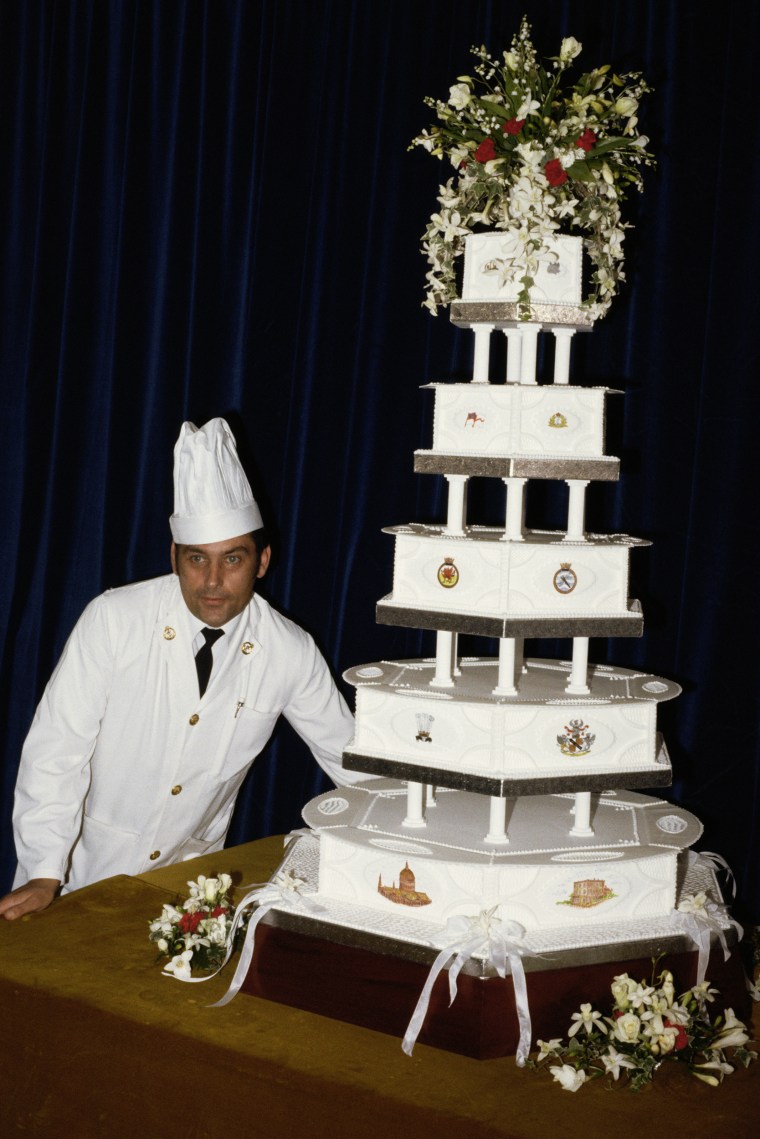 In 2011, William and Kate enjoyed an enormous eight-tier cake that was made by the award-winning baker Fiona Cairns. However, there were two cakes present as William requested a chocolate biscuit groom's cake, as well. This type of cake also has a bit of family history: It's the Queen's favorite type of cake and William discovered he loved it while visiting his grandmother for tea so Harry may very well continue the tradition and honor Queen Elizabeth with some chocolate cake.
Standard British wedding cakes are traditionally three tiers, with each serving a particular purpose. "The bottom is meant for eating at the ceremony, while the middle is to be served after the event. The top tier is then preserved for the couple's first child's christening," says Carlson.
In the U.S., it's tradition for couples to save the top tier for their first wedding anniversary.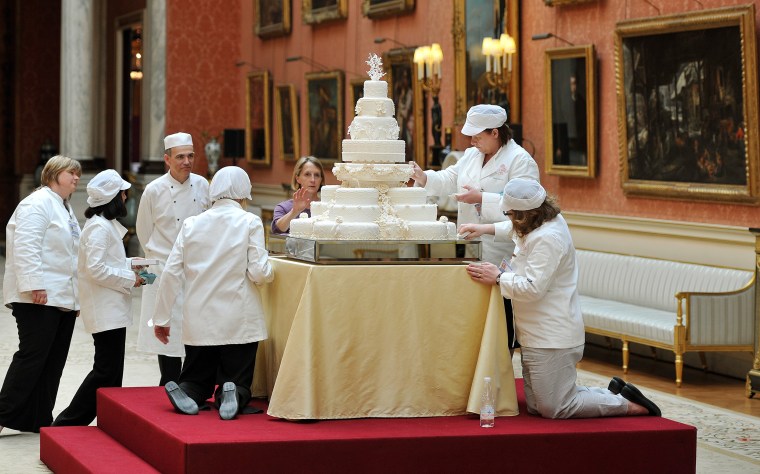 His and her favorites
In America, the bride and groom try to showcase small personal touches throughout the wedding weekend and, with a shared love of great food, Harry and Markle are likely to do the same.
Darren McGrady, who served as a chef for Queen Elizabeth, Princess Diana, and Princes William and Harry for more than 15 years, told Food & Wine that he expects the wedding chefs will try to "get something on the menu from Meghan's background as well as a few of Harry's favorites."
In addition to red wine, Markle has also declared her love for French fries and classic roast chicken. Harry is a fan of pizza and crispy bacon but has toned down his enjoyment of these guilty pleasures in recent years. While all of these comfort foods might not make the formal dinner menu, we wouldn't be surprised to see fries and mini pizzas make an appearance during the after party.
A royal no-no
Markle has previously stated that she loves seafood (she even showed TODAY how to whip up an amazing grilled Caesar salad with shrimp in 2016), but don't expect to see it at the royal wedding: Tradition dictates that the royal family avoid shellfish. While the rule has eased in recent years, chances are the Queen will not be seen slurping oysters any time soon ... or ever.
"You won't find any shellfish on the royal wedding menu with the entire family advised not to eat it due to the higher risk of food poisoning," Carlson explained to TODAY. "Raw or rare meats are another food group that won't be on the tables, so don't count on a sushi bar. Instead, expect to see more traditional English fair..."
We also know Queen Elizabeth isn't a big fan of garlic, so it's unlikely the couple will be serving super garlicky pastas or proteins.