Author and lifestyle expert Erika Katz is sharing her top tips, creative recipes and entertaining ideas to help you score serious party points on Super Bowl Sunday.
I love throwing a Super Bowl party because it's so much fun to take the football theme in all sorts of creative directions. Whether your favorite team is playing or not, all of these game-day goodies are sure to score a touchdown with guests.
Super Sippers
This year, I'm setting up my party in stations. First, we have the hydration station! For the adults, I always make team-themed cocktails and mocktails. You can choose to make these with or without alcohol depending on your preference.
For the Philadelphia Eagles, I am making beergharitas: They are the perfect party cocktail because they can be prepared in pitchers, so you can watch the game instead of tending bar all evening. For the margarita lover, the addition of beer and the sweet taste of black cherry makes it the perfect twist on the traditional margarita.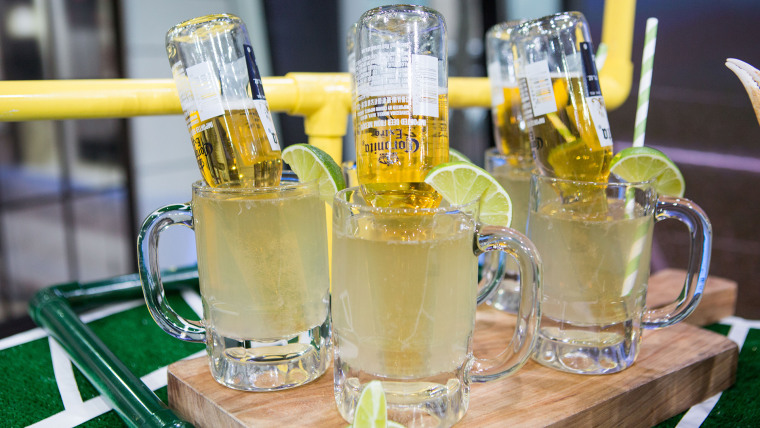 In honor of the New England Patriots, I wanted to wow my guests with a New England-style Bloody Marys. To make it extra special, I add a lobster claw for garnish — this is one drink, party guests won't forget.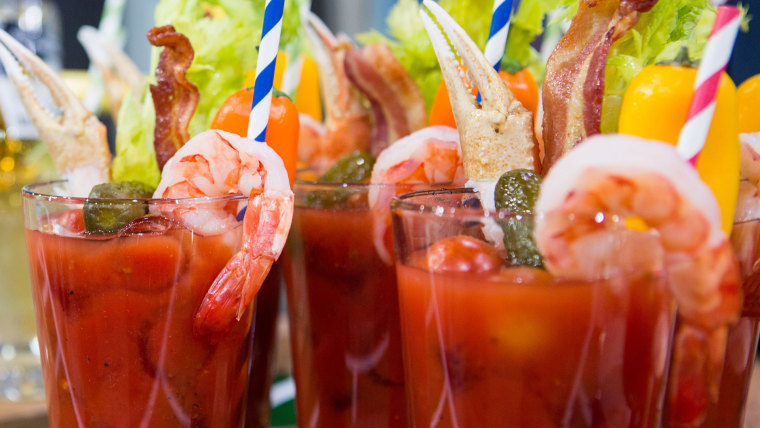 Since kids are usually at my parties, I love to create a hot cocoa bar. Simply whip up a batch of your favorite hot chocolate and load up your table with fun toppings like spoonable marshmallow topping, chocolate syrup, sprinkles and whipped cream.
For the adults, I'll brew some coffee to make a hot mocha drink or get some instant coffee on hand to stir in. Everyone loves this cold weather favorite!
Easy Eats
For the next play, we have the fueling station. Take your football theme to the next level with Mini Football Buffalo Chicken Calzones and Philly Cheese Steak Roll-Ups. I like to fill the pockets with extra cheese, so when my guests bite into them. they get a mouthful of delicious, melty cheese.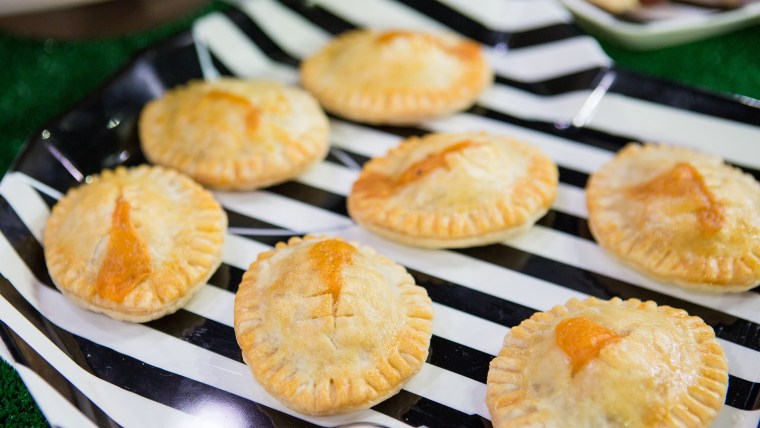 For a nod to New England, I'll be serving classic, creamy clam chowder. This is one of my favorite recipes because you can make it in one pot for easy clean up. If you want to save time and use canned baby clams instead of fresh, it tastes just as good!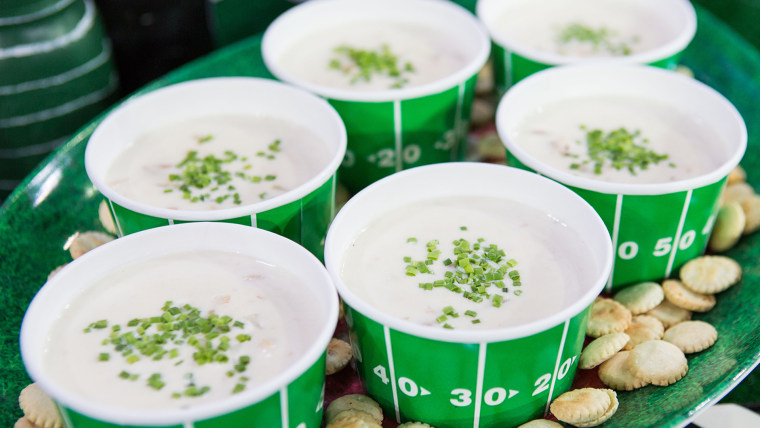 A Super Bowl party would not be complete without everybody's favorite: pigs-in-a-blanket. To give 'em that extra football flare, I like to squeeze some yellow mustard on top to look like football laces.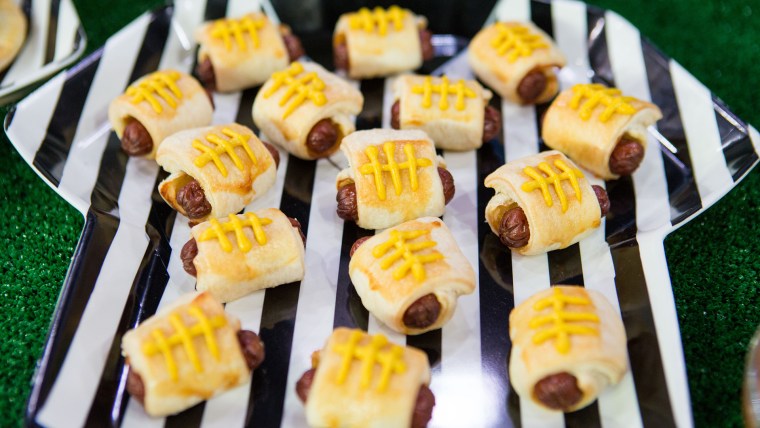 Delicious Desserts
After the Halftime Show, it's all about the sweet stuff! A cupcake football field is a great way to give your guests a tasty alternative if they have food sensitivities.
You can make some cupcakes with your favorite cupcake mix and others with a gluten-free, dairy free option. Score a touchdown with your guests by lining up your cupcakes to make a football field. For a gluten-free option, substitute Garden Lites chocolate chip muffins for your guests with food sensitivities.
My daughter loves to bake. So, every year, she makes this football field sheet cake. It is truly a family favorite and sometimes we need to add extra players so everyone gets a gummy bear on his or her slice!