You may not be able to get to New Orleans for Mardi Gras, but if you still want to celebrate, there's a sweet Mardi Gras tradition you can eat anywhere: King cake.
While king cakes have a long history and come in many forms, most people in the U.S. know them as doughnut-shaped cakes topped with icing and generous handfuls of purple, green and yellow sprinkles, the colors of Mardi Gras.
King cake is only eaten during the Carnival season — which begins 12 days after Christmas on Epiphany, the twelfth night of Christmas — and ends on Mardi Gras Day. Mardi Gras — which literally translates to "Fat Tuesday" — is always the day before Ash Wednesday.
Of course, you can eat king cake any time of year, but New Orleanians generally consider indulging early unlucky — or at least uncouth. Basically, you only have the length of Carnival season to get your fill of king cake without side eye.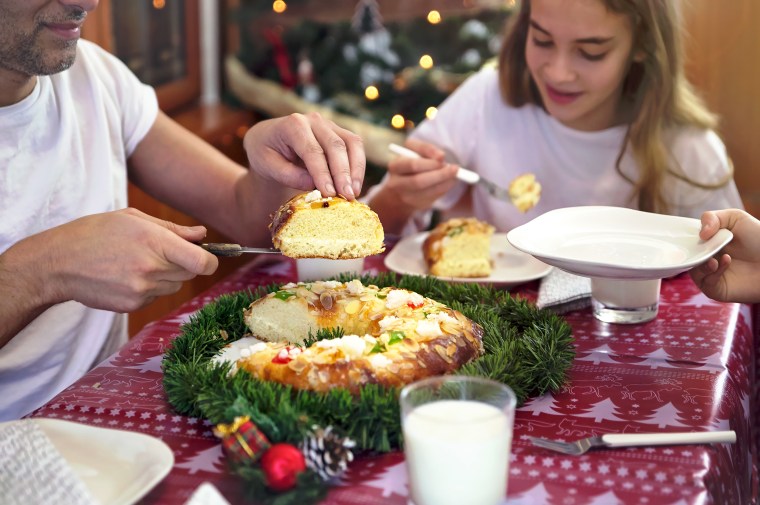 What is king cake?
King cakes are cakes associated with the Christian holiday of Epiphany, also known as Three Kings Day, which is celebrated in many countries. Sometimes they're called Epiphany cakes. King cakes are not always technically cakes. Some are more bread-like, while others may resemble a pastry.
In parts of Europe, typical Epiphany celebrations include king cakes like this one. While king cakes might look different in different parts of the world, one common denominator is that they all contain a hidden trinket inside. 
There are various versions around the world. In France, they're called galettes des rois: round, puffed pastry cakes with a sweet almond filling. There's a fève, or a small trinket — traditionally a bean — but these days usually a plastic or porcelain figurine baked within.
In Spain and Latin America, it's rosca de reyes, an orange-flavored "wreath" of bread usually topped with dried fruit, with a small plastic or ceramic baby figure inside.
Yes, a baby — we'll explain.
The Louisiana version of the king cake tends to be a brioche-like dough swirled with cinnamon and cream cheese, braided and then baked into a circular or oval ring — to resemble a king's crown — and finished with icing and sprinkles. Sometimes king cakes are filled or topped with fruit, and there's typically a plastic baby inside these ones, too. Starting on Twelfth Night — a.k.a. King Cake Day — king cakes are ubiquitous in New Orleans. You can pick one up at local grocery stores, bakeries and many corner stores.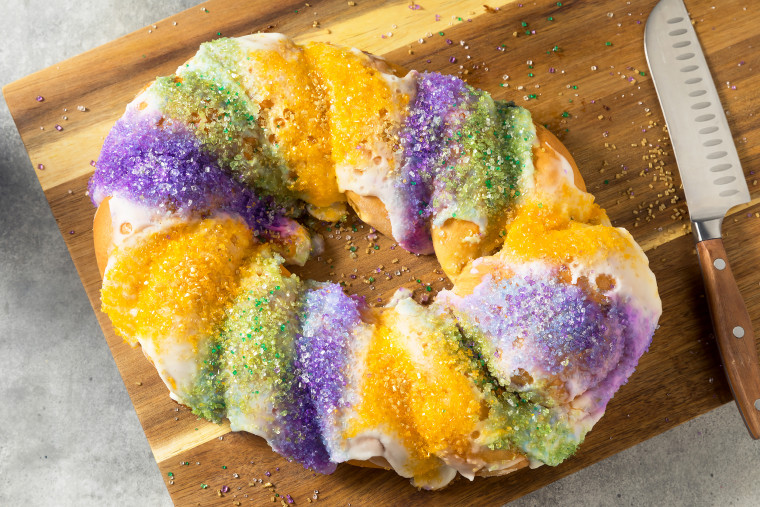 The colorful king cakes weren't always a staple of Mardi Gras, but they definitely are now. A 1999 article from The Times-Picayune stated that having king cakes throughout the Carnival season in New Orleans didn't take off until 15 or 20 years prior — around the early 1980s — and that the Mardi-Gras-style cakes evolved from the European versions of king cake.
Why is there a baby in the cake?
OK, back to the plastic baby. For the uninitiated, cutting into a slice of cake and seeing a tiny plastic foot protruding from layers of cinnamon and cream cheese filling may seem a bit strange. But it's all part of the fun of king cakes and Mardi Gras culture.
The plastic baby is reportedly meant to symbolize baby Jesus. Whoever finds the baby — or whatever hidden item is baked or embedded in the cake — in their slice is crowned "king" for the day. Most New Orleanians agree that getting the baby means they have to provide the next king cake or host the next party — so the celebrations continue throughout the season.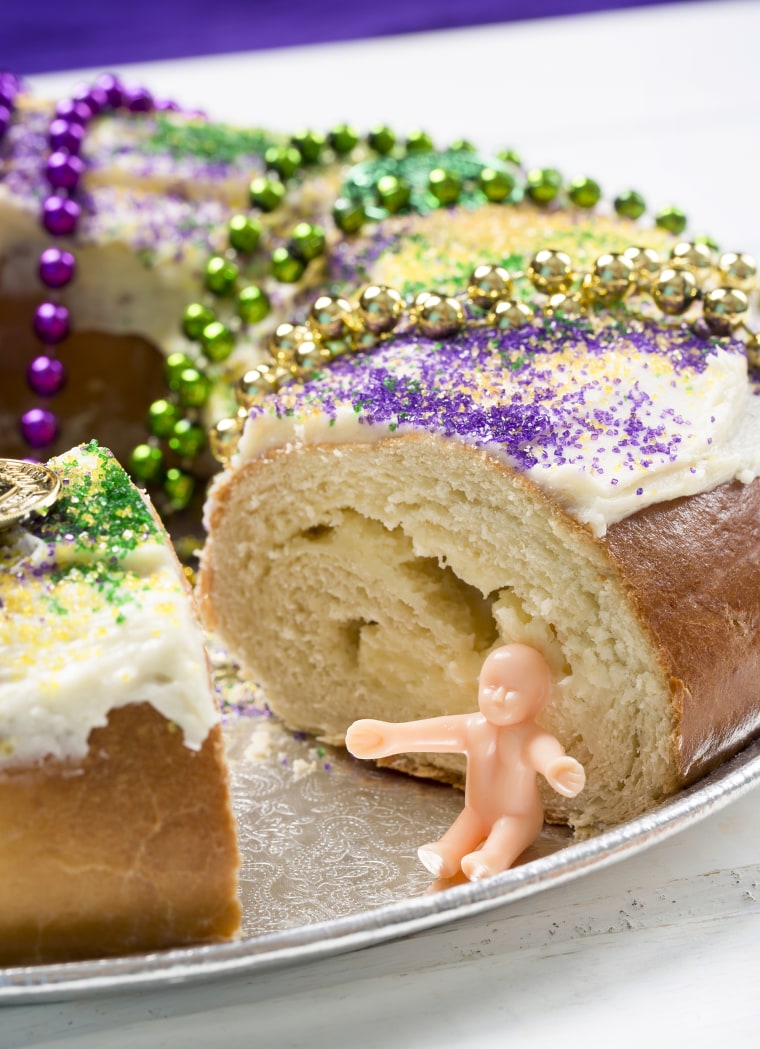 Others believe it simply means good luck. A 2018 story from the Times of Shreveport, Louisiana, said that some people take the baby literally — one woman told the newspaper that finding it "means you're the next one to pop out a baby."
How do you get a king cake?
If you live outside of Louisiana, you can still get a slice of this Mardi Gras tradition. The popularity of king cakes in recent years has spawned a growing king cake industry — and most online king cake depots ship almost anywhere.
Getting "the best" king cake is a different story. New Orleanians love to opine on their favorites and, while there are gobs of places that claim to hold the best king cake crown, it's really a matter of preference.
If you want an artisanal take on the classic, Bywater Bakery makes king cakes stuffed with gourmand delights — like apples and goat cheese — and Breads on Oak makes king cakes that are vegan and organic. If you want a more traditional king cake, some bakeries have been in the business for generations — Randazzo's, Gambino's and Haydel's bakeries comprise the traditional trifecta.
One of the richest and most decadent king cakes is made by Vietnamese bakery, Dong Phoung. You're going to have to think ahead if you want a prized Dong Phoung king cake, though, as their shipped confections are generally sold out about six months in advance. They do continue selling king cakes from their brick and mortar shop during Carnival season, but plan to patiently camp out in the notoriously long lines comprised of Dong Phoung devotees.
If you're a skillful baker, you can always make your own king cake. And, yes, you can even buy a plastic baby to put inside.
Whatever you decide that getting the baby means, and whatever your king cake looks like, there are many ways to celebrate Carnival, — even if you can't make it to New Orleans. There will always be king cake, no matter what.