Loving baking cookies during the holidays but tired of chocolate chip or sugar? Luckily, Jenna Helwig, food editor of Parents magazine has the perfect recipes that your kids will love making and eating. So, heat up your oven and get ready to whip up peanut butter reindeer cookies, marshmallow dreidels, melted snowman and more. 
Peanut Butter Reindeer Cookies
Active time: 35 minutes
Total time: 1 hour 25 minutes
Makes: 2 dozen cookies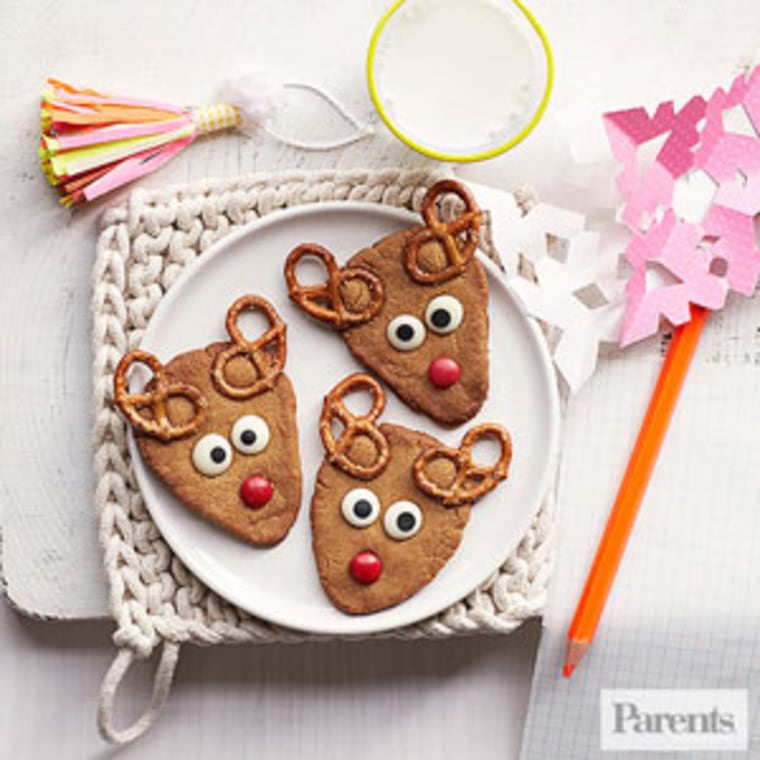 Ingredients
1 cup natural creamy peanut butter

1 cup granulated sugar

1 egg, lightly beaten

Mini pretzels

Small round, red candies such as M&M's or Red Hots

48 candy eyeballs

1. Preheat oven to 350°F. In a medium bowl beat the peanut butter and sugar with an electric mixer on medium speed until combined. Add the egg and beat to combine.

2. Shape the dough into 24 balls. Place 6 dough balls on an ungreased cookie sheet. Press and shape dough balls to make elongated triangles.
3. Press the pretzels into the tops of the cookies to make antlers. Bake for 8 minutes, or until just golden and set. While cookies are still warm, press a red candy onto the tip to make a nose, and press two candy eyeballs in the top center to make eyes. Let cool completely on wire racks. Repeat with the remaining dough.
Marshmallow Dreidels
Active time: 45 minutes
Total time: 1 hour 30 minutes
Makes: 1 dozen dreidels

Ingredients

1 cup powdered sugar

2 Tbs. unsalted butter, softened

1-2 tsp. milk

1/4 tsp. vanilla

12 pretzel sticks

12 large marshmallows

Blue and silver coarse decorating sugar

12 Hershey's Hugs

1. In a small bowl whisk together the powdered sugar, butter, milk and vanilla to make a smooth frosting "glue."
2. Press a pretzel into a marshmallow. Brush the outside of the marshmallow very lightly with the frosting and gently roll it in blue or silver sugar to cover the entire marshmallow surface.

3. Use a small dab of frosting to glue the flat base of a chocolate Hug to the end of the marshmallow. Let stand for at least 30 minutes to dry the glue. Repeat with the remaining ingredients.
Melted Snowman Cookies
Active time: 1 hour 15 minutes
Total time: 2 hours 15 minutes
Makes: 4 dozen cookies

Ingredients
3 16 1/2 ounce tubes refrigerated sugar cookie dough

2 16 ounce packages confectioner's sugar (8 cups)

6 tablespoons meringue powder

1 teaspoon cream of tartar
cup warm water
2 teaspoons vanilla extract

Black food coloring paste

Orange food coloring paste

48 marshmallows

Miniature semi-sweet chocolate pieces

Orange-flavored rolled fruit leather, cut into 6x
1. Bake sugar cookie dough according to package directions; let cool completely.
2. In a large mixing bowl stir together confectioner's sugar, meringue powder, and cream of tartar. Add the water and vanilla. Beat with an electric mixer on low speed until combined. Beat on high speed for 7 to 10 minutes or until icing reaches a stiff piping consistency.
3. Transfer 1/2 cup icing to a small bowl. Tint the 1/2 cup icing black.
4. Transfer 1/4 cup icing to a separate small bowl. Tine the 1/4 cup icing orange.
5. Spoon the orange and black icing into separate freezer weight ziptop bags and seal. Snip a very small corner from each of the bags. Using the black icing, pipe black dots onto each marshmallow for the eyes. Using the orange icing, pipe a short thin vertical line for the nose. Let dry for at least 30 minutes.
6. Stir 2 to 4 tablespoons warm water into the remaining white icing until icing reaches a thin spreading consistency. Pipe or spread icing in a puddle shape on each cookie.
7. Pipe a thin line of black icing on each side of the cookie to create the "stick" arms. Use a toothpick to drag the black icing to create the tips of the sticks.
8. Place a marshmallow at the top of each cookie, on top of the icing. Place 3 miniature chocolate pieces, tip side down, down the middle of the cookie for the snowman's buttons.
9. Wrap a fruit leather strip around the marshmallow for the scarf. 

Sandwich Cookie Snowglobes

Ingredients (per 1 snowglobe)

1 white fudge covered Oreo

1 grasshopper fudge mint cookie

Vanilla candy melts

Sprinkles, edible glitter and edible marker paint

1. Spoon warm vanilla candle melt onto white fudge Oreo (you can use a paintbrush) and sprinkle sugar/glitter on to form a snow bank. Decorate with sugar creatures like penguins using vanilla melts as adhesive or draw on Oreo with edible marker paint.
2. Paint vanilla candy melt onto side of Oreo and place on top of grasshopper cookie to imitate snowglobe.