In the pecking order of sparkling wine, there is Champagne, and then there is everything else. Fortunately for us, "everything else" these days includes an almost unlimited supply of very good, moderately priced sparklers, both whites and rosés, from just about every wine-producing region on earth.
In fact, when compared with the price of Champagne, which starts at around $35 or so, many other sparkling wines are downright bargains.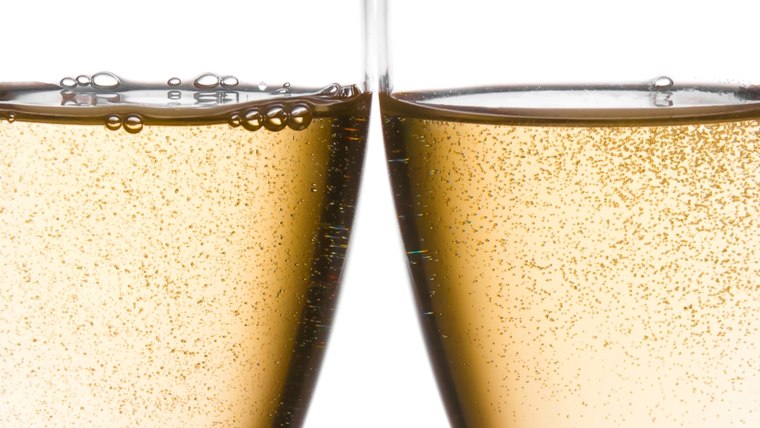 Before I recommend some recent favorites, here are a few things to keep in mind about sparkling wine:
Not all bubbly is Champagne, though some people use the name generically. The fact is, only wines made in the Champagne region of France are the real thing; the Champagne industry spends millions each year protecting its name.

The most popular and versatile sparkling wines are made in a dry style labelled Brut. If you're unsure, look for a description of the wine on the back of the bottle.

Most sparkling wines are "non-vintage," or NV, meaning that several vintages are blended. Vintage bubbly tends to be more expensive.

Most are produced by the traditional Champagne method in which the bubbles are the result of a second fermentation.

The most popular grapes used in sparkling wines are chardonnay, pinot noir and pinot meunier, although many others are used as well, depending on the region. Blanc de blancs refers to an all-chardonnay wine.

When opening, always aim the bottle away from others and never attempt to open a bottle that isn't cold; the pressure is greater when the wine is warm. Holding the cork and the loosened wire cover with one hand, twist the bottle counter-clockwise until the cork separates.

I've been tasting a broad sampling of sparkling wines, looking for bottles that over-deliver for the price. I was particularly struck by the quality of the wines from California, which is producing excellent under-$20 sparklers that can strongly compete with similarly priced wines from anywhere in the world.
Here are six wines from four countries that stand out.
Domaine Collin Crémant de Limoux Brut, Languedoc, France. Bright and refreshing with lemon and lemon zest and brioche and minerals on the long finish. Made from chardonnay, chenin blanc and pinot noir. $14.

LaMarca Prosecco, Veneto, Italy. Simple and refreshing with a zingy burst of lemon, green apple and some herbs. Easy to drink. $14.

Castellrois Cava Brut, Catalonia, Spain. One of my favorite Cavas, Spain's answer to Champagne, with bright green apple, lemon and orange tastes, a floral note and a biscuity finish. Made from the traditional xarello, macabeu and parellada grapes. $15. 

Mumm Napa Brut Prestige, Napa Valley, California. A lovely blend of chardonnay, pinot noir and a little pinot gris and pinot meunier with pear, apple, lemon-lime notes and a touch of cinnamon. Intriguing. $19.

Gloria Ferrer Sonoma Brut, Sonoma, California. Enticing, yeasty aromas. Very dry with a hint of strawberry and a touch of bread and cream in the background. Classic. Had me thinking of caviar. Made from pinot noir and chardonnay. $19.

Schramsberg Mirabelle Brut Rosé, California. Slightly tart and delicious with strawberry and sour cherry notes, yeast and cream. Bracing acidity, yet balanced. An elegant pinot noir-chardonnay blend. $25.
Edward Deitch is a James Beard Award-winning wine critic. Find many more of his wine reviews and commentary on his blog, Vint-ed.com, and follow him on Twitter.