Farmer's markets rock. That's no secret.
Not only do they make it possible to shop for fresh, in-season fruits and veggies, but they're also an easy way to support your local farming community.
And if you have kids, a trip to the market is the perfect way to teach them about the importance of healthy eating without boring them to death.
They're often open-air and always Instagrammable, and they provide you with a chance to seek out exotic foods you've never tried (and maybe heard of) before.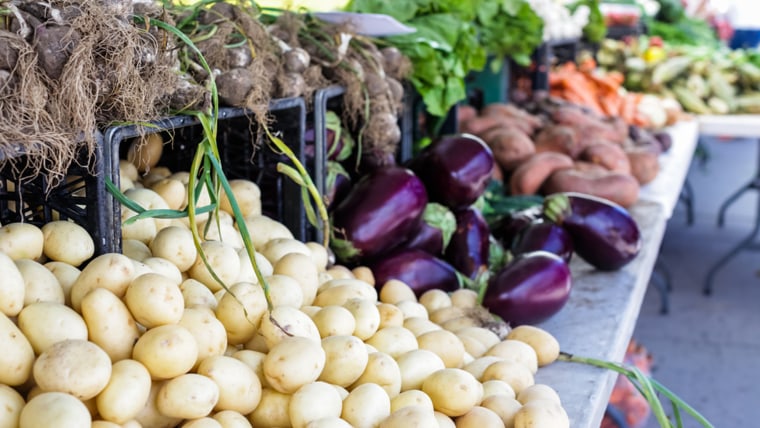 But all those fabulous perks don't mean you're off the hook when it comes to bargain-hunting. While we're not encouraging you to haggle these farmers out of their last penny (please, don't do that), there are certainly ways for you to be strategic and save.
Summer produce: Your guide to what's in season
TODAY spoke with Patrick Ahern, aka "Produce Pat," a senior buyer at Baldor Food, about the hidden value one can find at the local market.
"The thing is, the value is always there," he said. "Occasionally, the food will be more expensive, but at the end of the day, you're getting organic, fresh, nutritious, real food. You're supporting your community. So, the following are simply suggestions for staying shrewd while shopping around."
1. Pick the right market:
The first step to becoming a farmers market value sleuth is picking the right market. "You can use Google to search for markets near you, and then — this is the important part — you can check out two or three markets to figure out what they're selling," advised Ahern.
If you find that one market has two to three farms of the same type (for instance, two different dairy farms or three farmers selling strawberry jam), the prices will likely be more competitive. The farmers can't expect you to pay top dollar for it when there's something just as good across the way.
2. Timing is everything:
"Once you've found a farm you're happy with, you'll want to look around during the day, find what you want, and then come back later when the farmers are close to packing up," said Ahern. If a farmer still has some product left over and didn't expect to sell it, he or she may be open to giving it to you at a discount.
Again, don't be pushy. The whole point of shopping at a farmers market is to support these farmers.
But, as Ahern puts it, "If he's got some asparagus left over, or some tomatoes, and that's it, he's going to try to part with those things, even if it means selling them for a bit less than he would have earlier in the day."
3. Make friends.
Ahern likes to compare this part to frequenting a certain local bar, or visiting with a shopkeeper you've come to know and love.
"You have a rapport with these people," he explained. "The farmer's going to say to you, 'Hey, if you're planning on shopping here next week, corn is going to be cheap. So, wait a week to buy that.'"
The farmers are there to make a living, but they're also there because they love what they're doing. Talk to them about it. Ask them your most burning veggie-related questions. And, over time, they may start letting you know when there's a deal to be had.
4. Stay knowledgeable about supply and demand.
When an item's in peak season, you'll more often than not get the best deal on it.
This is particularly true around Fourth of July or other food-centric holidays, when certain types of produce skyrocket in both demand and availability. "The Fourth is traditionally the kick-off day for corn sales in Long Island," Ahern said.
Corn recipes and tips: Ways to prep it, plus a delish corn pudding
"And everyone knows fresh corn tastes so much better. Farmers know that, and what happens is there's just too much of it. That's a perfect time to get the cheapest fresh corn, strangely enough."
5. Be flexible and have an open mind.
Go off the beaten path. If you're okay with trying something new, you'll reap the benefits for your taste buds and your pocketbook.
"A few years back, nobody knew what to do with fiddlehead ferns, and now they're incredibly popular. They demand so much more money than they used to," said Ahern.
Follow TODAY Food on Instagram for daily inspiration.