/ Source: TODAY Contributor
Forget the ice-cold shots and Jägerbombs you chugged in college (probably best for all involved, anyway). This sweetly spicy German digestif is popping up in craft libations around the country—and mixologists say its flexibility and distinctive herbal overtones make it a worthy cocktail ingredient.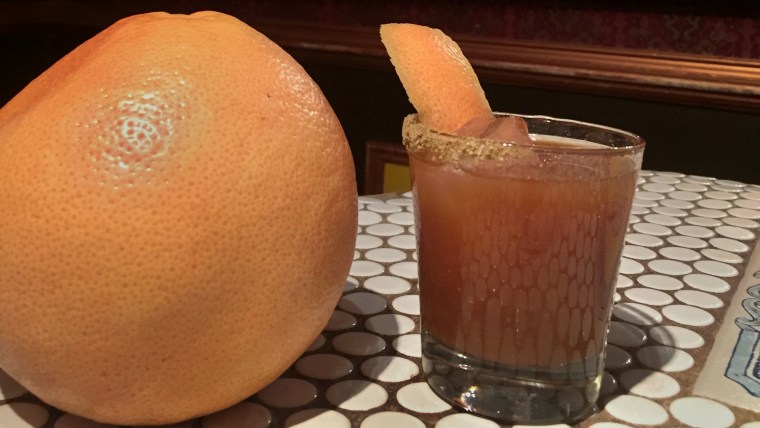 Jägermeister is made with 56 different ingredients, many of which its parent company, Mast-Jägermeister, refuses to disclose. The ones that are confirmed, such as cinnamon, orange peel, ginger root and star anise, give Jäger a flavor profile that's reminiscent of a delicious fall dessert.
Related: How to make a classic Old Fashioned cocktail
"I think Jägermeister is beginning to be better understood in the United States ... it has a complex and compact flavor," says mixologist Sean Hoard, who co-owns The Commissary, a company based in Portland, Oregon that sources fresh juices to bars. Hoard, who managed the bar at Portland's Teardrop Cocktail Lounge for three years, has created several cocktails that showcase the brown spirit, including the Joy Ride, which is made with fresh grapefruit juice, clover honey, and sarsaparilla. "It's light and refreshing, and guests say it reminds them of the tart root beer they had as kids," says Hoard.
"Jäger is making a comeback of sorts," says Sother Teague, beverage director at Amor y Amargo ("Love and Bitters), a tiny bar in Manhattan known for its handcrafted, bitters-focused cocktail menu. Teague says his nightly list always includes at least one drink made with Jägermeister. "I love it because it's got a bad reputation yet it's a well-made, delicious ingredient. Also, it's super-versatile and contains elements of bitter and sweet, as well as lots of bold flavors," he says.
In his Rough Seas cocktail, a sophisticated take on a tropical drink, Teague mixes equal parts rum and Jäger and also incorporates ginger syrup, lemon juice and orgeat, a fragrant almond syrup. He piles ice over the top, "like a snow cone," and applies streaks of bitters over it. "I like how it highlights Jäger in an unfamiliar way, Tiki-style," he says.
But besides the tendency of college students to overindulge, how did this fragrant, herbal concoction get such a bad rap? Teague is quick to point out a critical mistake the party crowd is making: Storing Jäger in the freezer.
"Aroma is ninety percent of flavor, and cold temperatures compress volatile oils and inhibit our perception of them." He explains that bitterness, "which we are programmed to read as poison," is an exception. "It always shines through, so that frat boy with his backwards hat who takes that frozen shot of Jäger and makes an awful face is only getting bitter—none of the other flavors that are present are easily detected."
So keep your Jäger out of the freezer (simply store it with the rest of your liquor bottles, away from direct sunlight and heat) and, it should go without saying, away from the Red Bull. Then check out these other tips for how to use it in cocktails:
*In general, Jäger tends to pair well with citrus flavors, tropical fruit, aged spirits and spices that echo its own ingredients, like cinnamon and ginger.
*To get inspired, Teague suggests sipping Jägermeister neat a few times before you start experimenting with it: "I think of it as a cocktail of its own, and I often say, 'you can't make chicken soup if you haven't had chicken.'"
*If you're using Jäger as the base for your cocktail (as opposed to just an additional flavoring), Hoard suggests limiting the other sweeteners you're going to include. "Jäger has its own richness, so try using acidity or bitterness to balance the drink. I've found that most citrus pairs nicely with Jäger, but grapefruit works especially well," he says.
*To add "depth and herbal complexity," Hoard likes to replace half of a cocktail's traditional sweetener with Jäger. "So if you're making a daiquiri, try using half the simple syrup called for and replacing the other half with Jäger," he says, adding that you may need to adjust the proportions depending on your preferences.
*Jägermeister can also be placed into a dasher bottle or atomizer and incorporated the way one would usually add bitters. "Jäger is so bold that putting just a small amount in an otherwise delicate drink, like a Manhattan or a Champagne cocktail, will allow for its tightly wound flavors to open up and shine," says Hoard.
Now that you you've gotten a Jäger crash course, it's time to give it another try. To get you started, here is Teague's Citrus Hunter cocktail, which he calls "a cold-weather take on the margarita."