If politics don't have you fired up enough vote on Election Day on Nov. 6, maybe the promise of some free grub will.
Waiting in line to vote before rushing off to work can feel more like a drag than something to celebrate with a party and food — until free french fries enter the picture.
Several American restaurant chains are showing their red, white and blue stars and stripes by offering patrons a little treat on Nov. 6. Election Day happens to fall on National Nachos Day, so there's also some tasty Mexican food up for grabs. But let's not go calling a taco a sandwich just because it's free.
Since Veteran's Day falls on Nov. 11, the chain is celebrating current and retired military by allowing them to enjoy a free Pizookie dessert when dining in. Through Nov. 30.
Condado Taco
Show off an "I Voted" sticker and buy a taco to get one free taco. Nov. 6.
Hungry Howie's
For those looking to have an Election Day fiesta, Hungry Howie's, the pizza chain that employs the deliveryman who wowed America with his piano playing, will give a free medium one-topping pie with the purchase of a large pizza with the code "SAVE18." Through Nov. 7.
Jersey Mike's
This sandwich chain extended its National Sandwich Day deal from Saturday by offering a $2 discount off of any regular sub for people who join its email club. Through Nov. 6.
Lemonade
Show up with an "I Voted" sticker and buy one item to get a free cold-pressed lemonade at this healthy, fast-casual chain. Even if your favorite candidate doesn't win, you'll have already turned your lemons into ... you get the picture. Nov. 6.
Potbelly
Anyone who buys an entree can get a free cookie at the sandwich shop — no "I Voted" sticker is necessary. Through Nov. 7.
Shake Shack
This burger joint will dish out free french — er, American — fries for customers who show an "I Voted" sticker at the counter. People can also use the Shake Shack app and enter the code "ivoted" to collect. Nov. 6.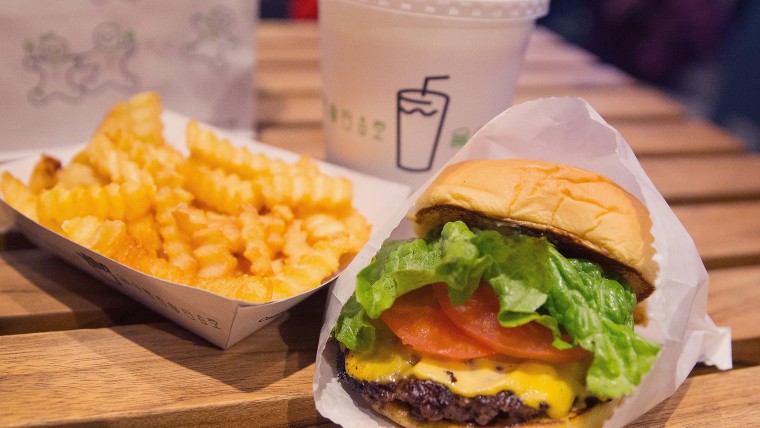 Fancy some free chips and nacho cheese to celebrate National Nachos Day. Use the Taco John's reward app to get an order on the house. Through Nov. 8.
Restaurants aren't the only places squeezing more fun into Election Day. On Nov. 6, a non-profit called Pizza to the Polls will bring pizzas to select voting centers where folks report long wait times.
If the organization determines the line is long enough to deter people from voting, it will send a piping hot incentive to keep citizens happy and well fed. The organization starorks to deliver happiness to those grueling long lines on Nov. 6.
"Americans are hungry for democracy and are turning out in record numbers to vote. But that means long lines and sometimes empty stomachs, which might discourage these brave patriots from performing their civic duty," Pizza to the Polls says on its website. "Fortunately Pizza to the Polls is here to deliver the one thing that pairs so perfectly with freedom: piping hot 'za. Send us reports of long lines and we'll send in the delicious reinforcements."
"Will & Grace" star Debra Messing used her Twitter account to spread the word.
Boy, is democracy delicious.