Imagine walking into a McDonald's, plunking down a special card and never having to pay for anything.
It turns out that can actually happen. Just ask Rob Lowe, Warren Buffett and Bill Gates, who all reportedly have card a "McGold Card" that gets them unlimited free food at their local Micky D's.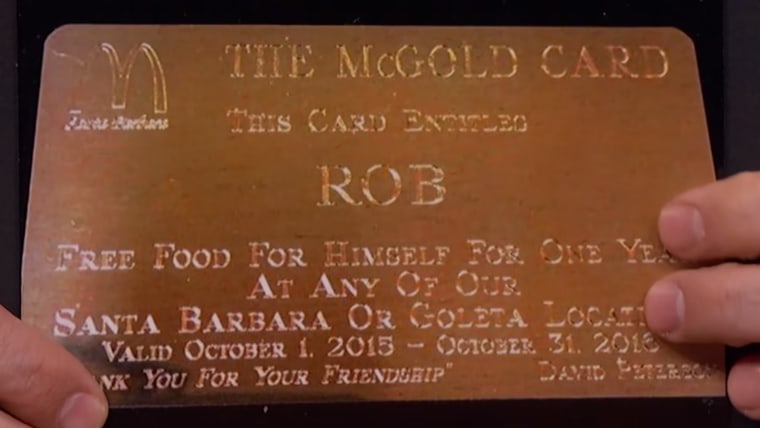 Lowe showed off his on "Jimmy Kimmel Live" last year, noting how he got it from a friend. As it notes on the card, his buddy is McDonald's franchisee David Peterson, whose father, Herb, invented the Egg McMuffin in 1972 at one of his California McDonald's locations, according to The New York Times.
RELATED: McDonald's Chicken McNuggets come in 4 shapes — and they have names!
The card Lowe flashed says that it's good for unlimited food for a year, and only at locations in Santa Barbara and Goleta, California. That's because it was issued by Peterson and not the McDonald's corporation. It's up to the franchise owner to decide if the card is good for a limited amount of time or for life.
Peterson also gave a gold card to local Santa Barbara philanthropist Larry Crandell for his 90th birthday in 2013, entitling the man known as "Mr. Santa Barbara" to free food for life, according to SantaBarbara.com. Crandell died in August at 93.
Buffett showed off his McGold Card in a 2007 interview with CNBC while also mentioning that Microsoft co-founder Bill Gates has one that is accepted at locations across the world.
Buffett's card is only good at locations in his hometown of Omaha, Nebraska.
"So that's why the Buffett family has Christmas dinner at McDonald's,'' Buffett joked.
RELATED: McDonald's Chicken McGriddle, the syrup-infused chicken sandwich you never knew you needed
Another noted figure who had one was George Romney, the father of 2012 Republican presidential nominee Mitt Romney. The younger Romney mentioned on the campaign trail that his father had a certificate for free McDonald's for life that was signed by founder Ray Kroc, according to The Wall Street Journal. The elder Romney ate at McDonald's almost every day, according to Mitt.
You don't have to be a celebrity to get one, either. Charles Ramsey, who helped rescue three women kidnapped in Cleveland by Ariel Castro, was given free McDonald's for a year by the company and unlimited burgers for life by 14 local restaurants in 2013, according to CNN.
Follow TODAY.com writer Scott Stump on Twitter.