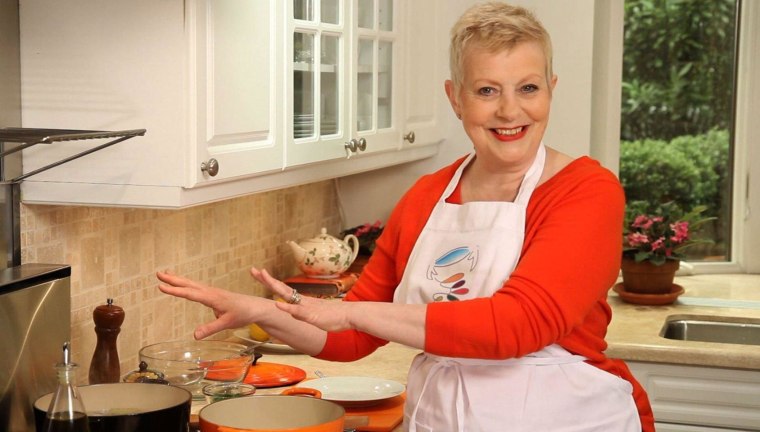 In 2010, Steph Woods of Washington, D.C., was diagnosed with breast cancer at the age of 37. Chemotherapy and IV Herceptin left a metallic taste in her mouth, and within a month, her taste buds were significantly dulled. She also poured soy or barbecue sauce on everything. Pizza, bagels with cream cheese, and peach cobbler were her go-to comfort foods.
"Diet soda tasted like chemicals in a can, and all waters other than Evian exacerbated the metallic taste," Woods recalled. "Most foods, though, tasted so bland that I never felt satiated."
The experience is a common one for people undergoing treatment for cancer, and for those who particularly love food, it can be particularly troubling.
Ann Ogden, 64, of New York City, understands all too well. In 2001, Ogden lost her right kidney to cancer. Fast-forward three years and Ogden was back on the treatment treadmill, this time battling breast cancer.
Having endured surgery, radiation and chemo, Ogden knows what it's like trying to cook and eat healthily at a time when food may be the furthest thing from your mind. So the fashion industry veteran ditched her high-flying career to launch a first-of-its-kind nonprofit organization: Cook for Your Life!
"I met a lot of people in the chemo suite who had trouble with food. They either couldn't cook or couldn't eat," Ogden, the granddaughter of an Italian chef and daughter of an English master baker, told TODAY.com.
"It's ironic that at a time when they need the best nutrition ever, survivors can't eat or don't have an appetite," said Monica Crawford, an outpatient oncology dietitian at Thomas Jefferson University Kimmel Cancer Center in Philadelphia. For such people, Cook for Your Life! may be a literal life-saver.
The most common food and eating-related complaints: food tastes too salty, too sweet, metallic or like cardboard. Those undergoing treatment may be too tired to cook, have mouth sores or dry mouth from radiation or chemo, or simply have lost their appetites.
Having faced similar challenges, Ogden shared her experiments with food and recipes that worked for her on Cook for Your Life! The site provides cooking demos, resources and a unique search engine that allows users to hunt down easy-to-prepare, tasty and comforting recipes no matter where they are on the cancer spectrum.
Unfortunately, cancer doesn't care how much of a foodie you once were. Many people suddenly don't like foods they once loved or can't stomach strong smells or spicy seasonings. "I used to eat a lot of salmon -- used to love it -- now I can't stand the smell of it," Ogden said.
Everyone is different. Some people like spicy foods; others just want chicken soup or bland chicken and steamed rice all day. White foods are often favored; think garlic mashed potatoes. And avocado can make a creamy, easy-on-the-mouth refreshing soup.
Today, Ogden works with recipe developers and nutritionists in helping craft delicious, simple recipes no matter where on the cancer wheel you are. The most important advice, she says, is to eat what you can.
Most chemo protocols have a rhythm to them. You feel horrible on chemo days when you have the worst side effects, and as it leaves your body, you may be able to eat more.
"I encourage survivors to eat by the clock, kind of the opposite of what you tell someone when they are watching their weight," Crawford told TODAY.com. Instead of eating only when hungry, you need to eat because it's lunchtime, dinnertime or snack time. "The biggest challenge is keeping patients well nourished while they undergo treatment."
Crawford advises trying plastic utensils and avoiding canned foods if a metallic taste is a problem. Counteract a salty tang by adding sugar, and a sickeningly sweet taste by adding salt. Tart flavors like lemon and lime help nausea, as do ginger tea, clear soups and Jell-O. High-calorie fruit smoothies can help boost weight, and smaller, more frequent meals and room-temperature foods may appeal more than hot or cold foods.
"Control is something you lose when you have cancer; you hand it over to your doctors," Ogden said. So it's important to know that what you're eating is prepared healthily with ingredients you've selected, and to choose dishes that are delicious and nourishing, like poached pears with vanilla or chicken butternut squash tangine (find both recipes at www.cookforyourlife.org).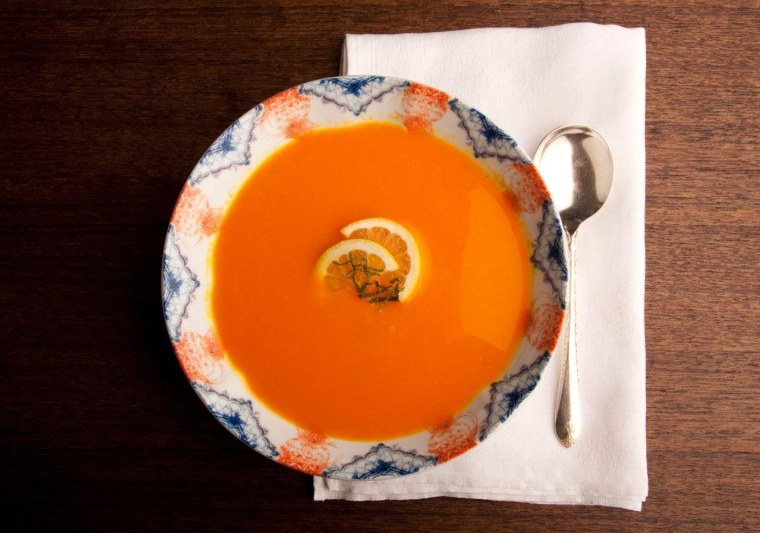 Below, try your hand at Ogden's carrot soup:
1 tablespoon olive oil
2 whole cloves
1 medium yellow onion, chopped
1 tablespoon maple syrup
¼ teaspoon freshly ground nutmeg
1 sprig thyme
1 teaspoon lemon zest
1 pound carrots, peeled, diced
4 cups of water
Lemon juice, as desired
Freshly torn basil, for garnish
In a stockpot, heat the olive oil and cloves over medium-high heat.  Once the cloves pop, add the onion and cook until translucent.  Add the maple syrup, nutmeg, thyme, and lemon zest. Cook for 5 minutes, or until the onions just start to caramelize. 
Add the carrots and cook, stirring occasionally for 5-7 minutes. Pour in the water and bring to a boil. Simmer uncovered for 20 minutes.
Remove the cloves. Puree the soup with a hand blender or food processor.  If serving chilled, bring to room temperature then chill in the refrigerator for at least 2 hours. If serving hot, reheat through.
Either way you are serving it, hot or cold, stir in lemon juice and top with basil before serving.
More from TODAY Food: