Cooking recipes for Thanksgiving dinner has never been my forte. I don't love to cook, nor am I a natural in the kitchen. I don't hate cooking entirely but most of the time, I just need a little help not only to make the meal edible but also have fun while putting it together.
My family already uses HelloFresh, a popular delivery service which sends meal kits to our home complete with ingredients and detailed instructions for how to prepare each meal. This helps to reduce time spent cooking — and grocery shopping — making the whole process less stressful for yours truly. So whenHelloFreshannounced they'd be offering a Thanksgiving meal kit this year, I decided to give it a try.
I received and prepared the meal ahead of the big day, so I could share whether this kit truly saves time and stress on one of the biggest (and busiest) food holidays of the year.
Inside the HelloFresh Thanksgiving Box
HelloFresh is offering its Thanksgiving Box meal kit for eight to 10 guests for order through Saturday, Nov. 10. Customers may choose between a box with a 12- to 14-pound turkey for $158.99 (or $14.90 per serving, with $9.99 shipping) or the Side and Desserts Box for $98.99 ($8.90 per serving, with $9.99 shipping).
At first glance that price seems steep, but I think it's quite comparable to what the average person would spend at the grocery store for a Thanksgiving meal that serves eight to 10 people.
Customers can then choose when the box should be delivered, keeping in mind that it takes up to four days for a turkey to fully defrost. There's also an option to ship the kit to a different address, like a friend or family member's home.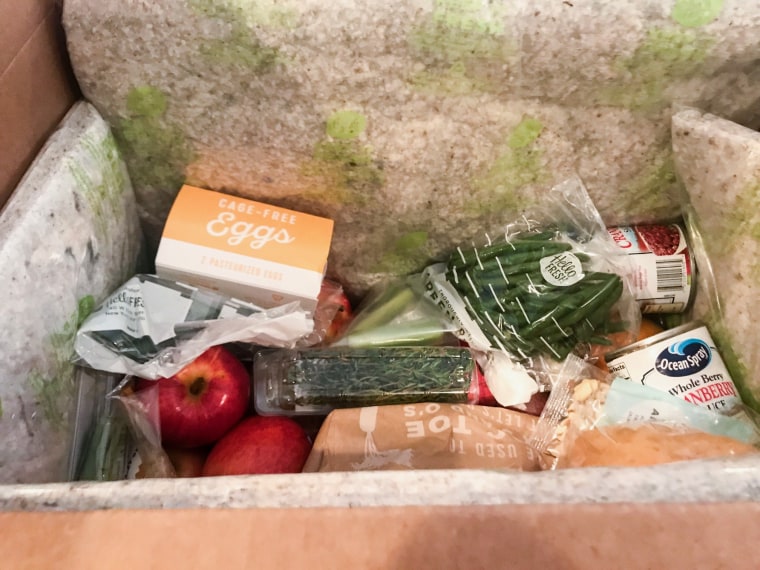 Our box arrived filled to the brim with all of the ingredients which, to be honest, I found slightly overwhelming at first because there were so many items. I separated everything into bags, putting, for example, all the veggies together, all the items for the stuffing together and smaller items like spices, butter and eggs in another bag to make it manageable.
The box also comes with placeholders for each guest, which also list the menu, as well as detailed instructions for cooking all aspects of the meal.
So what's on the menu? The big box includes a classic menu featuring one turkey, three sides (a stuffing, green beans and mashed potatoes), two condiments (a gravy and a cranberry sauce), and a dessert.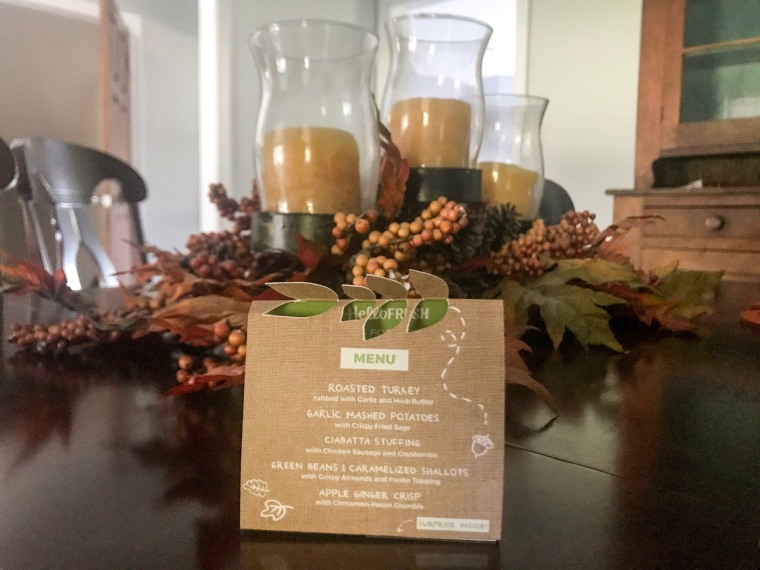 After opening the box, I placed the very-frozen turkey in the fridge and let the defrosting commence.
The best bits of the box
While I can't say that this box was a significant time saver when it came to preparing the meal since it took me the better part of a day to cook everything largely on my own, it was nice to have all of the ingredients already there, ready to prep.
I definitely saved time by not having to go to the grocery store to buy everything ... or worry about forgetting something (which happens all too often!), saving me multiple return trips to the supermarket, as well.
Luckily, there aren't really any unusual kitchen gadgets needed to complete creating the meal so it's a relatively straightforward, albeit time consuming, cooking process. Tools required to prep the meal include a roasting pan for the turkey, a variety of mixing bowls and baking dishes, a zester and a peeler. A good chef's knife is also super helpful, along with a cutting board.
The centerpiece of the meal is often the most difficult but the HelloFresh recipe for the big bird was easy to do. The turkey itself was really simple, turned out well and only required roasting for about an hour and a half.
The downsides
For one person doing this on his or her own, it's still quite overwhelming. I felt like there were too many things to be done, and our turkey finished cooking about 30 minutes early (it was going to burn otherwise), making the final timing of the whole meal a bit off. It took us about another hour to get the rest of the items completed after the turkey.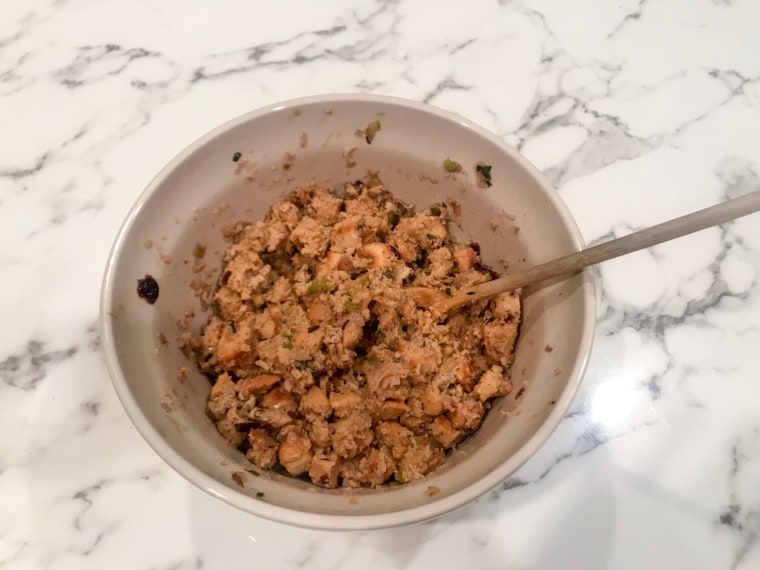 I'd recommend making everything you can ahead of time, including the dessert (which is an apple ginger crisp), the cranberry sauce and at least prepping the items for the stuffing.
There are a few ingredients the box does not provide, including cooking spray, butter, vegetable oil, olive oil and sugar, so be sure to have those staples available, too.
There is also a ton of chopping, so either do that all at once or spread it out throughout the day, if possible, to avoid tiring out those arms.
Was it a holiday home run?
Overall, my family really, really enjoyed the meal and I loved that it featured a few twists on traditional Thanksgiving dishes. For those who enjoy trying something new, this is a great option, as HelloFresh usually does a good job with tasty recipes filled with many varied ingredients that are also nutritious.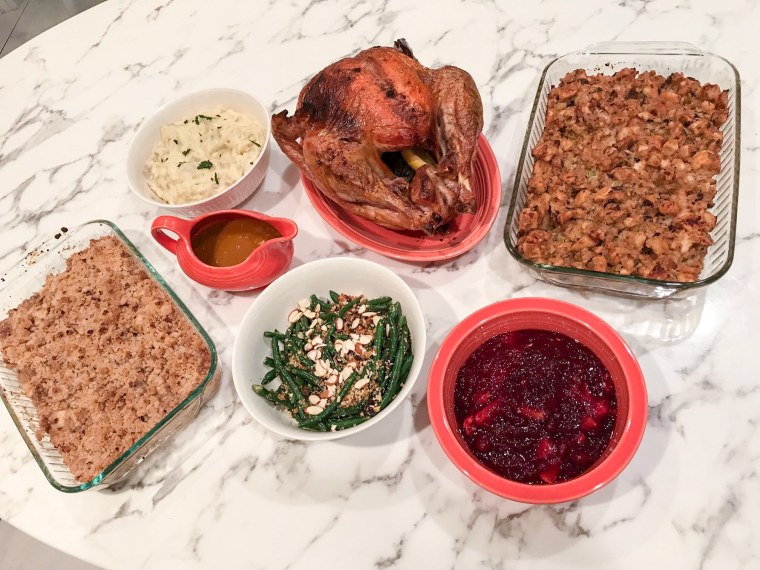 Our favorite item on the menu? The Ciabatta Stuffing with chicken sausage and cranberries. It was unique and tasty. We preferred our classic green bean casserole to the Green Beans & Caramelized Shallot dish in this kit, but it was still good and I liked the crunchiness of the almonds and panko crumbs.
In a surprising upset, I also preferred HelloFresh's Garlic Mashed Potatoes to my classic version, but one dish we did not like was the cranberry sauce with orange, ginger and cinnamon. We felt the orange flavor overpowered the traditional condiment.
The apple crisp for dessert was a good choice, and we added fresh vanilla ice cream as the grand finale.
In the end, I think this is a good option for those who want to prepare a homemade Thanksgiving dinner, but also want a little help removing the guesswork (and perhaps the shopping time) out of preparing such a large meal. But for families who really, really enjoy their traditional recipes, just stick to the tried and true method of making your meal from scratch.