Hello Kitty is now 42 years old, and her original fan base has aged along with her. Some clearly have never outgrown their fondness for the little cat — wait, little girl…little girl who looks like a cat — whatever form of creature Hello Kitty is.
And now, fans are at the perfect pink wine-guzzling age.
Japan's Sanrio has teamed up with Italian winemaker Torti to launch a line of (mostly pink and sparkling) Hello Kitty wines. There are six varieties in all, including three rosés, two whites and one red.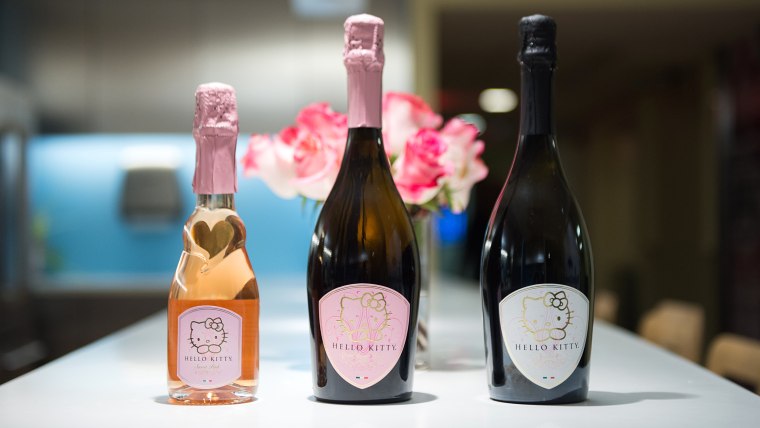 Three varieties are currently available in the US: Sweet Pink, Spumante and Sparkling Rosé. Right now the wine, which retails from about $22 to $27 a bottle, can be purchased in just a few stores in the Los Angeles area and online at winebee.com, where it has already sold out (it should be available at wine.com soon, according to a Sanrio representative).
STORY: Meet the grown-up gummy bears that the cool kids are eating
TODAY Food managed to get our paws on a few adorable bottles.
Sweet Pink is a sparkling pale pink rosé with a floral fragrance and almond notes. Light and bubbly like Miss Kitty White herself, it would pair well with fruit or sweets (or brunch). It goes down very easily — we could see ourselves drinking a lot of this one, and not just because it comes in the cutest bottle of the bunch, decorated with a painted-on gold heart. Just keep it chilled, as the taste goes downhill as it becomes room temperature.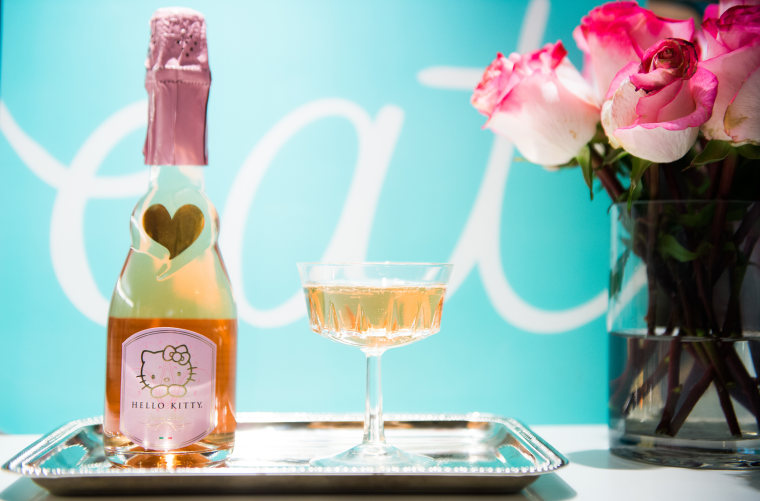 Spumante is a sparkling wine made from pinot noir grapes with a fruity aroma that is dry, crisp and fresh on the palate. This would be a good wine to serve with appetizers (Hello Kitty-shaped mini toasts and cheese, perhaps) and seafood. We were quite fond of this variety as well — serve it nice and chilled!
RELATED: Toast to autumn with these affordable rosé wines
Sparkling Rosé has a floral scent and a note of spice. This is another light wine that would work well as an aperitif or with seafood, like raw oysters or tuna tartar. We still aren't finding any problems with these Hello Kitty wines…hiccup!
In addition to the few spots where Hello Kitty wine is now available for sale in the US, it's currently served at just one restaurant — Antonello Ristorante in Santa Ana, California, where you can buy it by the glass or bottle.
Overall, we found the quality of Hello Kitty wines to be good, if a little high in price. But if you enjoy wine and you're a Hello Kitty fan, getting the cute cat label and a wine made for at least somewhat discerning grownups may be worth it.
And what hipster could resist the delightful irony of a sparkling pink wine called Sweet Pink with Hello Kitty on the label? Few, very few. These wines are a natch for bridal showers, bachelorettes, divorce parties — all manner of ladies' outings.
We're guessing Hello Kitty will be purring all the way to the bank—with a buzz!