Color me healthy! A classic pound cake and a flavorful dressing get an easy upgrade with the addition of matcha powder and turmeric spice. Check out these bright and beautiful creations.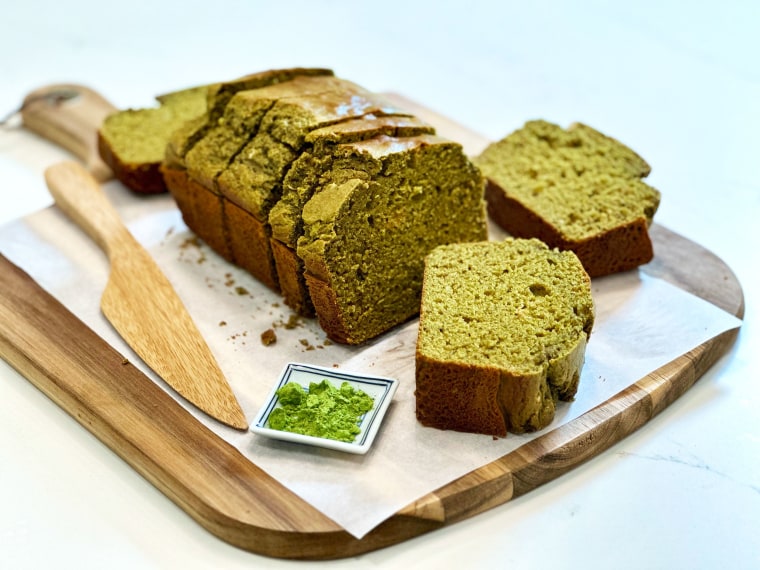 Don't adjust your computer or phone screen: This gloriously colored pound cake offers great flavor plus a dose of powdered green tea called matcha. And boy, there is so matcha to talk about when it comes to this antioxidant-rich tea! From healthy skin to cognitive function, matcha provides countless health perks. Because you're consuming the whole leaf (versus discarding what's left in a brewed tea bag), you're reaping extra-special benefits of the beloved brew. Give yourself the green light to enjoy this green delight — and serve it as a yummy treat with a matcha latte for double the goodness.
Get the recipe here.
This recipe is a spin on my classic tahini dressing, with a uniquely golden twist. In this version, I incorporate two spices that help lower inflammation and ease aches and pains. Its pain-fighting powers come from a dynamic duo of spices, ginger and turmeric. Ginger lends a sweet, pungent flavor. And turmeric, an earthy, woody spice (a staple in many curries), transforms the classic beige coloring of tahini into a vibrant and playful yellow (just be careful to avoid getting the turmeric powder on your fingers or fancy napkins because it can leave a neon trail that's tough to get off). You'll notice I add a dash of black pepper to the mix; don't skip this step, as the pepper helps boost the absorption of turmeric, and of course, adds extra flavor, too.