I have two tasty treats for you: A banana bread spin you can start your day with (no baking required!) and a flourless, protein-packed brownie that's super rich and indulgent — without any added sugar. The breakfast is so delicious, it tastes almost like a dessert ... and the dessert is so healthy, you can enjoy it for breakfast. Hope you're hungry!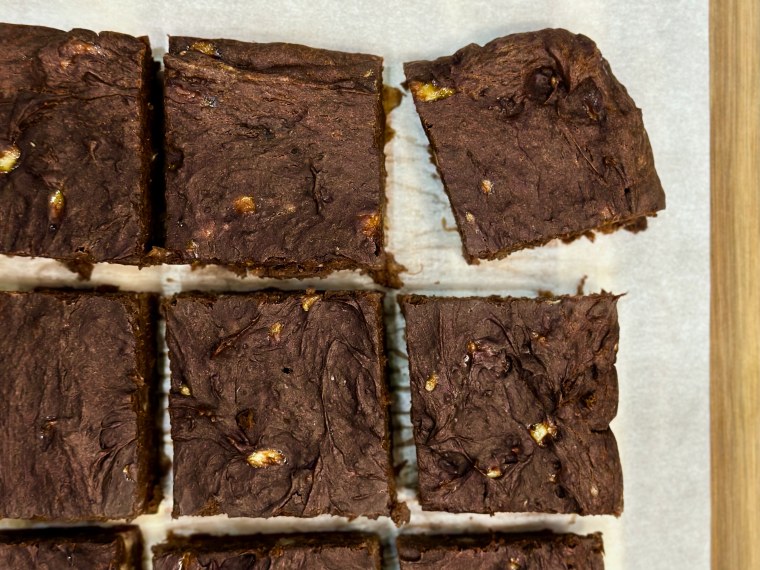 Share a square: Each one is packed with protein, made without flour and contains zero added sugar. Plus, you don't even have to add butter or oil — it's like baking magic! As for the taste and texture? They're super rich, soft and fudgy with a gently sweet, chocolaty flavor. They also have subtle banana undertones, which is always a bonus in my book.
Get the recipe here.
While oatmeal is typically eaten warm, this type is eaten cold, straight out of the fridge. It reminds me of an indulgent chilled porridge, and this rendition features energizing ingredients and a satisfying, dessert-like flavor. It's super creamy and has all the cozy feels of banana bread. It takes about three hours to set, but because it's so convenient to prep the night before, we usually let it sit overnight, hence the name. I find it's a perfect remedy for hectic morning meals.
For even more tasty recipes, check out Joy's cookbook "Joy Bauer's Superfood!" and follow her on Instagram, Facebook and Twitter.