In the ongoing search to find healthier food options, it turns out some people think it's definitely possible to go too far.
Avocado macaroni and cheese is one such dish that's raising eyebrows — and explosive reactions — across the internet.
At least, that's what we're finding after the Twitter account for @TheFitFood recently posted a 2015 recipe video from Popsugar Fitness, showcasing how to remake the classic comfort food dish with virtually no cheese ... and a whole lot of avocado.
The reaction from the internet? It's no Gouda!
The dish, which utilizes two whole avocados (a fruit which has been oddly controversial lately, since it's been used as an example of why millennials apparently can't get home mortgages) as well as a little goat cheese and mozzarella, seems like it might have some potential at first. The final version does appear to have a creamy and decadent consistency.
But, the final dish is also green, which is not a color found in the natural macaroni and cheese world.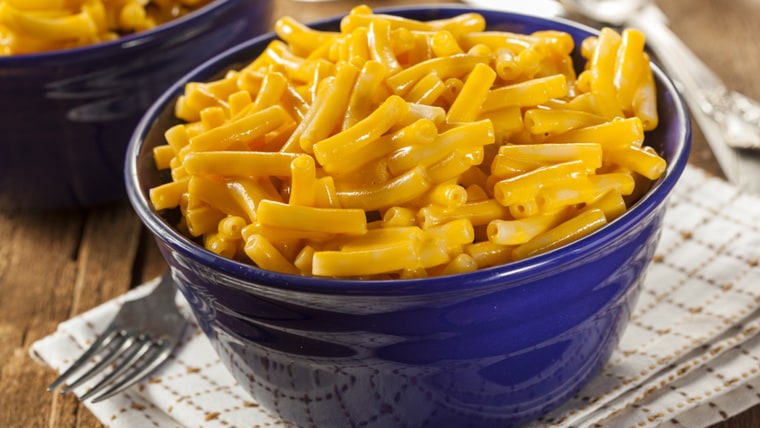 Back in 2015, some commenters on the original video seemed to have no problem with the concept, noting that it "looks so good" and "It is good if you can't have dairy." But things can really change in the span of two years. Perhaps the foodies out there are just over healthy remakes.
Today, the reaction is more like "that cheddar not be happening":
We get it, folks. Macaroni and cheese is one of the world's most amazingly delicious guilty pleasures. But if there's a way to consume it with fewer calories and less fat — that's also more friendly to those with dietary issues — we want to be on board. Plus, mac and cheese variations that include butternut squash or sweet potato are a staple in many healthy households.
But mess with not one but two beloved snack items and you are very likely going to raise the ire of both cheese and avocado lovers alike. After all, who can forget the kerfuffle over peas in guacamole?
Sometimes change is good. And sometimes, it's not so grate.
Follow Randee Dawn on Twitter.