Whether you go for "kids eat free" nights or you just enjoy a reliable meal, chances are you occasionally, or even often, find yourself at chain restaurants. They're easy to find in any city and their food is familiar and comforting.
Many chain restaurants don't have the best reputation, however, when it comes to calories. Last year's highest-calorie dishes included a 1,990-calorie omelette from IHOP, a 1,950-calorie burger topped with cheese curds and bacon from Buffalo Wild Wings, and a 2,820-calorie prime rib dinner Texas Roadhouse.
But before you write off chain restaurants as being totally unhealthy, check out these lower-calorie meals that are now available at some of the country's biggest eateries. They start at around just 200 calories and are all under 600 calories. (If that seems high, remember this 2016 study that found the average restaurant meal has 1,200 calories.) TODAY Food also talked to Keri Gans, RD and author of "The Small Change Diet," to get her take on a few of these diet-friendlier options.
Skinny Burger, 320 calories, Fatburger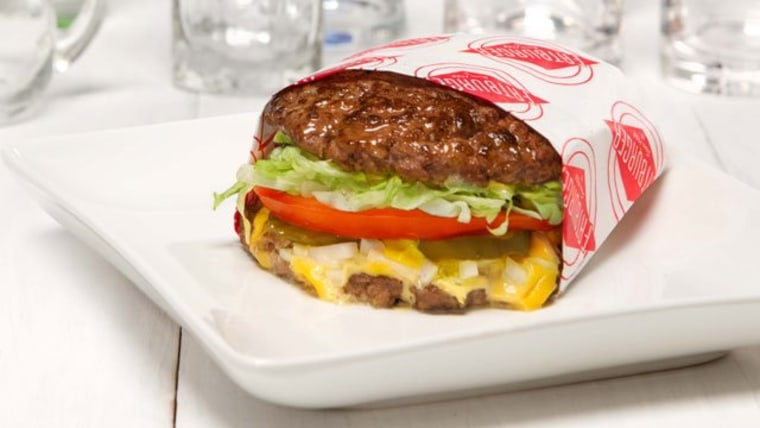 Many of us know that ditching the bun will save us calories and carbs. But what if the beef is the bun? The Skinny Burger, which debuted in 2014, is basically lettuce, tomato and cheese wedged between two 1/6-pound patties. Since it's 320 calories (that's without mayo), it's actually containers fewer calories than Fatburger's turkey burger (480 calories) and its veggie burger (510 calories). It boasts 28 grams of protein and has 19 grams of fat. "As far as calories and protein goes, the Skinny Burger appears like a smart choice," says Gans. "But the saturated fat (9 grams) is definitely higher than I'd like."
Spiralized Veggie Pasta, 560 calories, Olive Garden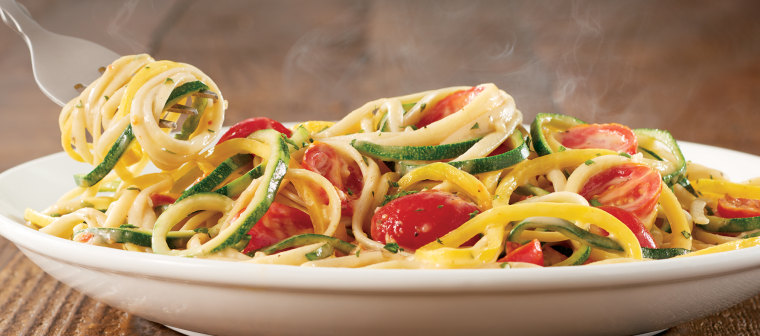 While we'd love to see Olive Garden introduce a dish featuring exclusively veggie pasta, this is a good start. It's a mixture of spiralized zucchini and yellow squash tossed with whole grain linguine, and it's seasoned with garlic, tomatoes and scampi herb sauce. It's an entrée that has fewer calories than its counterparts but it's still not really low-cal enough (or at 28 grams, low-fat enough) to go crazy with the free breadsticks.
6-ounce Sirloin, 250 calories, Texas Roadhouse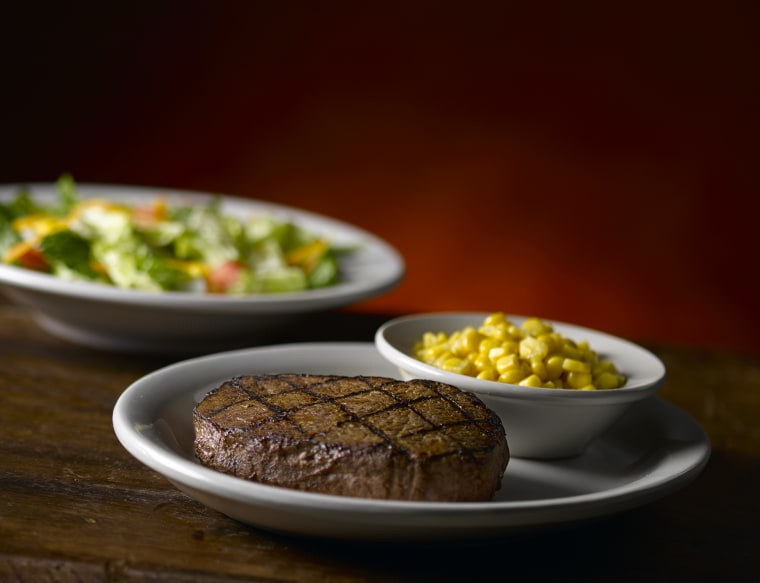 Since Texas Roadhouse was founded 25 years ago, this hand-cut steak has been the menu's best-selling item. It's a great source of protein and iron and only has 6 grams of fat and 1 gram of sugar. Unlike the Porterhouse T-Bone which comes in at a whopping 1040 calories, this steak leaves you with enough wiggle room to have a side or two. Texas Roadhouse's lowest-calorie accompaniments include sautéed mushrooms (80 calories), green beans (70 calories) and applesauce (100 calories). "Or if you're feeling more decadent, there's even room to share an order of mashed potatoes," adds Gans who calls the 6-ounce serving of steak "excellent portion control."
Wood-Grilled Shrimp with Rice, 380 calories, Red Lobster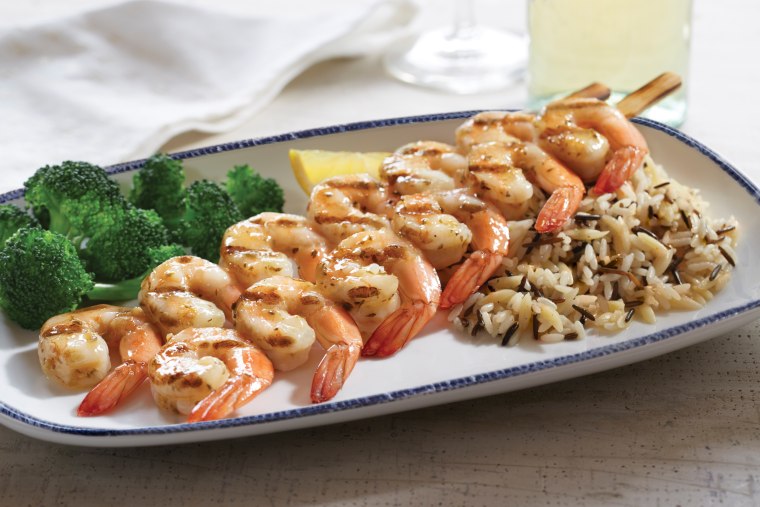 This classic entrée has been a menu staple for most of Red Lobster's 50-year history. It may not sound as exciting as newer items like the lobster truffle mac and cheese or the surf and turf with New York strip, but it's about one-third of the calories. It's got 16 grams of fat (most come from the shrimp's buttery garlic glaze) whereas the mac and cheese will set you back 88 grams of fat. And that surf and turf? Try 94 grams! Yeah, we think this shrimp sounds pretty good, too.
Fit Slam, 390 calories, Denny's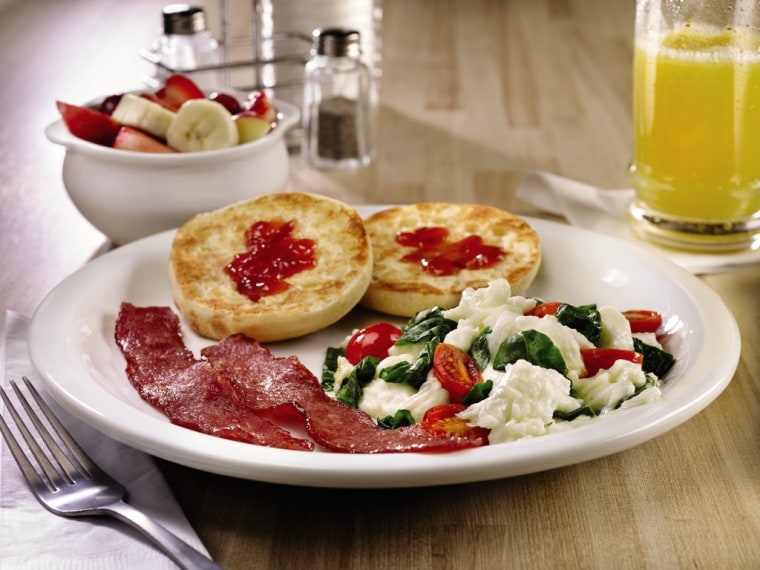 This low-calorie version of Denny's signature Grand Slam breakfast has been a staple on Denny's Fit Fare Menu for a while. In 2013, Consumer Reports tested to see if diners were really only served 390 calories and 11 grams of fat. Two out of three times, the claims were pretty accurate. The third time, this dish — which features egg whites, fresh spinach and grape tomatoes, turkey bacon, seasonal fruit and an English muffin — came in at 494 calories and had 19 grams of fat. Still, we think this is a much better option than a traditional Grand Slam which starts around 1,100 calories and 53 grams of fat. Gans agrees it's a healthier option but suggests possibly swapping out the English muffin for 100 percent whole wheat toast for a little extra fiber.
Naked Tenders with B-Dubs' seasoning, 200 calories, Buffalo Wild Wings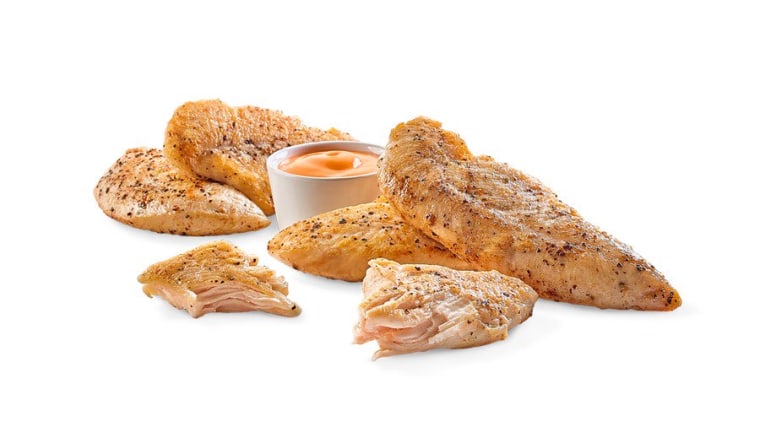 If you didn't get your wing fix during the Super Bowl, we give you permission to go to Buffalo Wild Wings for these tasty chicken tenders. Rubbed with any of the five different B-Dubs' dry seasonings, each piece is only about 50 calories. If you decide to dip them in any of the menu's 16 different hot sauces, it will set you back another 100 calories — or about 25 calories per tender.
Soba Noodle Broth Bowl with Edamame, 380 calories, Panera Bread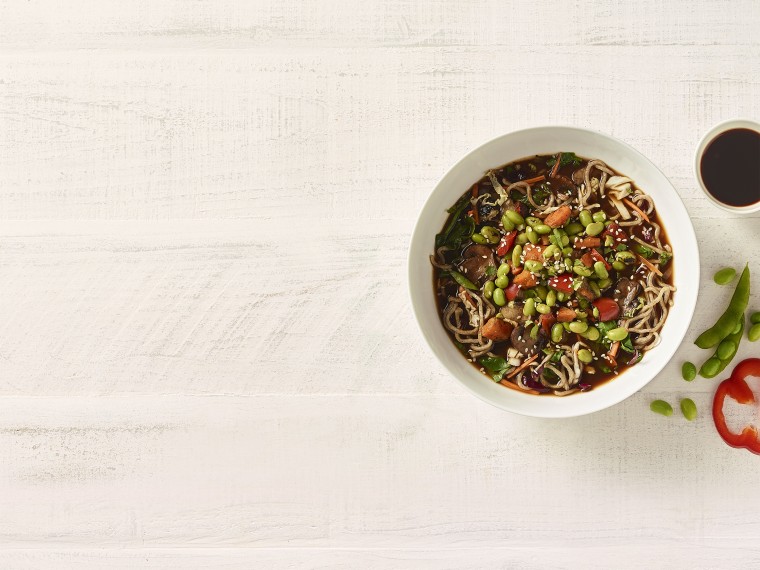 Even if you're not vegan, you may be tempted by the flavors and textures of this new bowl Panera Bread added to its menu in January. The 16 grams of protein, 8 grams of fiber, 13 grams of fat and 51 grams of carbs come from soba buckwheat noodles, fire-roasted edamame, crunchy napa cabbage and sesame seeds. "This is a great well-balanced lunch option," says Gans. "I love that it consists of 8 grams of fiber since most people aren't getting enough fiber in their diets overall."
6-ounce Classic Sirloin with Grilled Avocado, 420 calories, Chili's Grill & Bar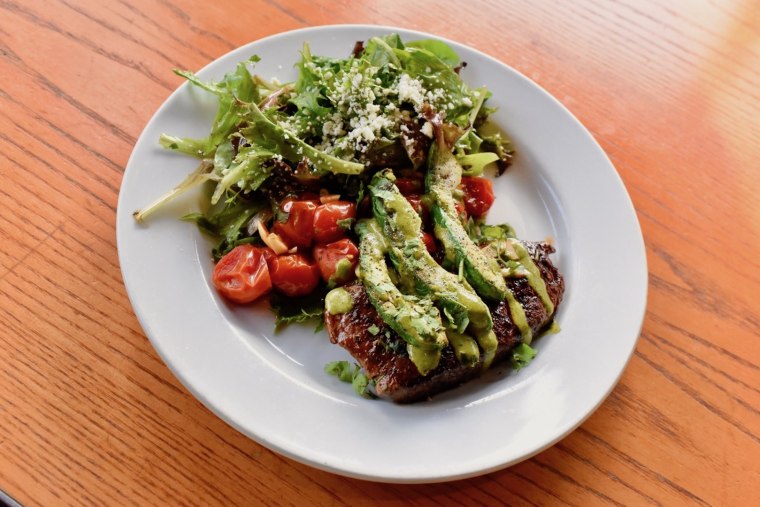 Thanks to its catchy jingle, Chili's is famous for those signature baby back ribs. But unless you skipped lunch, you may want to opt for this steak on the chain's Lighter Choices menu. It's less than half the calories of a rack of honey chipotle barbecue ribs, and the avocado provides a healthy source of fat. However, with 21 grams of fat, it's certainly not a low-fat dish. But if you're experiencing a serious protein deficit, you'll benefit from the 39 grams of protein here.
SkinnyLicious Tuscan Chicken, 580 calories, The Cheesecake Factory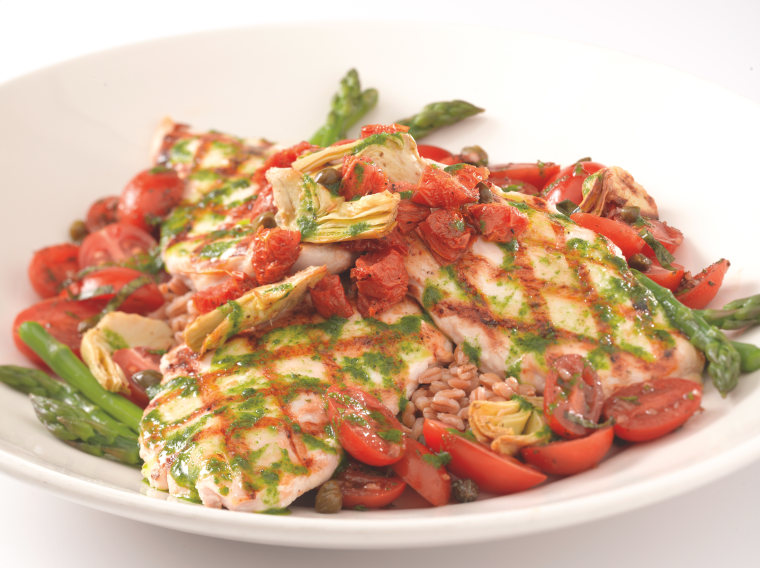 Stop the presses. Yet, it is actually possible to dine at The Cheesecake Factory without eating quadruple digits in calories. Just look at the SkinnyLicious Menu featuring this grilled chicken breast smothered in balsamic vinaigrette, fresh basil, tomatoes, artichokes and capers. Served over faro and fresh veggies, it's filling enough that you probably won't need dessert — but if you want a bite of cheesecake, we totally understand. This dish is contains 20 grams of fat and 19 grams of carbs. "The 3.5 grams of saturated fat isn't too high," says Gans, "Still, I wouldn't consider 580 calories a low-calorie option for the average person, especially women."
Good Morning Breakfast, 370 calories, Cracker Barrel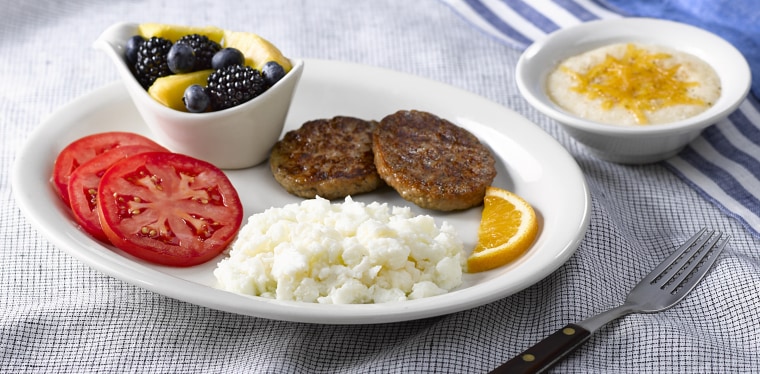 Cracker Barrel's extensive menu can be overwhelming since the chain serves breakfast, lunch and dinner items all day. But if you're watching your calories, stick to the Lighter Fare section, which features lower-calorie fare like this wholesome breakfast. It covers most of the food groups, including two scrambled egg whites and turkey sausage for protein, tomato slices, fresh seasonal fruit and savory cheese grits. In March, the dish will be reduced another 60 calories when the savory cheese grits are replaced with regular grits.