/ Source: TODAY Contributor
This year brought us a doughnut craze, with the sweet creation rising to dizzying heights with the addition of 14K gold, flamingo heads and gobs of galaxy frosting. And we swooned over rainbow foods, from fairy bread and bagels, to multi-hued, psychedelic-looking burgers and grilled cheese. I'm happy to report that this year it looks like food trends will be shifting over to the savory side, with an emphasis on spice instead of sugar. Let's look ahead and get a sample of what's going to break big in the food world this year with these 8 healthy food trends for 2017.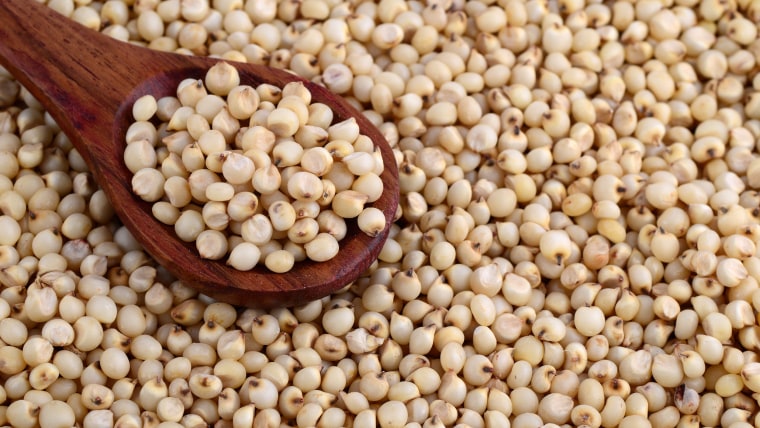 Just when you mastered the pronunciation of quinoa and freekeh, here comes sorghum, another odd sounding ancient grain. We've already told you that this little beige grain is gaining popularity thanks to its gluten-free and non-GMO status, and our hunch that it's the next big thing was confirmed by the McCormick Flavor Forecast, which was presented this year by former White House chef Sam Kass and Dr. Wendy Bazilian. Sorghum can be used like any other whole grain and has already made its way into various cereals, bars and snack products. McCormick presented it popped and paired it with cinnamon and ginger in a granola, paired with plant-based milk, naturally.
RELATED: Is sorghum the new quinoa? Meet the trendy super grain you need to try
2. Jackfruit and more meatier plant-based protein
2016 was officially the "Year of the Pulse" and everyone started getting acquainted with beans, chickpeas, lentils and dried peas. Meanwhile, the Paleo Diet continued to make inroads with all manner of meat-forward snacks. But millennials like to have the best of both worlds, so in the coming year expect to see very meaty looking and tasting foods that are totally PETA-approved.
We'll see more meatless butchers, like The Herbivorous Butcher in Minneapolis, Minnesota, which sells an impressive array of pseudo meats, like chorizo, Korean ribs, holiday ham and meatloaf, which look jarringly like the real deal.
Soy and pulses make up many of the new "meats", but jackfruit, a large (they can weigh up to 100 pounds) green tree fruit native to Southeast Asia, is the new darling in vegan protein country. Look for jackfruit in BBQ dishes, salads, tacos and wraps in 2017. Jackfruit really needs to be combined with a sauce or marinade to give it any flavor. The texture is like that of pulled chicken or pork, and you can even find ready-to-heat versions in grocery stores by companies including Upton's Naturals and The Jackfruit Company.
Even die-hard burger buffs will have meat-free options they can finally sink their teeth into. The Beyond Burger, which is based on pea protein, is gluten-free and includes beet juice for that raw meat look, is now available at select Whole Foods Markets around the country. TODAY Food editor Alessandra Bulow raves about this meatless burger and it does brown up very nicely in the pan and have a satisfying consistency.
RELATED: Meat vs meatless burgers: TODAY anchors try to tell the difference
Then there's the Impossible Burger, which is made with textured wheat protein and plant heme. It "bleeds" beet juice and also provides a very meat-like experience. It's not easy to find at grocery stores yet, but it's cropping up at notable restaurants, like Jardiniere and Cockscomb in San Francisco.
And let's not forget last year's big beef jerky trend! Folks who love that chewy, savory snack can now get it in vegan form with Lightlife's Smart Jerky, which is made with soy protein isolate, has 9 grams of protein per serving (like beef jerky) and is hearty enough for even the bearded, flannel-clad set.
RELATED: 21 gluten-free recipes to try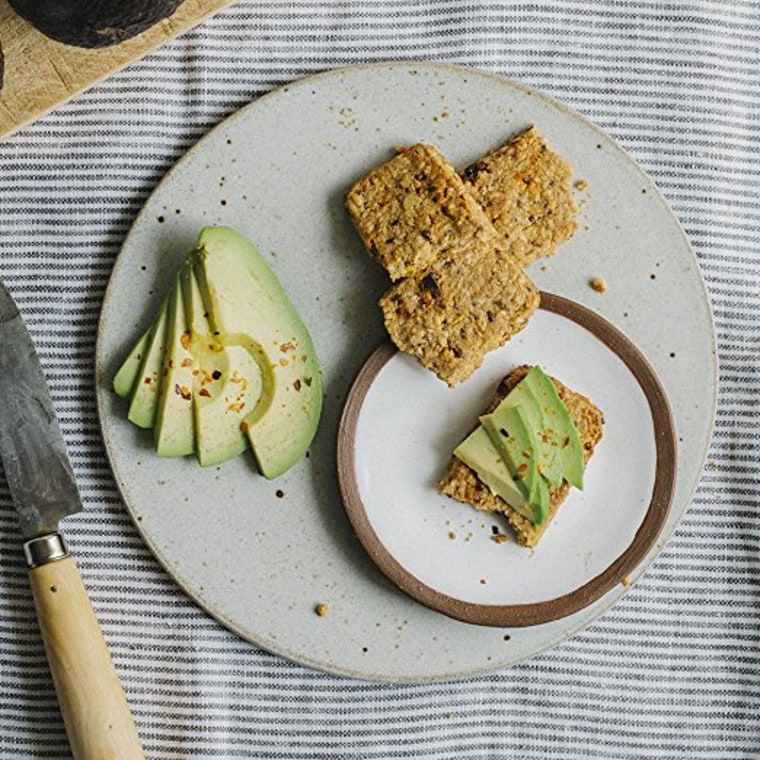 3. Savory snack bars
Last year yogurt took a savory spin with flavors like curry and jalapeño and in 2017 it's time for the granola bar to take a dip into this territory. This is in part due to the popularity of the Mediterranean Diet, as well as the push for food companies to lower the sugar content of their products in anticipation of the new nutrition label, which will start rolling out in January.
At FNCE, the huge conference for nutrition professionals, I saw snack bars from Kashi, Mediterra, and GoMacro that have the consistency of a granola bar, but feature flavors that you're more familiar with in your salad bowl or on your dinner plate.
Kashi's Quinoa, Corn and Roasted Red Pepper bar is a nice combo of those savory ingredients with the natural sweetness of oats, plus some molasses, which adds just 3 grams of sugar to the bar. GoMacro's Thrive line keeps more sweetness (6 to 7 grams of sugar) in the bar, with combinations including Blueberry Lavender and Ginger Lemon.
Mediterra goes completely to the savory side with flavors like Bell Peppers & Green Olives, Black Olives & Walnuts, and Kale & Pumpkin Seeds, which only very mature palates can appreciate with a mere 1 to 2 grams of sugar per bar. I have to admit that my kids were initially excited about them, but abandoned them after a few nibbles. We'll see if consumers are actually ready to leave the sugar behind when it comes to snacking.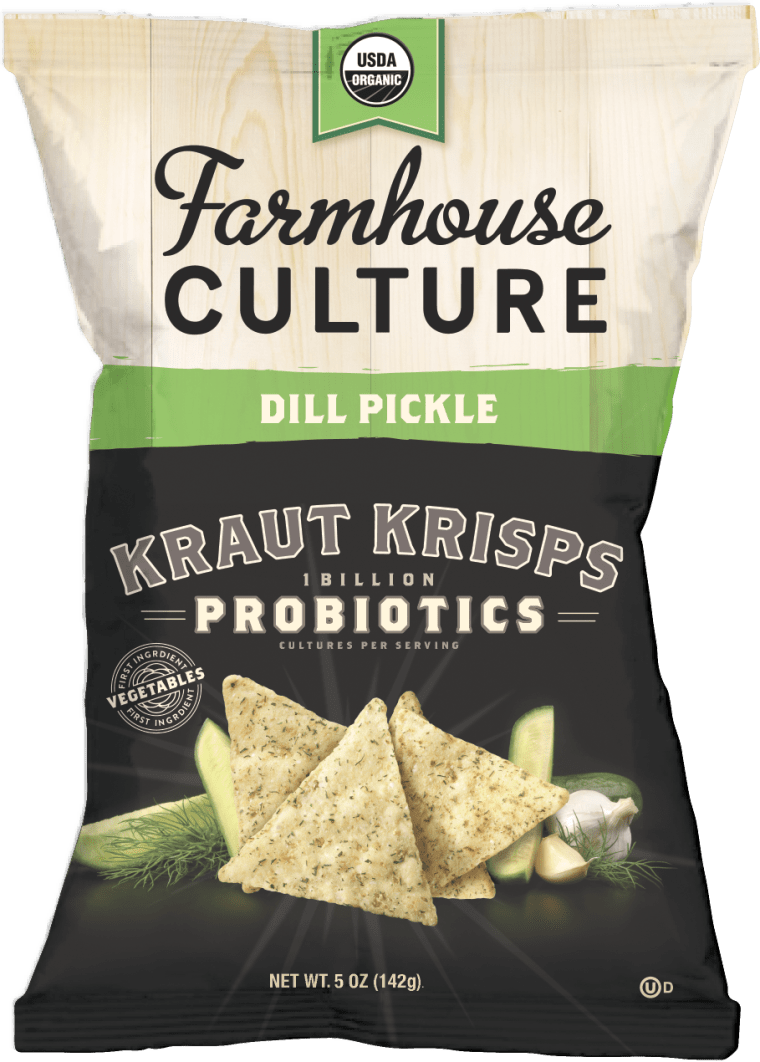 4. Probiotic chips, popcorn and juices
Consumers continue to look for natural ways to achieve better health, especially the millions of Americans who suffer from digestive issues. Probiotics, the live bacteria that live in our gut, help keep us healthy. In addition to the yogurt, kefir and sauerkraut that have taken off in recent years, we're seeing other dairy-free options emerge, including a new tortilla chip called Kraut Krisps from Farmhouse Culture, which will be available in January. They add corn masa to their sauerkraut and fry it into a thin and tasty chip, but since the cooking process kills the good bacteria in the kraut, they add additional probiotics in the seasonings that top the chips. Crunch on that!
RELATED: Yogurt is not just for breakfast! 53 ways to use this magical ingredient
There's even a probiotic popcorn that just hit the market from Living Intentions. It comes in four flavors and combines superfood ingredients like turmeric and spirulina (see #6), plus two billion CFUs (colony forming units) of probiotics cultures in each bag. See — you can binge watch Westworld and do something healthy at the same time!
Tropicana just got in the game with a probiotic-packed juice called Tropicana Essentials Probiotics, which combines fruit juice with one billion live and active cultures from a strain called B. lactis HN019.
And let's not leave yogurt out of the picture. We'll continue to see momentum build for whole milk and grass-fed yogurt. And companies like The White Moustache and Atlanta Fresh are taking the leftover whey from their yogurt production and turning it into probiotic drinks.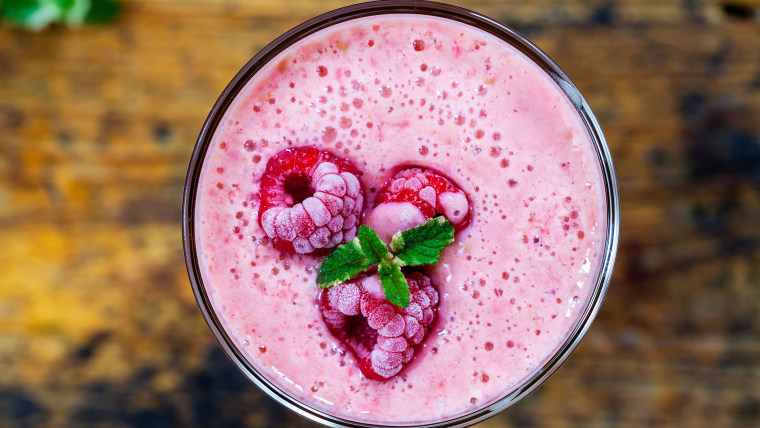 5. Smoothies to get your Zzzs
Whether it's the impact of the recent election, money woes or over-caffeinating, Americans are in a sleep deficit and are looking for a natural ticket to dreamland. People are nervous about just what is going to happen in 2017 and are on the hunt for ways to find some peace — at least at night.
RELATED: Cherry-Almond Smoothie recipe
Healthy Skoop makes a smoothie mix called Sleep Protein that includes tart cherry extract and magnesium, both natural sleep enhancers. And Gaia Herbs is promoting their "Golden Milk," a combination of turmeric, dates, cardamom, vanilla bean, black pepper and the herb Ashwagandha root, as a sleep tonic. You combine the golden milk powder with warm milk or non-dairy milk for a soothing, end of day sipper. Look out for more concoctions promising to take to you to dreamland.
RELATED: How to cook with turmeric, the super healthy trendy root
6. Seaweed and sea vegetables
Oh kale, how we've loved you so. But a new year brings a new romance and in 2017 we'll be crushing hard on a new green — seaweed. Not only is seaweed incredibly low in calories, it's also rich in nutrients that it absorbs from the sea, including calcium and iron. Seaweed is also a way for chefs to bring the rich umami flavor to dishes, including the ramen broth at Momofuku in New York City, which is made with kombu, a seaweed variety. You'll find dried kombu at the grocery store in the Asian food section and also online.
You'll see seaweed in lots of different places this year as spirulina, a blue-green algae, takes over as the natural go-to for making foods green. I just sampled a lovely mint green marshmallow from SmashMallow that got its tint from spirulina extract. By 2021 expect your green M&Ms to be colored with spirulina instead of food coloring.
RELATED: Could algae oil replace your olive oil? Here's how to use it
Fans of zoodles will likely embrace kelp noodles, which can be eaten raw and are gluten-free. These clear noodles just need a quick rinse before eating and can be used in lots of dishes, including salads, stir fries and bowls (see more on those below). In addition to the trace minerals mentioned above, kelp also contains iodine, an important mineral for thyroid health.
7. "Ugly" vegetables and fruits
Every year tons of certain foods are thrown away because consumers just don't like the way they look. As reported in Mind Body Green's 11 Wellness Trends To Watch In 2017, chefs, restaurateurs and brands started a movement in 2016 to bring awareness to how much food is being wasted because it doesn't look "pretty." We expect to hear a lot more about this movement in 2017. Stay tuned to TODAY Food for great ideas on how you can reduce food waste and how to use these so-called "ugly" foods that taste simply beautiful.
RELATED: Are ugly veggies more delicious?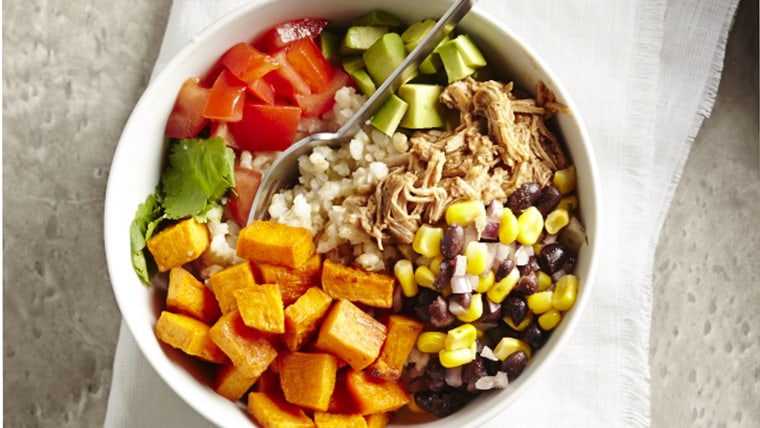 8. Bowls are booming!
It started with acai, but as consumers toss their bread and opt for quinoa, buckwheat noodles and brown rice as their base, we'll see more bowls as meals, not only on Instagram, but also at fast casual restaurants and in the freezer aisle. Bowls are good-looking, pack in lots of different types of healthy foods (protein, grains, vegetables, fruits, nuts, seeds, etc.), can be eaten at different times of the day, and are perfect for desk side dining. 
RELATED: Why the rice bowl is your easy, budget-friendly, healthy dinner solution
The already popular breakfast bowl concept will continue to evolve and move from sweet smoothie and oatmeal bowls to savory, featuring sweet potatoes, garbanzo beans and even ground lamb. These savory morning bowls will be flavored with the Middle Eastern spice mix schug, a zesty blend of cumin, cardamom, coriander, Thai bird chiles and more.
Come lunch and dinner time you'll see grain and veggie bowls take center stage, Sweetgreen, with outposts in DC, NYC, LA, Chicago, Boston and the Philadelphia area is introducing "warm bowls," which they describe as "healthy comfort food" and consist of a range of items including roasted sweet potatoes, roasted tofu, portobello mushrooms, hot chickpeas and wild rice. Perhaps in a few months we'll see a sorghum bowl with seaweed added to the menu.
Here's to taking a big tasty bite out of the New Year!
Frances Largeman-Roth, RD, is a nutrition expert, writer and best-selling author. Her books include Feed the Belly, The CarbLovers Diet and Eating in Color. Follow her @FrancesLRothRD