For this week's Summer Shape-Up segment, I was challenged to create delicious and slimming dinners using ingredients they already had on hand. The end result? I whipped up shakshuka with zucchini noodles and veggie soup.
Both are one-pot wonders, require only a few simple ingredients, and meet my Drop 10 TODAY criteria. Try them for yourself; you probably have most of the ingredients in your kitchen.
If you love digging into a heaping bowl of pasta, then let me introduce you to your new favorite meal. Shakshuka is a one-skillet dish that's popular in Middle Eastern countries. I put my own spin on it by simplifying the recipe and replacing the side of carb-loaded bread with lighter, nutrient-packed zucchini noodles. Although it's typically a breakfast food, shakshuka can be served any time of day — it makes for a delicious eggs-for-dinner meal. And did I mention you get a huge portion for less than 300 calories? Can't beat that!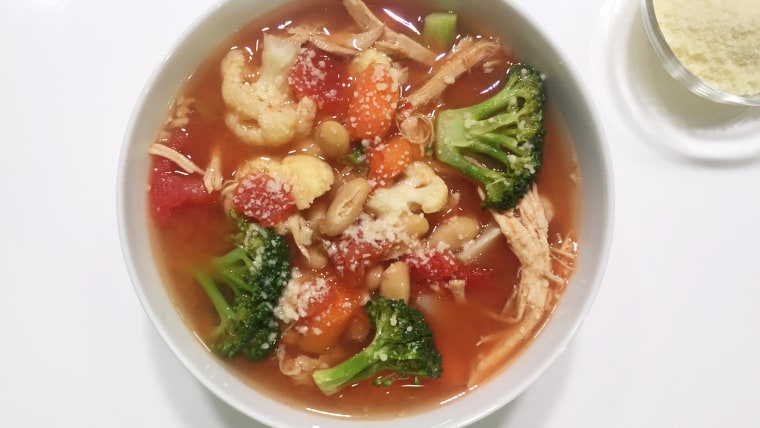 This flavorful soup is a great way to use up leftovers so you don't waste food (or money). It's incredibly easy to make — all you do is toss a few mainstay items into one pot ... and voila! You have a hearty and satisfying meal. There are a million (and one) variations depending on what veggies and beans you have on hand. Just stick to the rough ratio of about 3 cups of non-starchy veggies to about 4 cups of low-sodium broth. Feel free to add more veggies for a thicker soup. Grab your spoon and dive in.
For more delicious recipes, check out Joy's cookbook "From Junk Food to Joy Food" and follow her via Twitter, Facebook and Instagram.
RELATED
• Lose up to 10 pounds this month with Joy Bauer's #startTODAY meal plan
• Joy Bauer's Chocolaty Brownie Bites
• Joy Bauer's healthy brunch recipes: Quiche Lorraine, Bloody Mary Pops