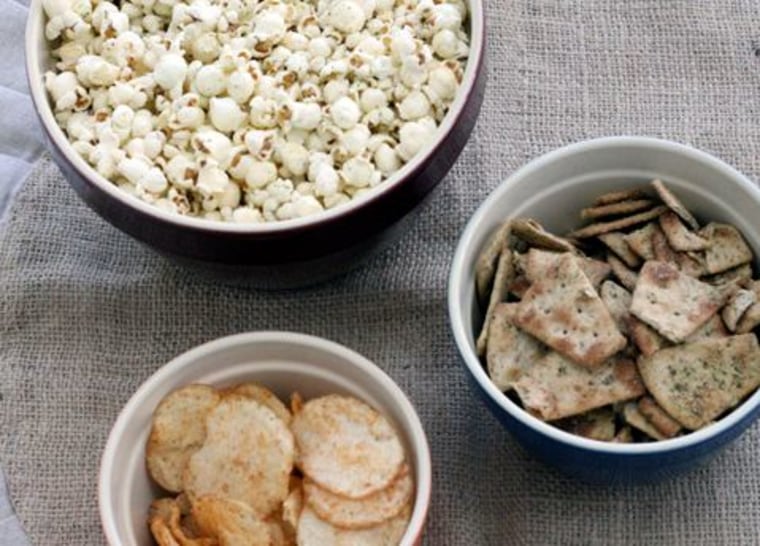 For me, Super Bowl Sunday is always about the food. (Unless the Giants are playing. Then I am slightly more interested in the outcome of the game.) If ever there were a time for snacking, Super Bowl Sunday is it. But without realizing it, you can consume a day's worth of calories in a few hours.  According to the Calorie Control Council, Americans will consume 1,200 calories and 50 grams of fat just snacking on game day. Now there's a stat that can make you lose your appetite. But you don't have to entirely forget the snackfest you were planning. There are several lighter, healthier options out there that are just as tasty and won't bust your diet. Game on!
The kettle corn king recently launched this light popcorn, which is free of artificial flavors, and has around 40 calories and 2 grams of fat per cup. After tasting it, you won't believe those extra fat and calories are missing. FIT is available in four mouthwatering flavors—Extra Virgin Olive Oil, Parmesan & Herb, Onion Dijon and Sea Salt—and you should probably buy them all, because you'll be refilling the bowl more than once during the game.  Bonus: the olive oil and sea salt flavors carry the Non-GMO Project Verified seal.
Kashi's Garlic Pesto Pita Crisps
Kashi's "seven whole grains on a mission" can now be found in one of the greatest snack foods of all time: the pita chip. Their version, which carry a texturally perfect crunch, are bursting with garlickly basil flavor and have a whopping 5 grams of fiber and only 3 grams of fat per serving. If pesto isn't your preference, they also come in Original Sea Salt and Zesty Salsa flavors.
Bibigo Fully Cooked Potstickers
These small bites, available in Barbecue Flavored Chicken and Chicken & Vegetable, have 17 grams of whole grains per serving. Oh, and they're delicious and super simple to prepare!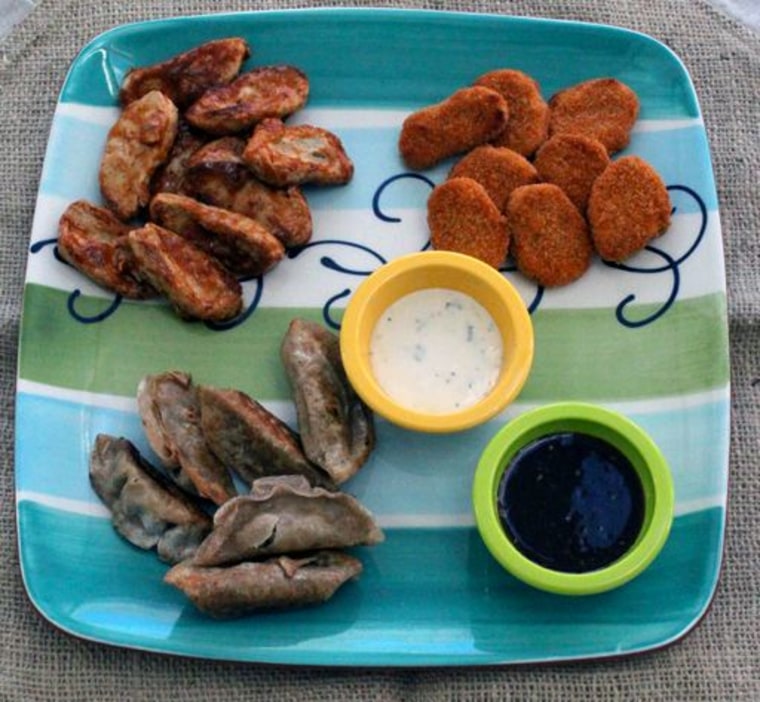 Dr. Praeger's Chickenless Buffalo Nuggets
After tasting these nuggets, I couldn't believe that they were meatless and not deep fried! My husband kept asking me if I was sure that they didn't contain any meat. Your vegetarian guests may have to hover near these nuggets lest the rest of the game watchers devour them all. If you like a saucier nugget, Gardein's Classic Style Buffalo Wings are seriously spicy.
These tasty baked crackers are perfectly crispy, light and have awesome flavor. You'd never guess that they're gluten-free and made with healthy oats, brown rice, millet, quinoa and amaranth. They come in three varieties, but our favorite is the Say Cheese!, which has just the right amount of cheesiness without going overboard. The best part? You can munch on 30 crackers for 140 calories.
Kettle Brand Baked Potato Chips
I've always been a fan of Kettle's baked chips, because they don't contain any sketchy ingredients and they're the only baked chip on the market that actually taste like the real, fried version. So I was happy to hear that these delightful snacks have been revamped into an even tastier version (if that's possible) and are available in two new flavors: Sour Cream & Onion and Cheddar & Roasted Tomato.  As with the popcorn, you may want to stock up. 
Earthbound Farms Dippin' Doubles
For your littlest fans, these portable snacks contain a serving of organic fruits and vegetables paired with a healthy, organic "sauce" for dipping.  Available in Apples & Yogurt, Apples & Peanut Butter and Carrots & Ranch Dip.
Get more tips and recipes for seasonal eats at Made By Michelle.
More from TODAY Food: