If you have a sweet tooth, but you're trying to avoid overloading on sugar, there's some good news just ahead of Valentine's Day. While candy can be included as a special treat as part of a healthy diet, many people feel it's a guilty indulgence, even in modest servings.
But it doesn't need to be. Today, there are plenty of tasty candy options out there, with qualities that many health-conscious consumers are craving: they have less sugar, no artificial colors or additives, no genetically modified ingredients; they're made with fair trade and sustainable ingredients, and many are suitable for people following kosher or vegan diets.
Here's a closer look at some better-for-you candies on the market, many of which are available at your local supermarket or Whole Foods. And, maybe best of all, many of these products have built-in portion control with single serving options, so you can feel satisfied eating a nicely-sized portion.
For more Valentine's Day ideas, check out Shop TODAY's 37-item gift guide!
Dr. Fernstrom researched and selected these products but she has no affiliation with any of the brands.
Unreal Chocolates, $35 for a six-bag case, Amazon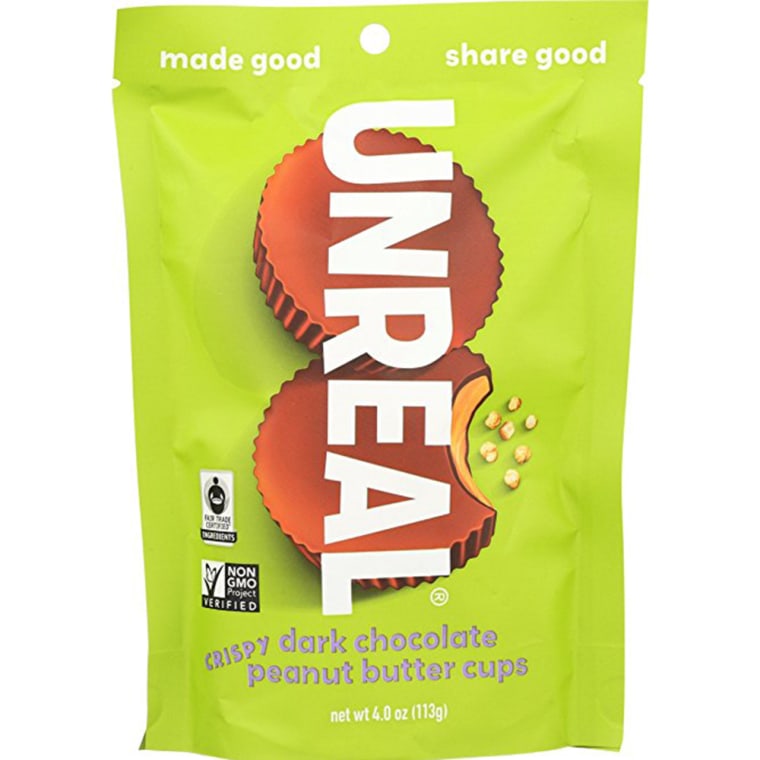 For the peanut butter and chocolate lovers out there, Unreal makes crispy dark chocolate or plain dark chocolate peanut butter cups, and a dark chocolate almond butter cup. Each individually-wrapped cup is just 70 calories. There are also dark chocolate crispy quinoa gems, or dark chocolate peanut gems, and a handful will set you back about 150 calories. If you like M&M's, you'll enjoy these but note that they are not as sweet and the colors aren't as vibrant. Compared to many other brands on the market, these products are lower in sugar, and they're free of eggs and dairy, so they're great for vegans.
Justin's Mini Chocolate Peanut Butter Cups, $7, Amazon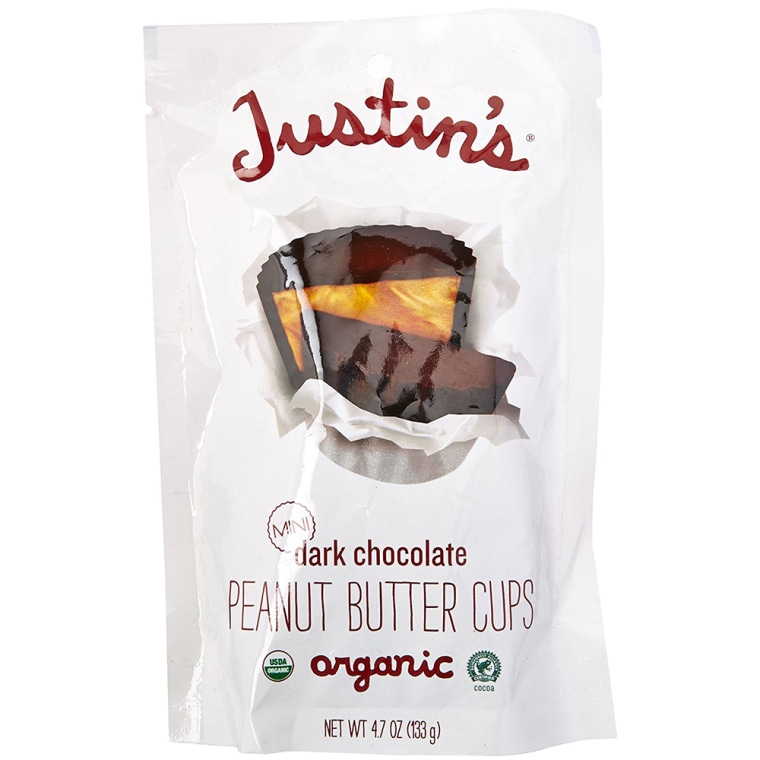 Look for the mini versions of these popular peanut butter cups (which come in both dark and milk chocolate varieties) to control your serving size. While the serving size is listed as three cups, you can choose fewer, with one mini-cup containing 70 calories. Justin's also makes snack packs that come with chocolate hazelnut butter and pretzels, for 180 calories a pack. With 4 grams of protein, and a little more than a teaspoon of sugar, they're a tasty treat for those seeking chocolate, creaminess, and crunch in one snack.
All Justin's products are USDA certified organic (so they're non-GMO). The dark chocolate variety is kosher and vegan, too, but the milk chocolate does contain, well, milk.
Manhattan Chocolates Chocolate Leather, $19 for 36, Amazon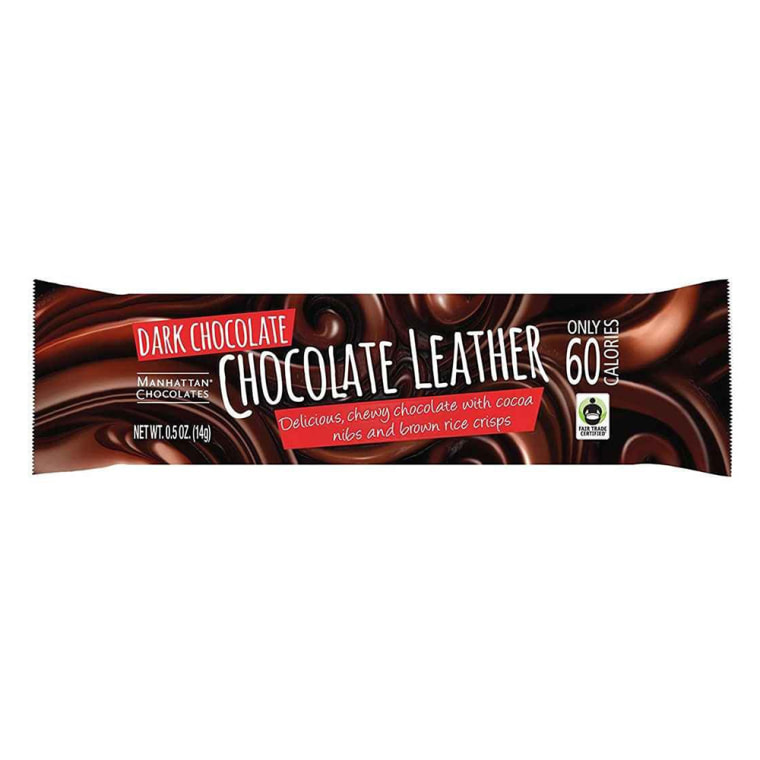 If you're looking for a chewy, taffy-like treat, these bars, which are just 50 to 60 calories each, are a good option. With only 4 grams of sugar per bar, they contain no artificial ingredients. Available in milk or dark chocolate leather, these take a lot longer to eat because of the increased chewiness so you can savor your sweet snacking time.
Little Ducks Organics Tiny Gummies, $19 for six packs, Amazon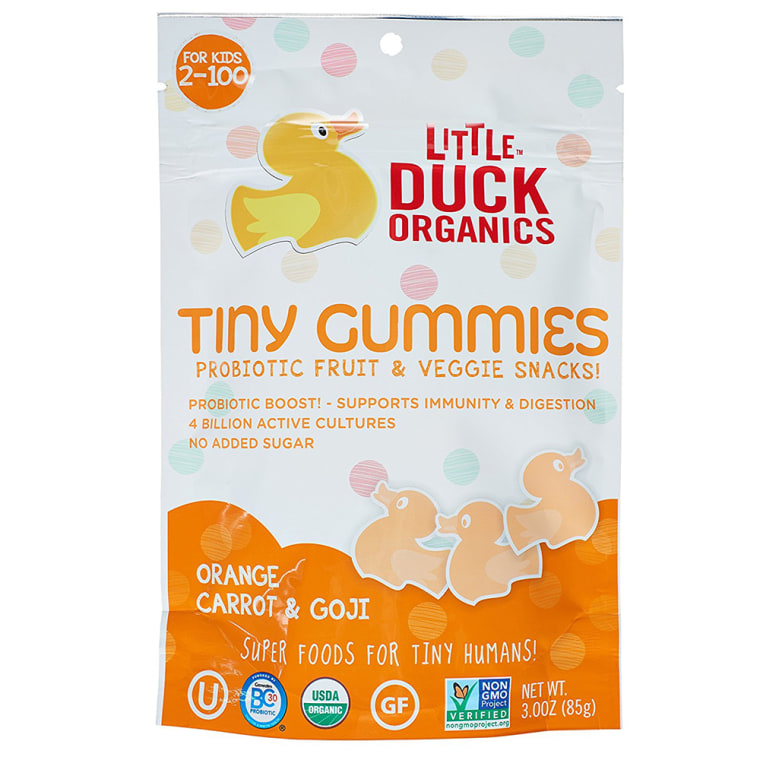 These USDA certified organic gummy treats come in two flavors: orange/carrot/goji and pomegranate/blueberry/acai. Each bag clocks in at 70 calories. They're made with 100 percent fruit purees, with no added sugars or gelatin fillers, and both flavors are vegan and kosher. The unique flavor profile of fruits like goji and acai provide a unique pop of sweetness both adults and kids will really enjoy.
YumEarth Organic Pops and Hard Candy, $5, Amazon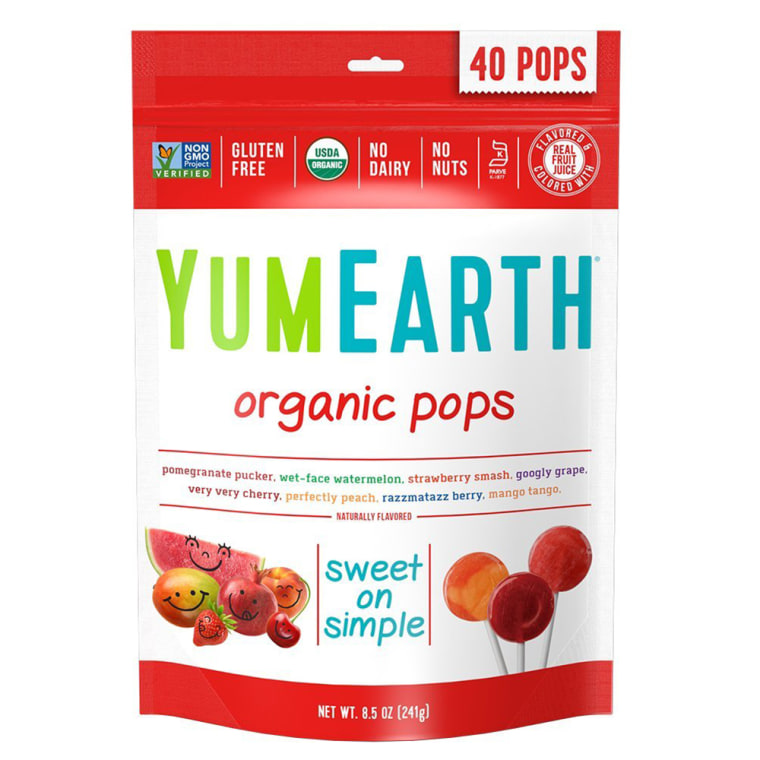 Made without artificial colors or flavors, these organic lollypops contain just 60 calories for three pops — and of course, you could just have one for 20 calories. Choose from fun flavors including watermelon, pomegranate pucker, strawberry smash, and mango tango. The hard candies, especially the wild peppermint flavor, give candy lovers a refreshing jolt of flavor, and have just 12 calories per candy and 2 grams of sugar. These YumEarth products do not contain high fructose corn syrup, either.
The Ginger People Gin-Gins Original Chewy Candy, $7 for two packs, Amazon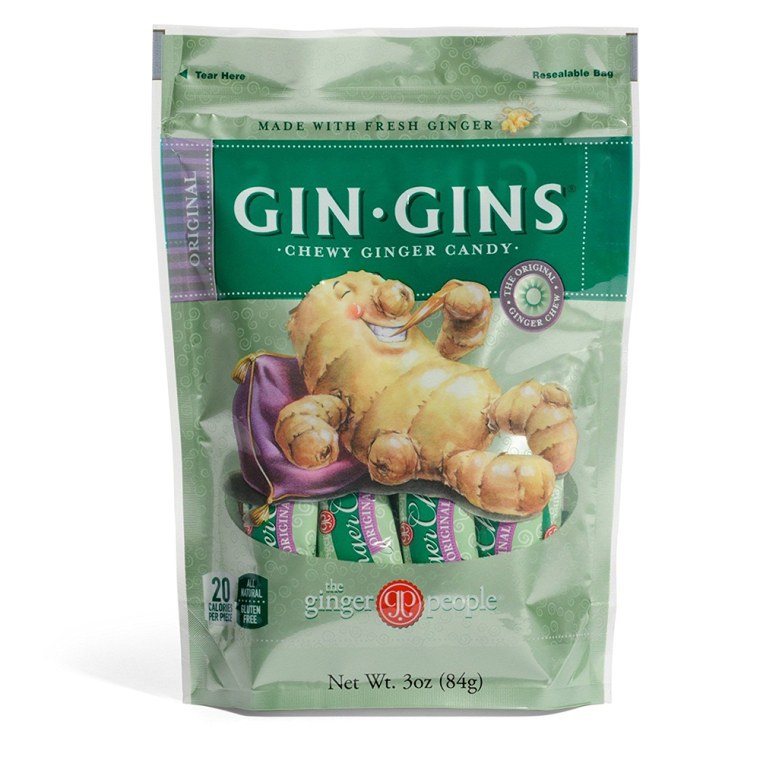 If you love candied ginger, the sweet and spicy taste combination of these chews will become your new favorite sweet treats. With just 15 to 20 calories per each individually wrapped chew, these definitely have more of a grown-up flavor profile because the spice is very present. Prince of Peace also makes natural chews, too. And because consuming ginger may help with digestive issues, these chews have sometimes been recommended to help calm an upset stomach.
Remember, when it comes to any candy, it's always important to read the package label to monitor portion control and double check the ingredients. For example, a term like "organic" doesn't necessarily mean a product is lower in sugar or that it contains fewer calories, but it does mean that no GMO-containing ingredients have been used.
Be an informed consumer, and candy can be a guilt-free indulgence, if you choose.
For more healthy snacks, check out TODAY Food's round ups of the hottest healthy snacks for 2018, the best healthy snacks for kids and the best healthy snacks for adults!
Madelyn Fernstrom is NBC News Health and Nutrition Editor. Follow her on Twitter @drfernstrom.