The boats bob gently in their slips on the blue-green waters of Koko Marina, its usually placid surface scalloped by a steady trade wind blowing into Oahu, Hawaii's windward coast. The impossibly blue sky is playing host to a handful of towering clouds that stretch to the horizon, where they are interrupted by the lush green foothills of the Ko' olau mountain range.
It's here that Hawaii's Kona Brewing Company opened its second brewpub, a sister to the one attached to the Kailua-Kona brewery on the Big Island. Needless to say, this is an excellent place to enjoy a beer.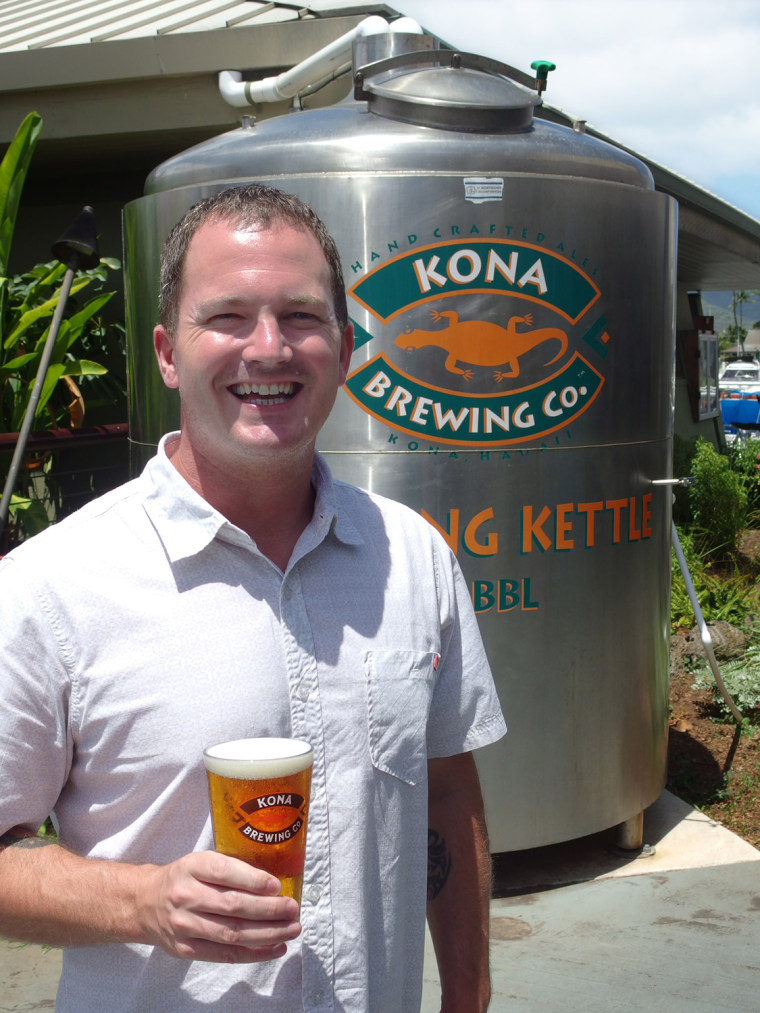 Across from me is Kona brewmaster Billy Smith, a gregarious beer geek who might just have the best job in the brewing world. He orders us a flight of beers, some of which can be found as far away as New York and others that are only available on tap at the company's Hawaii brewpubs. Most have one thing in common: a clear taste of place, or terroir (pronounced TER-war), as it's known in the wine world.
Technically, few beers have legitimate terroir, since the term traditionally refers to the influence that local factors like the chemical composition of the soil, the topography of the land, and the climate have on the ingredients that are grown there.
Most American craft beers are concocted with ingredients from faraway places; the hops might come from Oregon's Willamette Valley, the malted barley from North Dakota and the yeast from a lab in San Diego. The varieties of these ingredients that are chosen and how they are treated during the brewing process allow a brewer almost unlimited control over the final flavor of a brew, from palate-wrecking IPA's, to puckering sour beers to boozy imperial stouts.
But many beers are deeply rooted in the culture from which they spring up, and this has a significant effect on their flavor—so beer's terroir is largely cultural, not environmental. When you think of Ireland, you think of a roasty Guinness Extra Stout. When you think of California, you probably think of citrusy IPA's. And when you think of beers that fit with the spirit of the Hawaiian Islands, you likely think of an offering from Kona Brewing Company.
Smith walks me through the beers we are sampling on this sublime afternoon in paradise, starting with a couple of selections that are available on the mainland. First up is Big Wave Golden Ale, which has a low ABV of just 4.4 percent and a lovely dollop of mango and pineapple flavors playing off its gentle malt backbone. Big Wave is a perfect companion for this environment, a refreshing beer you can sip all day without getting bogged down by booze.
Next up is Castaway IPA, a beer that spent 14 years as an island-only offering before making the jump to the mainland earlier this year. This 6 percent India Pale Ale has a sweet softness to it, featuring a laid-back and tropical hop profile. With its smooth flavor, Castaway IPA makes for a great "starter" IPA for those who haven't yet acquired a taste for sweltering hops, but it might disappoint mainland hopheads who are longing for a more traditional IPA flavor.
Those wanting a mountainous blast of hops from Kona will have to visit one of the brewer's Hawaiian brewpubs, where they serve Kua Bay IPA, which was next up in our flight of beers. "Locals were asking for a Northwest-style IPA, so we crafted one for them," Smith tells me as we sample this hop-forward 7 percent ABV ale. There is no tropical flair on offer here, just a dank burst of pine and citrus nicely balanced against an earthy brace of malts. It's a beer that Smith says gives Kona "geek cred" with beer aficionados who visit the brewpubs.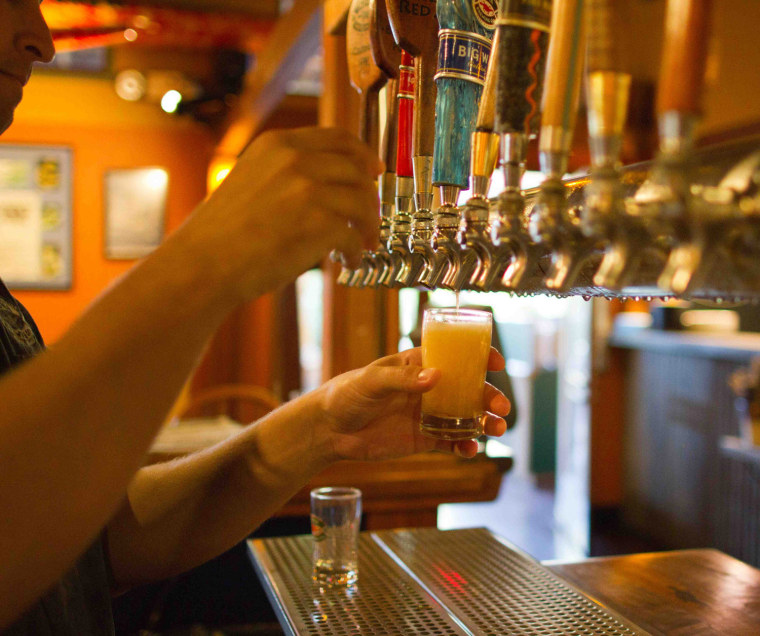 Our next two beers are also brewpub-only offerings that feature local ingredients. "We like to brew beers with the stuff that's growing in our own backyards," Smith says, noting that he wakes up to a yard full of mangoes, passion fruit and a variety of nuts every morning.
Lemongrass Luau is brewed with local ginger and filtered through lemongrass that grows right outside the front door of the brewery. The result is a 5 percent ABV beer with a perfect pop of ginger, a smooth mouthfeel thanks to a bit of wheat in its grain bill, and a lovely touch of citrus on the finish.
Black Lava Lager is a 5.4 percent ABV dark beer brewed with taro, a starchy root vegetable that's a staple in the Hawaiian diet. It's difficult to detect the influence of the taro in the flavor profile, which is sweet, roasty and quite light on its feet, something that's unusual in a dark beer, but works well on a warm Hawaiian afternoon.
Other interesting beers are in development right now, such as Magic Sands Saison, brewed with local mangoes. It should be joining the other island-inspired beers at the brewpub in the coming weeks.
"We use our brewpubs to test out new beers with our guests," says Smith as we sit amid a bustling mid-week lunch crowd. Clearly the locals don't mind being craft-beer guinea pigs. "We listen to their feedback and dial in our recipes until we feel like we've nailed it," he says.
Over time, a few of these island-only beers like Castaway IPA make it into production for distribution on the mainland, but most are simply kept in rotation at the brewpubs for the locals who love them. Regardless if they make it off the islands, there's always something worth sampling on tap at Kona—something that tastes a lot like paradise.