Don't have much time to make dinner during the week? Add these two quick and simple chicken dishes from George Mendes. Not only are they easy to make but they're full of Mediterranean flavors that your entire family will enjoy. Here, the chef and author of "My Portgual" shares his recipes for seared chicken breasts with roasted root vegetables and chicken rice.
Seared chicken with root vegetables
Serves 4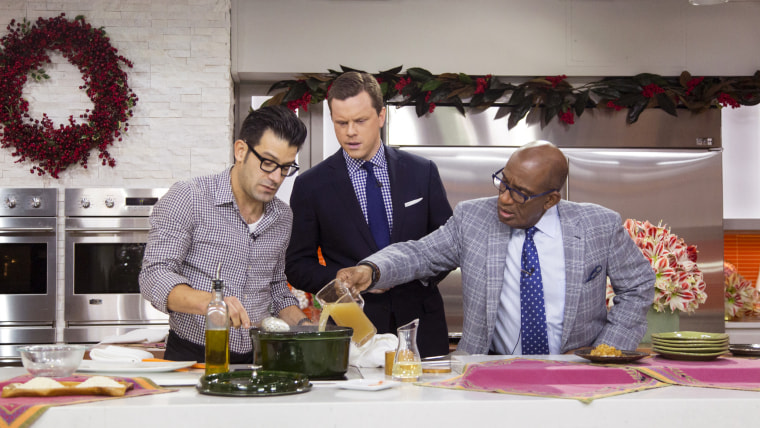 Ingredients: 

2 tbsp olive oil, divided

1 onion, diced

9 cloves of garlic (6 peeled and minced; 3 crushed with skin still on)

1 large carrot, peeled and sliced

1 large parsnip, peeled and sliced

1 large turnip, peeled and sliced

1 large yukon gold potato, peeled and sliced

1/2 tbsp chopped cilantro

1/2 tbsp chopped parsley

1/2 tbsp chopped thyme

4 boneless, skin-on chicken breasts

Salt & pepper 1 tbsp butter

5 sprigs fresh thyme

1 sprig fresh rosemary 
Preheat the oven to 375 degrees F.
In an ovenproof pan, sweat the onions and minced garlic together in 1 tbsp of olive oil over medium-low heat. Add the carrot and parsnip and cook slowly for 5-7 minutes. Add the turnip and potato to the pan. Cover with a lid or aluminum foil and place in oven for 12-15 minutes until tender when pierced with a fork.
When the vegetables are done roasting, remove from the oven and sprinkle with the chopped herbs. Reduce oven temperature to 350 degrees Fahrenheit.
Sprinkle the chicken with salt and pepper on both sides. Heat 1 tbsp olive oil in a large, ovenproof sauté pan over medium-high heat. Add the chicken breasts to the pan skin-side down. Transfer the pan to the oven and cook 12 minutes.
Open the oven and add butter, 3 cloves crushed garlic, thyme & rosemary to the pan. As the butter melts, use a spoon to baste the chicken with it. Continue spooning the butter over the chicken for about 7 minutes.
Turn chicken skin-side up and let rest for 8 minutes covered with foil. Slice and serve with the vegetables.

Chicken rice
Serves 4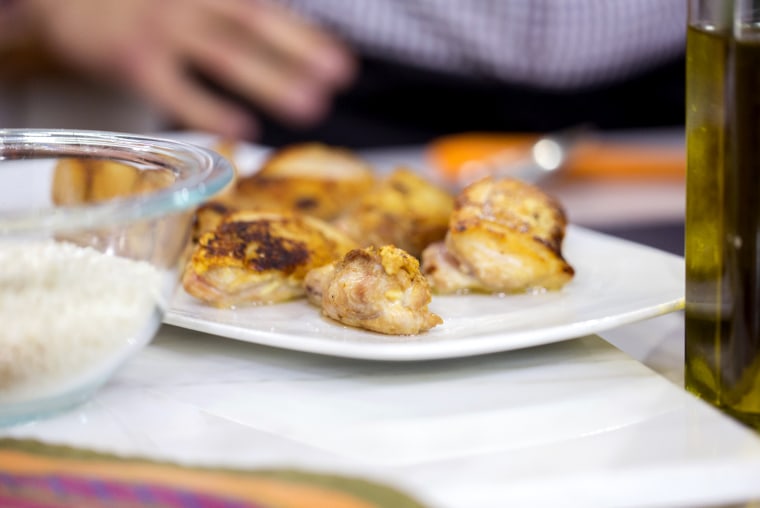 Ingredients:

8 skin-on chicken thighs

Salt & pepper to taste

4 tbsp olive oil

1/2 onion, diced

6 cloves garlic, peeled and mixed

1/2 tbsp paprika

1 tsp red chile flakes

1 bay leaf, torn

1/2 cup dry white wine

2 cups Carolina rice may 

4-4 1/2 cups store-bought chicken stock

1/2 cup peas, fresh or frozen and unthawed (or fava beans may be substituted)

1 tbsp chopped fresh parsley

1 tbsp chopped fresh cilantro 

Sprinkle both sides of the chicken thighs with salt and pepper. Add 2 tbsp of olive oil to a heavy-bottomed, 4- to 5-qt. set over medium-low heat. Add the chicken thighs and brown on both sides.
Remove the chicken thighs from the pan and set on a plate. Add 2 tbsp of olive oil to the same pan over low heat, and add the onion and garlic followed by the paprika, chile flakes and bay leaf. Continue to cook over low heat for 8-10 minutes.
Add the chicken pieces back to the pan with the heat still on and add 1/2 cup of dry white wine, letting it simmer until the pan is deglazed and the liquid evaporates.
Add to the pan the rice and 4 to 4 1/2 cups (depending on whether you prefer your rice dryer or soupier) of chicken stock. Bring to a simmer and season with salt to taste. Cover the pan and place in oven for 20-25 minutes.
In the last five minutes of cooking time, add the green peas (or fava beans) to the pot to finish cooking.
Remove pan from heat and top the chicken rice with the chopped parsley and cilantro. Serve.