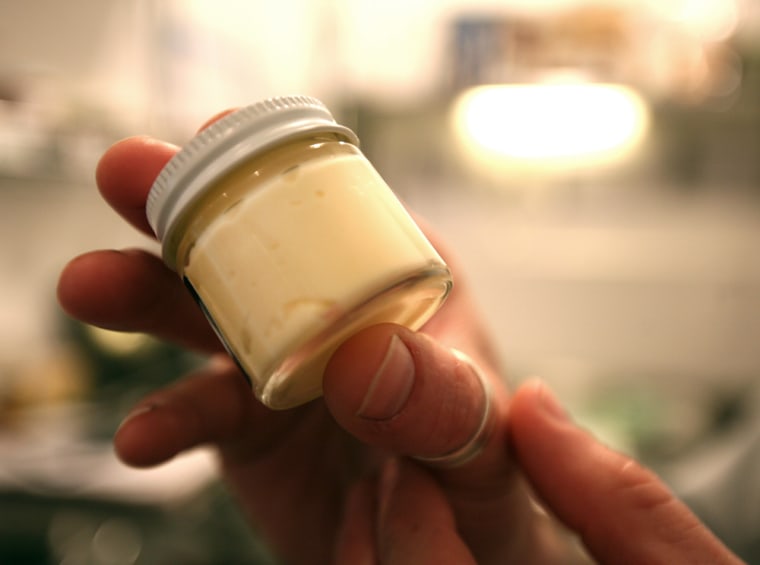 Mayonnaise is probably the most divisive condiment: It makes some people salivate and others gag. Now a new artisanal mayo producer, Empire Mayonnaise Co., wants to redefine the spread and differentiate it from anything else you'll find on your local supermarket shelf.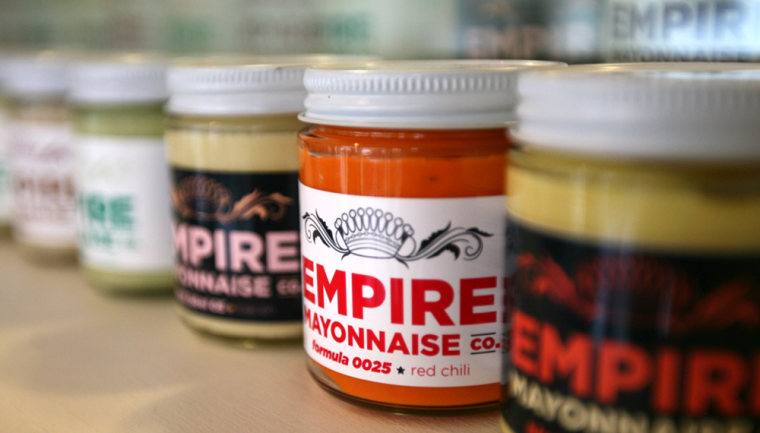 Sam Mason, a chef formerly of New York's notably inventive restaurant WD-50, had just opened a new bar (Lady Jay's) when he was approached by designer Elizabeth Valleau with an idea: artisanal mayonnaise featuring wild flavors. Prepared to say "Thanks but no thanks," Mason only agreed to meet with Valleau and her husband, Benjamin Palmer, as a favor to a mutual friend. But after they explained their fully formed conceptual design and business plan for an hour, Mason was sold.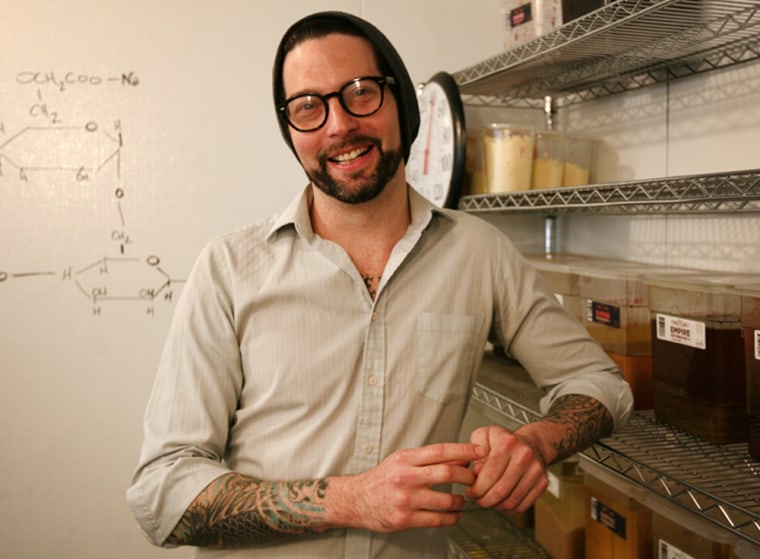 "The mayonnaise market is just so horrible," said Mason, who has become the mastermind behind Empire's concoctions. He shudders when thinking about the long shelf-life of other mayonnaise products found in the supermarket. "That's not normal," he said. "Elizabeth saw the void there, and I was inspired by her love for this concept."
Let's consider what mayonnaise is: a combination of oil, vinegar, salt and eggs (most store-bought products use the whole egg, but Empire uses only the yolks to yield a richer product). Its simplicity makes mayonnaise an ideal neutral medium, which makes Mason equal parts chef and scientist. Fascinated by flavor profiles, he fastidiously works in his refrigerated, 40-degree room, experimenting with how to best impart flavor to the mayonnaise. He often works with seasonal offerings, the latest of which is fennel seed. He tastes every batch.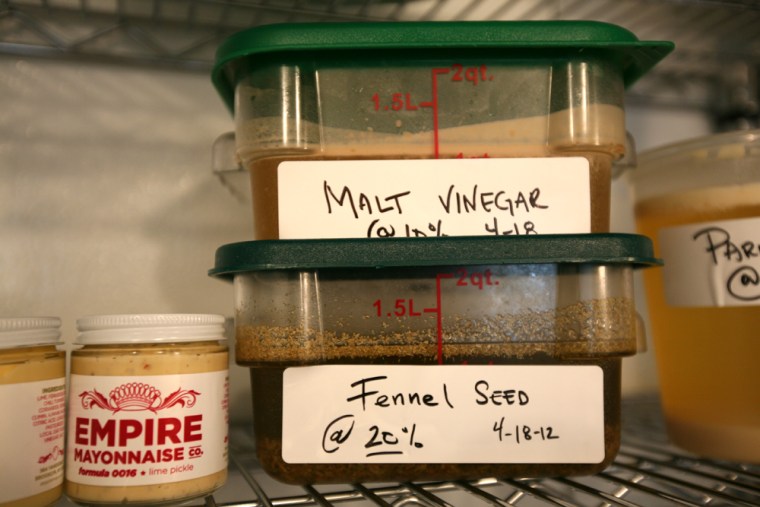 I tasted several of Empire's flavors, including black garlic, lemon olive oil and bacon. The consistency is smooth and thick, creamier than other mayonnaise I've had. None of them tasted particularly appealing with a simple pretzel rod. Their strength comes out when incorporated in dishes, as evidenced in the egg salad sandwich at New York restaurant The Brooklyn Farmacy, which uses lemon olive oil mayonnaise. Though I was not impressed with its flavor on its own, the lemon olive oil gave the sandwich a brightness that most egg salads lack.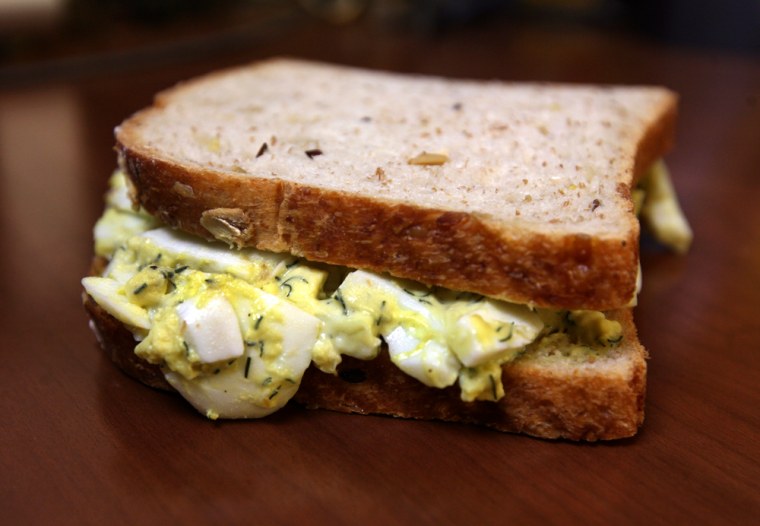 These flavors offer ordinary, expected dishes the kind of one-two punch  that makes them exceptional and worthy of a repeat visit.
I have to admit that I like mayonnaise, even mass-produced Hellmann's, but what would make me choose Empire over the competition is the pure fun factor. Talk about a conversation-starter at a potluck! But I'm not convinced that a mayo hater would join my team after a bite. 
The most popular flavors tend to be the most approachable, such as smoked paprika (reminiscent of deviled eggs) and black garlic. There are about 20 "classic" flavors that are available year-round and at least a dozen others that rotate, often depending on the season.
While the mayonnaise mass market is sorely lacking in diversity, the Empire Mayonnaise collection most certainly is not.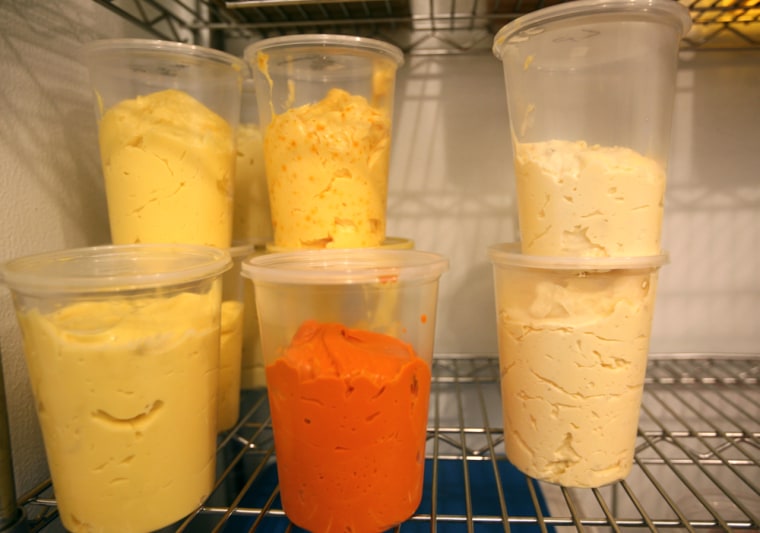 Interested in trying one of Empire Mayonnaise Co.'s flavors? They ship everywhere in the United States. Here are some pairing ideas:
Lime Pickle mayonnaise on a burger (as used at Nitehawk Cinema in Brooklyn).
Parmesan mayonnaise with corn for a twist on the classic Mexican Elote dish.
Black garlic mayonnaise on steak.
Bacon mayonnaise mixed with grilled shrimp, peaches, tomatoes and arugula for a shrimp salad your guests will never forget.
Katie Quinn is a TODAY.com video producer and loves all condiments, especially curry mayonnaise on extra crunchy french fries. 
More from Bites: