Latinos may be predominantly Catholic, but there are also large numbers of Hispanics who practice Judaism — some 500,000 through South and Central America and growing numbers in the United States. And so it stands to reason that many classic Jewish holiday foods — like latkes, fried potato pancakes and sufganiyots (small jelly doughnuts) — have over the years been adapted by  Hispanic cooks who incorporate their native ingredients.
As the eight days of Hanukkah are celebrated this week, NBC Latino caught up with Miami-based, Barranquilla-born chef Sam Gorenstein, whose family is Jewish, and asked him to share a couple of his favorite holiday recipes. While he may be a much-celebrated chef (he was nominated for a James Beard Award) he gives credit to someone else for inspiring his Jewish cooking. "My Mom," he says, "was the one who really made all of this when I was growing up. And she's the one who taught me."
Gorenstein offered up two Jewish classics with undeniably Latin twists: latkes topped with a flavorful sofrito (instead of the usual apple sauce or sour cream) and sufganiyot stuffed with dulce de leche or guava (rather than the traditional jelly). In both cases the foods are fried, a technique that's tied to the holiday itself. Because Hanukkah celebrates the miracle of the oil that burned for eight days when Jewish rebel soldiers regained control of and rededicated the holy Temple in Jerusalem, dishes served this time of year are fried in oil as a reminder of the miracle itself.
Dulce de leche or guava sufganiyot
40 grams yeast powder
1 cups warm milk
2 ounces unsalted butter
3/4 cups sugar
2 eggs, divided
3 cups all purpose flour
Pinch of salt
1 8 oz jar of dulce de leche
1 small bar of guava paste
Canola oil, for frying
Powdered sugar, for dusting
1. Combine yeast, 2 tablespoons of warm milk, and 2 teaspoons of sugar. Let sit for about 10 minutes.
2. In a large bowl, sift the flour through a mesh strainer. Add the sugar, salt, two eggs, the remaining milk and the yeast mixture. Combine and knead for about 10 minutes, until the dough is smooth in texture.  Cover the bowl with plastic wrap and let sit for about 2 hours at room temperature.
3. Turn the dough out onto a well-floured surface. With a rolling pin, roll and stretch the dough until it is about ¼-inch thick. Using a cooking cutter, cut into 2-inch diameter circles.
3. To assemble the sufganiyots, place a teaspoon of dulce de leche or guava paste on one of the 2-inch circles of dough. Top with another circle and seal the edges with your fingertips. Repeat until you've gone through all of the circles.
4. Beat the remaining egg and 2 tablespoons of water to create an egg wash. Brush the tops of the circles with the egg wash. Let sit for about 30 minutes to rest.
5. In a deep pot, heat the canola oil to 350 F. Fry the sufganiyot until they are golden brown. Drain on a paper towel.
6. Dust with powdered sugar and let cool. Makes about 20 donuts.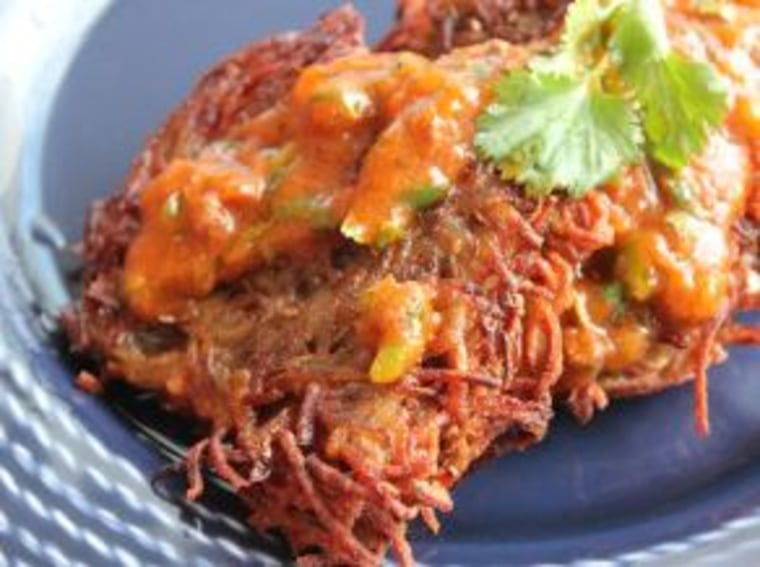 Potato Latkes with Sofrito
For the Sofrito
2 medium green bell peppers, cored and seeded
1 red sweet pepper, cored and seeded
2 large tomatoes, cored and seeded
2 medium onions, peeled and roughly chopped
6 garlic cloves, peeled
1 bunch cilantro leaves
1/2 bunch parsley leaves
½ cup olive oil
1 tsp ground cumin
1 tsp paprika
Salt and black pepper, to taste
Place all ingredients in a food processor and puree until well combined but still slightly chunky. In a medium sized sauce pot over medium high heat, cook the sofrito over for about 10 to 15 minutes or until juices are reduced. Set aside.
For the latkes
6 medium Idaho potatoes, peeled and grated
2 eggs
1 yellow onion, grated
4 oz. yucca, peeled and grated
2 T all purpose flour
½ tsp baking powder
1 tsp salt
1 pinch of cumin ground
1 pinch of cayenne pepper
2 T olive oil, plus more if needed
Combine all ingredients in a bowl. Form the latkes with your hands to desired size. In a sauté pan, over medium high-heat, add 2 tbsp. of olive oil and sear the latkes for about 4 minutes, turn them over and cook for about 3 to 4 more minutes or until golden brown. Drain on a paper towel, season with salt and pepper. To serve, top the latkes with a 2 tablespoons of sofrito. Makes about 12 latkes, depending on size.
More from NBC Latino: