Hanukkah is all about family time, dreidel games and — of course! — lots of food. If you're tired of using the same old recipes every year, check out the six quirky and delicious recipes gathered here. One of them is sure to bump your Festival of Lights from eight nights of soggy latkes to eight nights of Hanukkah delights!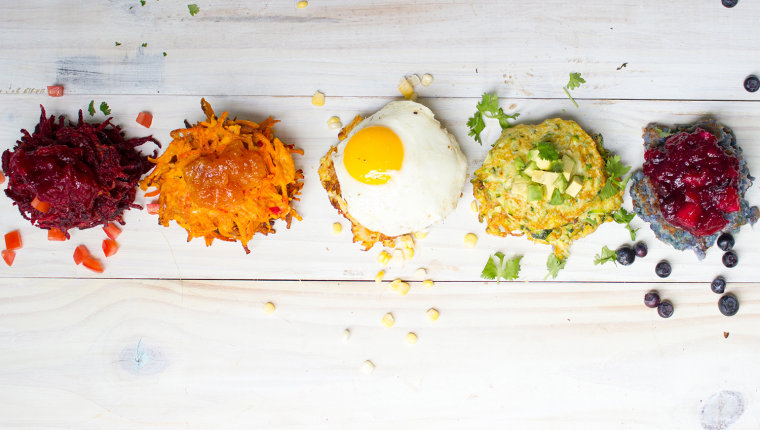 1. Rainbow latkes: "Taste the rainbow" isn't just about Skittles now! Amy of What Jew Wanna Eat decided to perk up the normal potato latke by making a medley of latkes, each featuring different vegetables — ruby hued onion and beet latkes, fluorescent orange sweet potato and carrot latkes, and verdant zucchini latkes topped with avocado and cilantro all add to the multicolored effect. As a bonus, each latke comes with its own topping — blueberry applesauce, anyone?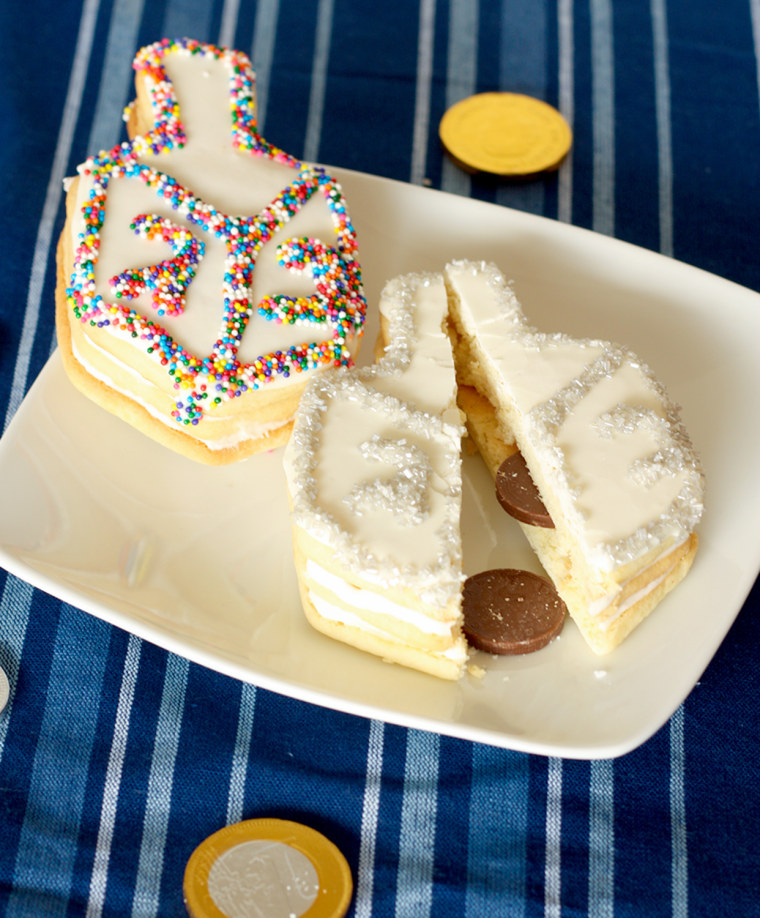 2. Dreidel cookies with a surprise: The only thing better than winning a dreidel game is getting to eat the dreidel. And even better than that is getting gelt too. Shoshana from Couldn't be Parve created dreidel cookies with a chocolaty surprise — inside each cookie is a sweet chocolate coin.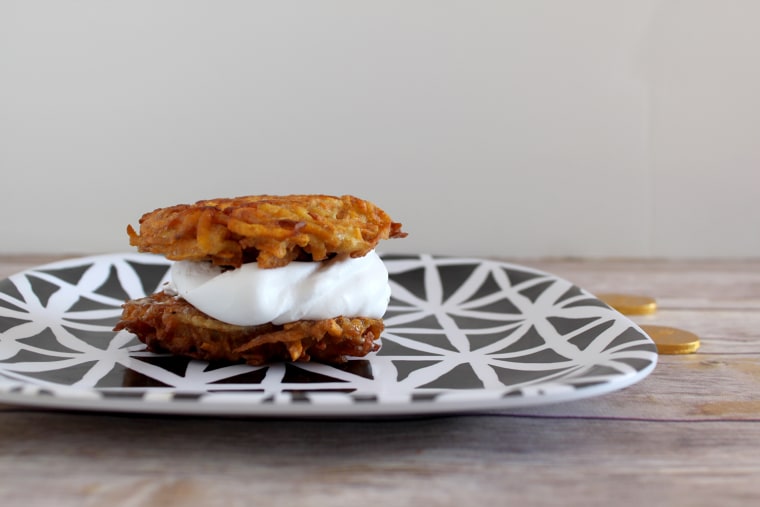 3. Cinnamon sweet potato and apple sandwich: Latkes for breakfast? Sure! Latkes for dessert… not so much. Until now, that is. Whitney from Jew Hungry layers sweet potato and apple latkes with coconut milk whipped cream and dark chocolate gelt for a warm, creamy and crunchy twist on a Hanukkah favorite.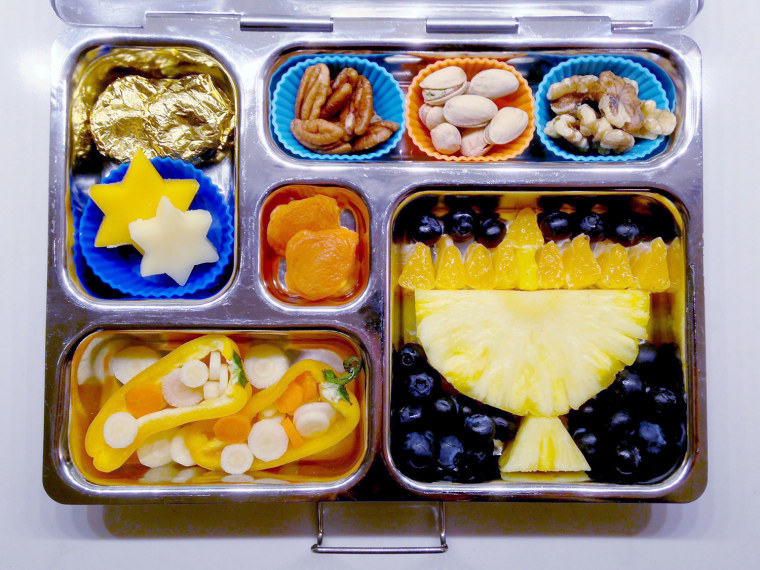 4. Hanukkah bento lunches: Hanukkah is traditionally a time for all things fried, carb-loaded,and sugary. However, if you want something a little lighter, look to Fighting Flare's grain-free, paleo-friendly bento boxes, which include items like a pineapple menorah and carrot candles.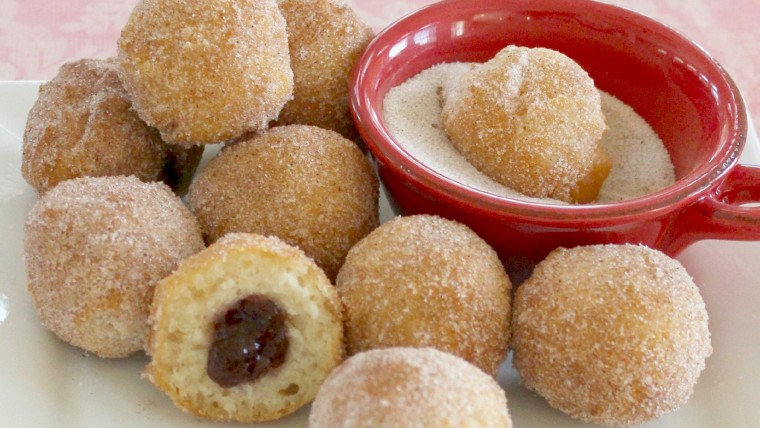 5. Easy jelly doughnut holes: If you want to go old school, treat yourself to classic Hanukkah treats — sufganiyot. Caramel Potatoes writers Kyra and Jocelyn take the hours of kneading and rising out of making jelly doughnuts by using a quick baking powder-raised dough. Stuff a little nugget of your favorite jam in the middle of the dough ball, quickly fry it in a deep skillet until golden brown, then drain it and roll it in cinnamon sugar. Eat right away and repeat…about 80 times.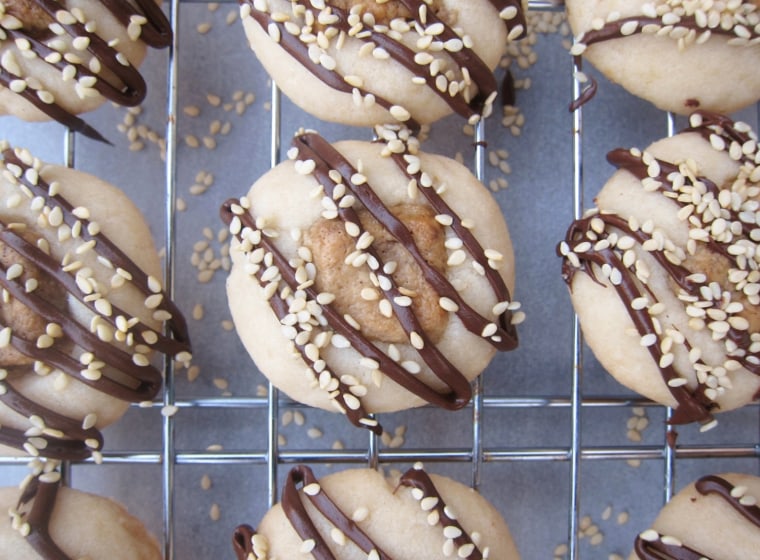 6. Sesame halvah cookies: Giving chocolate chip cookies a serious run for their money this holiday season are these halva chocolate cookies from the blog Butter, sugar, flowers. The buttery shortbread cookies have a small square of the nutty sesame candy halvah in the center and are drizzled with chocolate and sprinkled with sesame seeds for a treat that is delicious any time of year, not just at Hanukkah.