Crunchy, salty, and a little bit spicy -- a sizzling stir fry comes together just as quickly as waiting for the delivery guy to ring the doorbell, and because you made it yourself, you definitely know there's no MSG in this meal!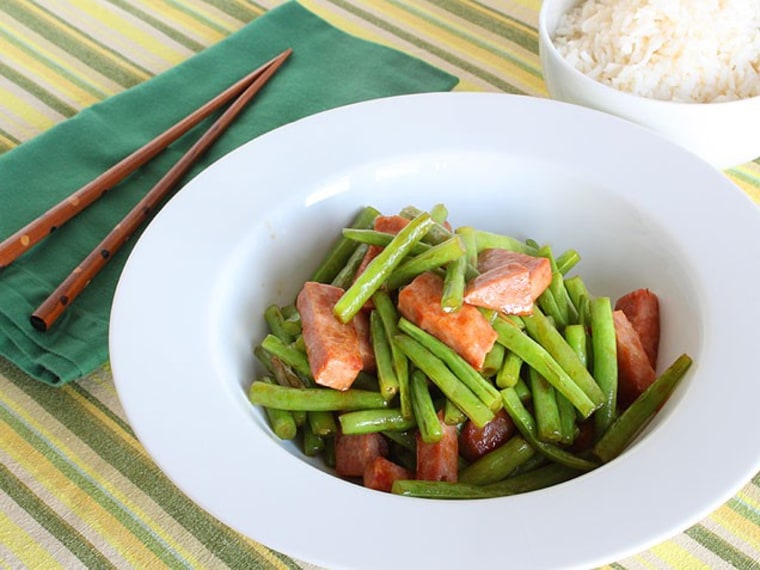 Ingredients:
1 pound green beans

1 teaspoon hot sesame oil

1 pound boneless ham steak

2 teaspoons cornstarch

3/4 cup chicken broth

3 tablespoons vegetable oil

1/4 cup soy sauce1 clove garlic, thinly sliced

1 tablespoon mirin or white balsamic vinegar

Yield: 4 Servings
Directions:
Rinse and trim the green beans into 2-inch lengths. Slice the ham steaks into ribbons approximately the same size as the green beans. Reserve.
Whisk the chicken broth, soy sauce, mirin or balsamic vinegar, and hot sesame oil together in a small bowl. Whisk in the cornstarch.
Heat the vegetable oil in a wok or large skillet over high heat. (Do not use a nonstick skillet to stir-fry; the high heat destroys the finish of the pan.) Add the ham and cook, stirring constantly, until brown.
Add the green beans and cook for 2 minutes, stirring constantly, then add the garlic and cook, still stirring, for a minute more.
Stir in the soy broth and the cornstarch slurry and cook until the sauce thickens, about 2 minutes.
Serve with rice or other grain or noodle of your choice.
This recipe originally appeared on iVillage.