Halo Top — the juggernaut that just became the top-selling ice cream in U.S. grocery stores — has some more big news: they're releasing a dairy-free/vegan version Thursday.
A dairy-free version has been customers' top request for some time now, a spokesperson told TODAY Food.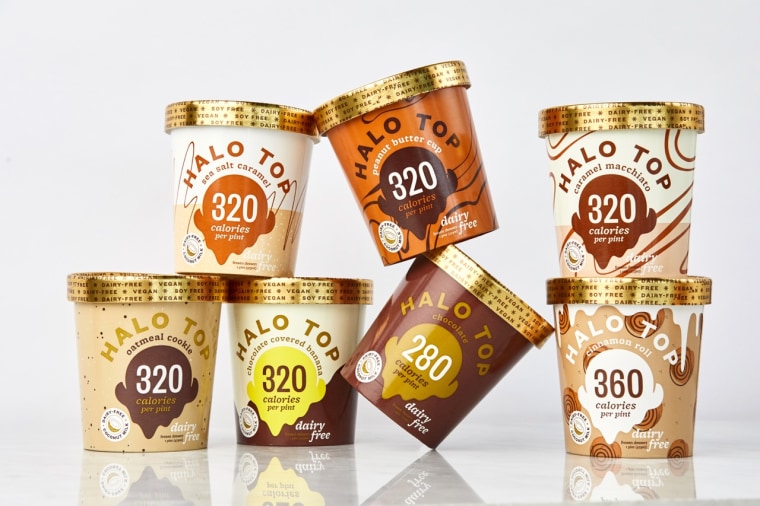 Seven flavors will be hitting stores nationwide by mid-October: Peanut Butter Cup, Chocolate, Oatmeal Cookie, Sea Salt Caramel, Caramel Macchiato, Cinnamon Roll and Chocolate Covered Banana. (Or, if you're desperate to try a pint sooner, you can buy them online).
Coconut milk is the base for the vegan/dairy-free versions, and the company promises that the pints "still deliver on the exceptional taste Halo Top is known for."
And "from all accounts, it doesn't really have that hint of coconut" that some coconut-based ice creams have, a spokesperson told TODAY Food.
Depending on the flavor, each vegan/non-dairy pint has 280 to 360 calories, with 16 to 24 grams of sugar per pint (or 4 to 6 grams of sugar per serving) which is, on average, fewer grams of sugar per serving than the flavors with dairy.
The fat content, however, is higher in the non-dairy/vegan flavors, varying by about 1 gram or so. And there's a little less protein in the new varieties because of the absence of eggs and milk — about 12 grams per pint versus 20 to 24 in the regular pints.
"It took a long time to 'get it right,' but we're absolutely thrilled with the outcome and can't wait for our fans to try these flavors," Justin Woolverton, Halo Top's CEO and founder, said in a statement.
Five years ago, Halo Top was in roughly just 30 stores — today, it's in over 19,600 shops across the country!
Somehow, we have a feeling these new versions will be a hit with consumers who are sticking to dairy-free diets, as well as Halo Top's core fanbase.