Is Halo Top misrepresenting their signature product as ice cream?
One man who was seeking a fuller-fat dessert is claiming he was tricked into buying a pint of the lower-calorie dessert — and now he's taking the Los Angeles-based creamery to court over it.
Josh Berger, a resident of Queen's County in New York, has filed a class action lawsuit in a U.S. District Court in the Eastern District of New York, claiming Halo Top is portraying itself as ice cream when it's really not.
In his complaint, Berger alleges that he — and many others — spent $6.99 buying what they thought was "ice cream" due to misleading packaging and, according to the suit, "paid more than they would have without getting all they bargained for," thereby suffering damages.
But what is "ice cream," really? According to the U.S. Food and Drug Administration (FDA), real ice cream must contain at least 10 percent milk fat, whereas Halo Top, the suit seems to indicate, does not. Halo Top also launched a dairy-free line of products last fall, so some of their products have 0 percent milk fat.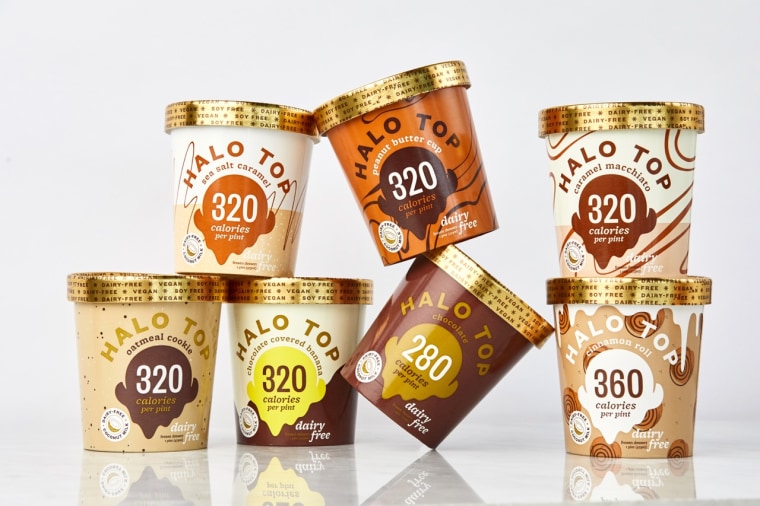 "The reasons for this distinction [are] so the customer understands the nutrient and flavor profile of the product being labeled as ice cream," Jackie Arnett Elnahar, RD, who is also an attorney, told TODAY Food. "Ice cream does indeed have more fat and calories due to its density, and it also tastes creamier. Because the requirements for ice cream are very black and white, there is a potential cause of action."
The suit also claims that, according to federal law, the term "light ice cream" should be more prominent on the label (in bold lettering) and that Halo Top's use of the terms "All Natural" and "No Artificial Sweeteners" are also false and misleading due to the presence of artificial and synthetic ingredients, such as erythritol, used in place of sugar.
When it comes to food labels, the FDA does have specific standards for how certain food packages can advertise their contents. When it comes to characterizations like "light" or "low fat," the government agency states that such disclosure language "must be in legible boldface type, in distinct contrast to other printed or graphic matter, and generally in a type size at least as large as the net quantity of contents declaration. It must also be placed immediately adjacent to the claim."
Berger's suit alleges that Halo Top's labeling of the word "light" is "minuscule" and "difficult to see..."
Taking things even further, Berger alleges that the brand name itself is misleading, because consumers may associate the word "halo" with the color yellow, which is in turn associated with butter and cream, reinforcing customer expectations that they are eating super creamy, rich "ice cream."
When reached via email, a representative for Halo Top told TODAY Food that the company does not comment on pending legislation.
So what does Berger want from all this?
More than just a refund of the $6.99 he spent on his pint. He's asking for monetary damages with interest, punitive damages, as well as legal fees and "further relief as the Court deems just and proper." If the suit reaches class action status, Berger is seeking $5 million in total damages. Then, he can really buy all the "real" ice cream he wants!
Halo Top isn't the first company to face a unique legal food feud. Dunkin' Donuts was sued for a lack of real blueberries in its blueberry doughnuts and Burger King was accused of charging too much for its 2-for-1 Croissan'wich deal.