If you've ever created a replica of the Battlestar Galactica out of chocolate cake, you're not alone. From books to TV shows, movies and comics, bakers are finding inspiration for sweet, geeky treats. Halloween is the perfect time to unleash your inner nerd, so check these out to get your own creative juices flowing.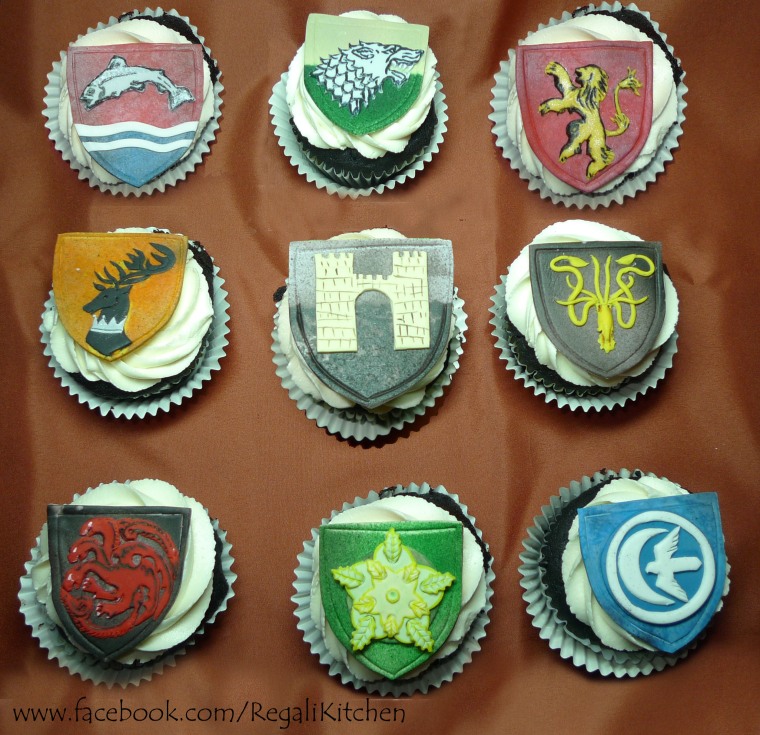 Chefs JB Cada and Stephanie Santos of The Regali Kitchen in the Philippines were thrilled to share their appreciation of the hit book and HBO series "Game of Thrones" when a customer requested these themed chocolate cupcakes. Topped with a light caramel frosting, each cupcake displays an edible emblem of one of the nine Great Houses of Westeros. Two days of hard work went into making them; each emblem is hand-cut, sculpted out of fondant, airbrushed and then hand-painted.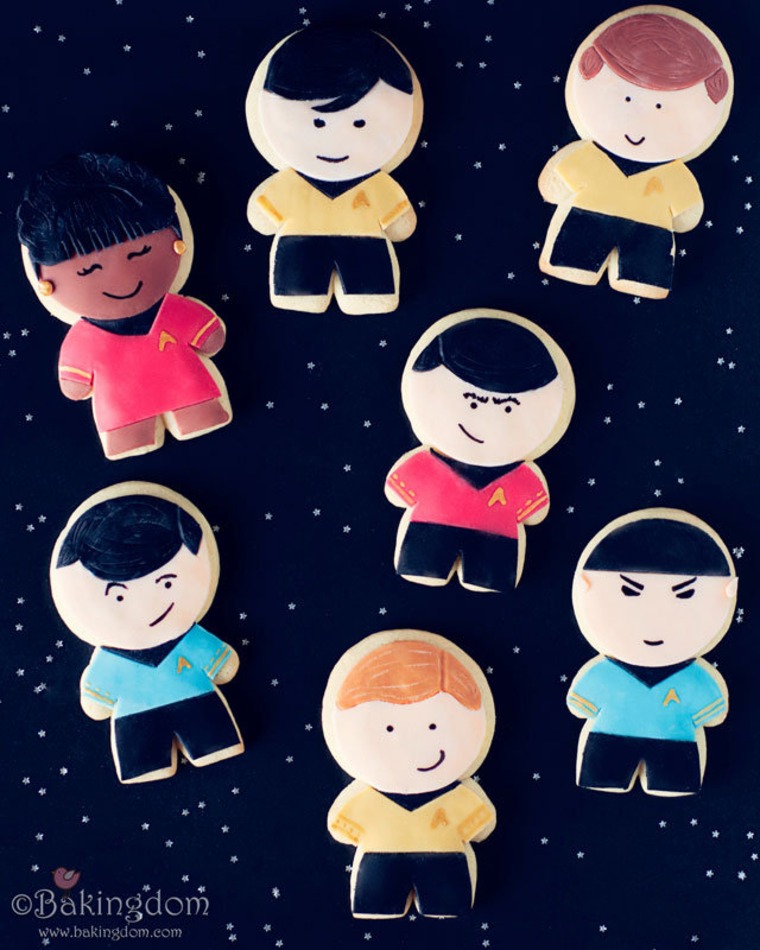 A huge fan of "Star Trek: The Original Series," Darla Wireman of Bakingdom wanted to celebrate the 45th anniversary of the first episode in the best way she knew how: by baking! The cookies took her a day to make and decorate. She's also created cookie odes to "Doctor Who" and celebrated Harry Potter with homemade Butterbeer, cauldron cakes and treacle tarts.
"Some of them are recreations of food from the books, movies and theme parks," Wireman told TODAY.com. "And some are just my own creations inspired by the stories." Next up? She's working on baking up a batch of "Firefly," "Lord of the Rings" and "The Hobbit"-inspired desserts.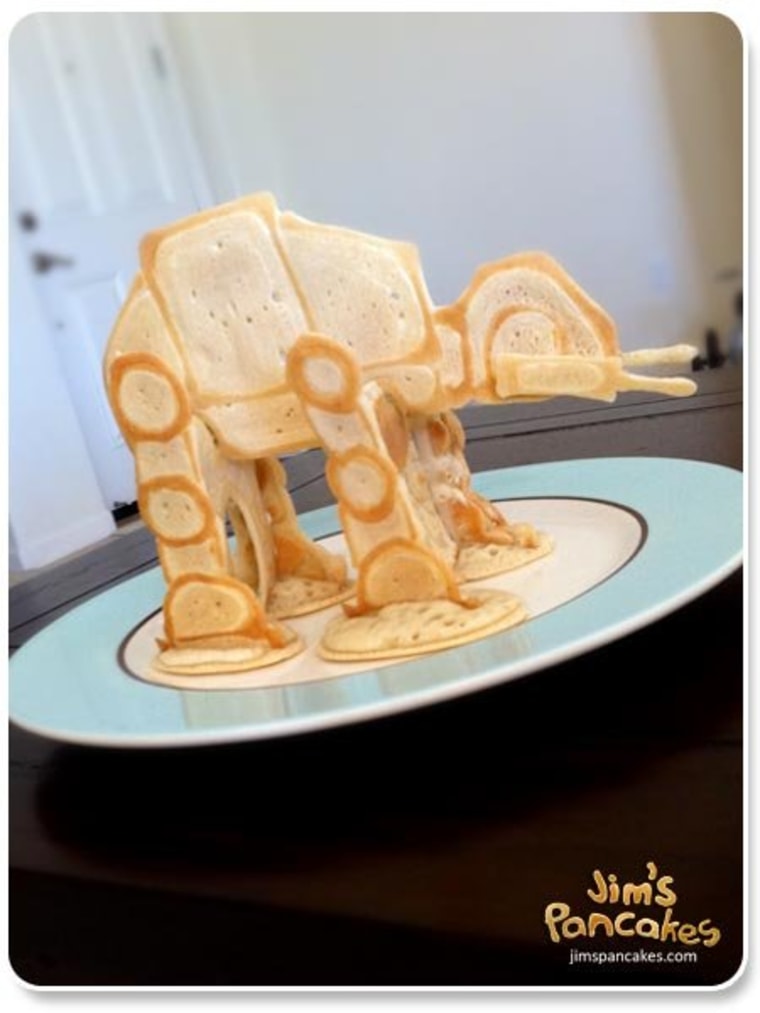 Jim Belosic of Jim's Pancakes cooked up this stellar Millennium Falcon pancake, and didn't stop there. One of his most difficult pancakes was a three dimensional Imperial Walker, an AT-AT (all-terrain armored transport), recognized most from the invasion of Hoth at the beginning of "Star Wars Episode V: The Empire Strikes Back." Its thirteen pieces are held together with batter. Belosic told TODAY.com that while he mostly makes pancakes for his 3-year-old daughter Allison, typically in the vein of  princesses and unicorns, the "Star Wars" pancakes are his own guilty pleasure. "I haven't made many pancakes based on pop culture, but it's pretty fun," he said. "I've done Tetris and Pac Man before, so it's probably time for some Super Mario Brothers!"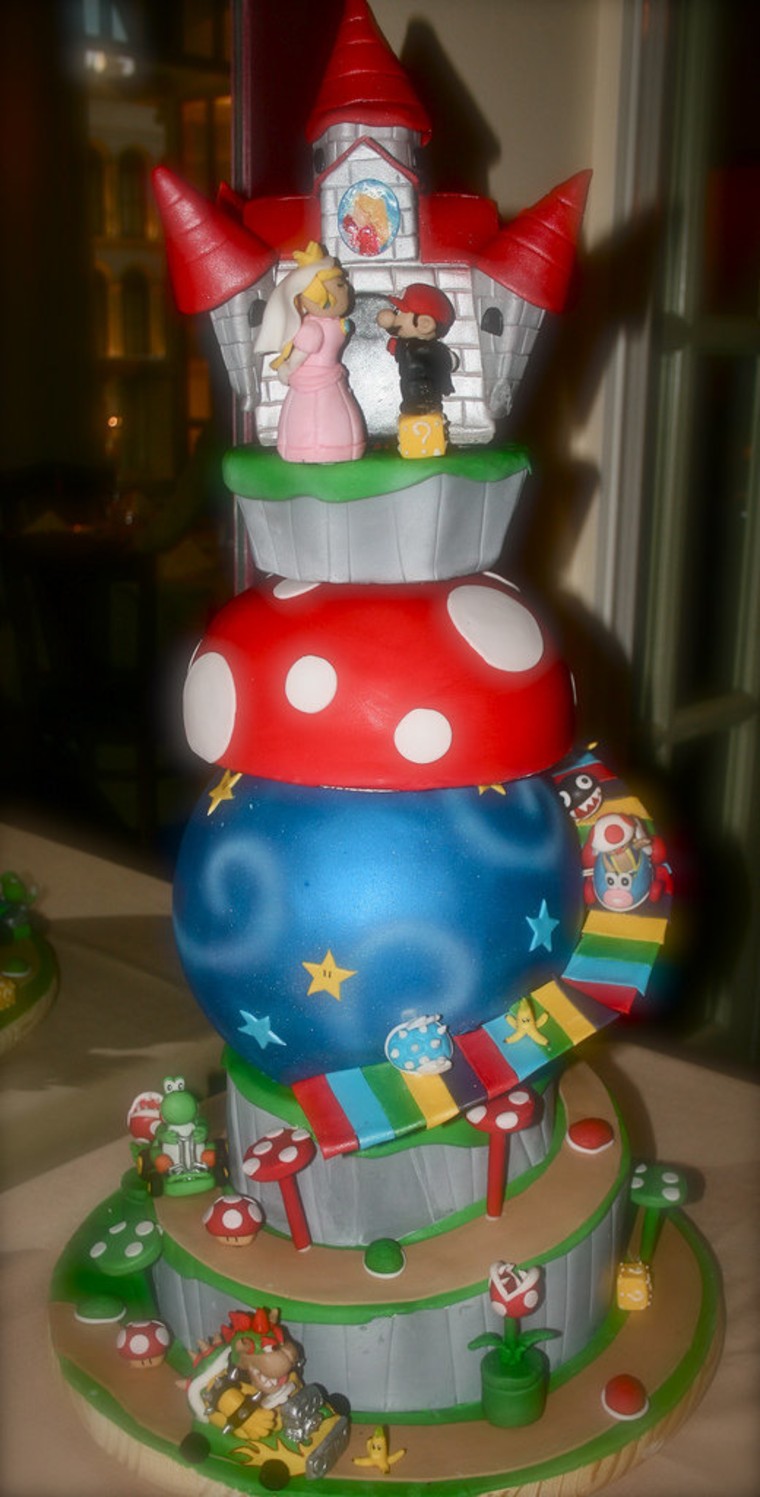 Speaking of Mario Brothers, this red velvet cake with marshmallow filling, complete with Mario and Princess Peach on top, was made for bride and groom gamers by Gimme Some Sugar Las Vegas. The layers of the cake are based off the couple's favorite levels from the video game and the individual figurines took between 20 minutes and 2 hours to make. The specialized cake shop told TODAY.com that the Mario cake is one of their most popular requests, followed by Hello Kitty and video game consoles. One of their upcoming cakes will be five-tiered, with stacked Play Station 3, XBox360 and Wii consoles. This other Super Mario cake is from About the Cake. Baker Becky Rink told us it took 10 to 15 hours worth of planning and a total of over 30 hours to complete. She said most of her cakes reference pop culture, from anime to steampunk.
Have you cooked up a nerdy pop culture reference? If you've ever made a replica of Superman out of pudding or a waffle that looks like a Teenage Mutant Ninja Turtle, we want to see it. Post it on our Facebook wall and we'll feature the best ones in Bites.