Without bees, we wouldn't have about one-third of the foods we eat — including lots of delicious ice cream flavors, Häagen-Dazs wants to remind us.
To encourage us all to step up to help the dwindling bee population, the ice cream giant is asking in the nicest way possible: By giving us all a free scoop of ice cream (or sorbet) at shops today, May 9, from 4 to 8 p.m.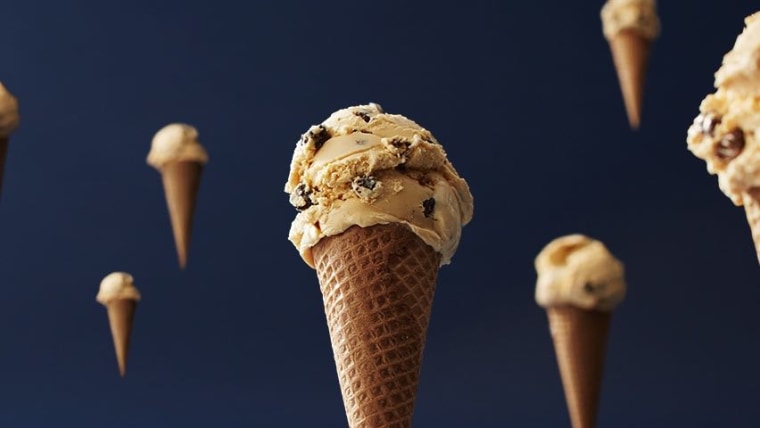 All they ask in return, the company told TODAY Food, is for customers to "pay it forward by planting wildflowers native to their region to help keep bees buzzing."
Bees pollinate the almonds in Rocky Road, the coconut in the brand's Pineapple Coconut, the raspberries in the Raspberry Sorbet, and the strawberries in the, well, the Strawberry, the company points out, adding that one-third of its flavors are dependent on bees.
So does planting native wildflowers really help the bees?
Yes — every little bit makes a difference, according to "The Bee-Friendly Garden," by Kate Frey and Gretchen LeBuhn.
Imagine your community like a patchwork quilt, they say: As each yard gets "filled in" with more pollinator-friendly plants, it allows bees to graze from property-to-property, providing a variety of nutrients for them.
It is important to try to plant varieties that are native, or original, to your area. Cheerios, which recently gave away 100 million wildflower seeds, recently came under scrutiny by critics who were concerned that some of the packets might contain invasive species, a charge the cereal maker denied on Facebook.
Find pollinator-friendly plants native to your area by punching in your ZIP code at pollinator.org.
Bees don't only love wildflowers. They love mint and lavender, plus "weeds" like clover and dandelion — so you can save yourself the effort to getting rid 'em!
Häagen-Dazs itself recently worked with a non-profit, the Xerces Society for Invertebrate Conservation, to plant a huge pollinator habitat on the farmland of the company's almond supplier in central California, with 6.5 miles of hedgerow and 11,000 native, drought-tolerant shrubs and flowering plants, to help 840 acres of farms.
The chain has also raised more than $1 million for bee research and education since getting behind the cause back in 2008.
Convinced you want to help out these hard-working little guys? Hit the garden this weekend — and find the closest Häagen-Dazs giving away ice cream today here.
RELATED
• 19 Trader Joe's foods we keep our freezer stocked with
• How to make healthy breakfast ice cream