When you're an award winning chef and restauranteur like Guy Fieri, it's nice to have someone cook for you once in awhile.
Lucky for the Food Network star, his wife of over 20 years, Lori Fieri, makes a mean pasta dish that is incredibly satisfying.
"There's an old school recipe she makes that she brought home from where she grew up in Rhode Island," Fieri told TODAY Food, at the grand opening of his newest restaurant Chicken Guy! "It's one of the first things she ever cooked for me and it's still a favorite of mine."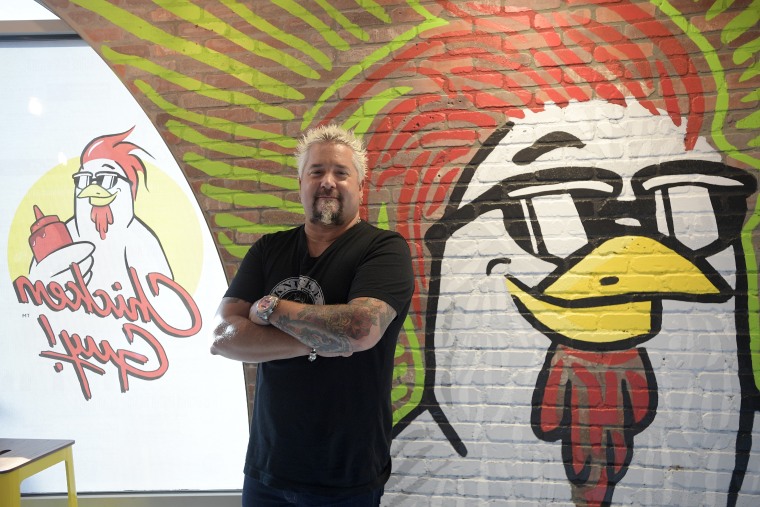 Fieri says his wife calls the dish "noodles and beef," but added that "it's far greater than that."
"She sautés top sirloin with onions, mushrooms and garlic," explained Fieri. "And she makes this fantastic gravy and serves it over egg noodles. It's a very simple dish but it's one of my favorites."
When Fieri cooks for his wife, with whom he has two sons, Hunter, 22, and Ryder, 12, she usually requests Mexican food, Chinese cuisine and another pasta dish that has become special to the couple.
"My linguini and clams is probably one of her all-time favorites," said Fieri. "Especially when the clams are really small. And when we sit down together to have a really nice dinner."
Fieri and Lori married in 1995. And, while the host of "Guy's Grocery Games" joked that he has been married for "47 thousand years," he was quick to share his secret to a long happy marriage.
"My wife and I have gone from being married at a young age to being where we are now — to get here, you have to be willing to adapt and understand," said Fieri. "It's all compromise and understanding."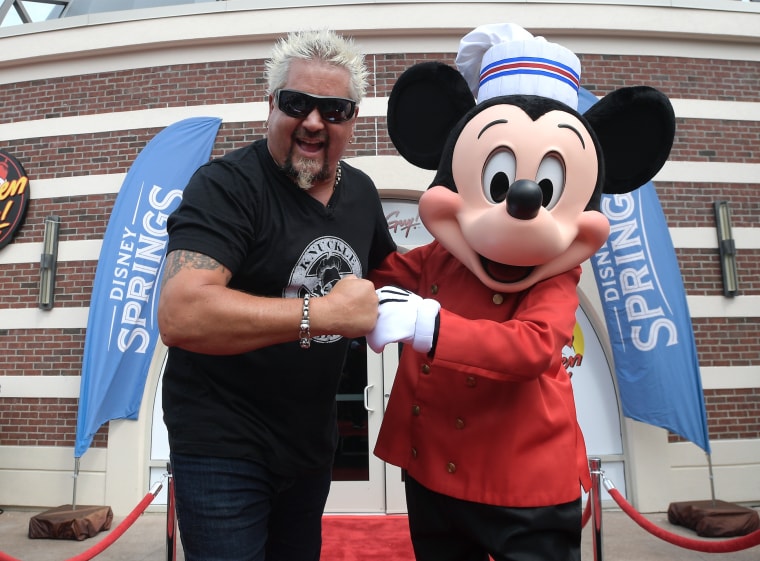 Lori's understanding and support over the years has helped the celebrity chef grow his food empire. Fieri recently celebrated the grand opening of ChickenGuy!, a new restaurant at Walt Disney World's Disney Springs, alongside restauranteur Robert Earl and a very special guest chef: Mickey Mouse. The restaurant is a fast-casual eatery that serves (mostly) chicken tenders alongside 22 different house-made sauces.
While talking marriage secrets with the celebrity chef, TODAY Food also asked about his secrets to making the perfect fried chicken at home.
"First and foremost is the foundation, and that's really good chicken," said Fieri. "Antibiotic-free, not frozen, quality chicken — that's the beginning."
"Next, you have to give the chicken some attention by seasoning it, brining it or marinating it," Fieri continued, offering that his personal preference is to brine chicken before cooking. "And then you have to give it a nice batter — not a heavy coating — a nice crunchy coating of delicious batter that's about texture. Batter should compliment the chicken, it's not supposed to replace it or be 50/50."
At ChickenGuy! Fieri says the chicken is fried in a pressure frier. At home, a pan works just fine.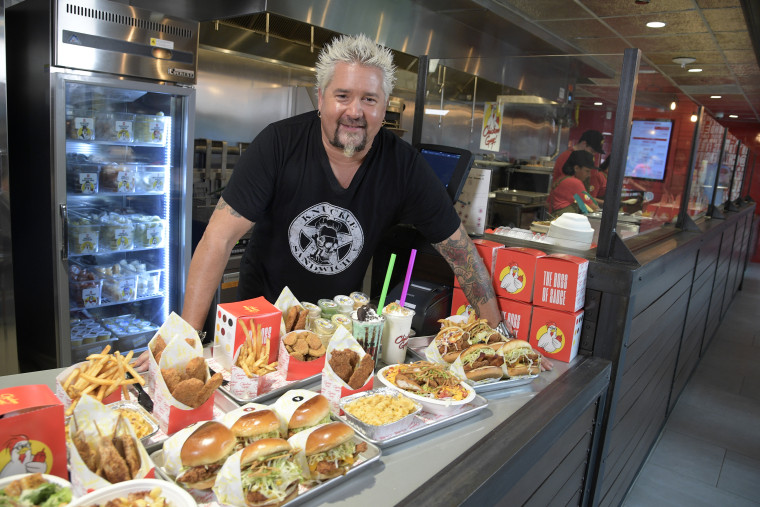 As for why he's focusing on chicken, the celebrity chef had simple answer. "Chicken is a fantastic medium," Fieri said of his latest venture. "It plays well with everybody, it works with every [ethnic cuisine] and it's just got a great platform. It's easy to work with."
So what is the chicken guy's favorite way to eat chicken?
"It's like answering the question, 'What's your favorite thing to do with your kids?' — it depends on the time and the day," said Fieri. "Today, it's chicken tenders perfectly seasoned and brined, hand-battered and pressure fried. We have an endless count of combinations on our menu at ChickenGuy! — something like 25,000. You can take our menu and mix it up and right now, that's what I like to do."