Finding a meal at Walt Disney World that's under $15 can be a big challenge, but Food Network star Guy Fieri is coming to the rescue with a new restaurant — and every item is going to be under $8.
The Mayor of Flavortown's new fast-casual restaurant has an amazing name: it's called Chicken Guy! — yes, that exclamation point is part of the name because Fieri is definitely an exclamation point kind of a guy. Though it won't exactly be inside the park, Chicken Guy! is slated to open in August at the nearby shopping and entertainment complex, Disney Springs, in Lake Buena Vista, Florida.
As the name suggests, the focus of the eatery is chicken — chicken tenders, specifically — but it wouldn't be a true Fieri restaurant if it didn't have some of his signature, over-the-top flare.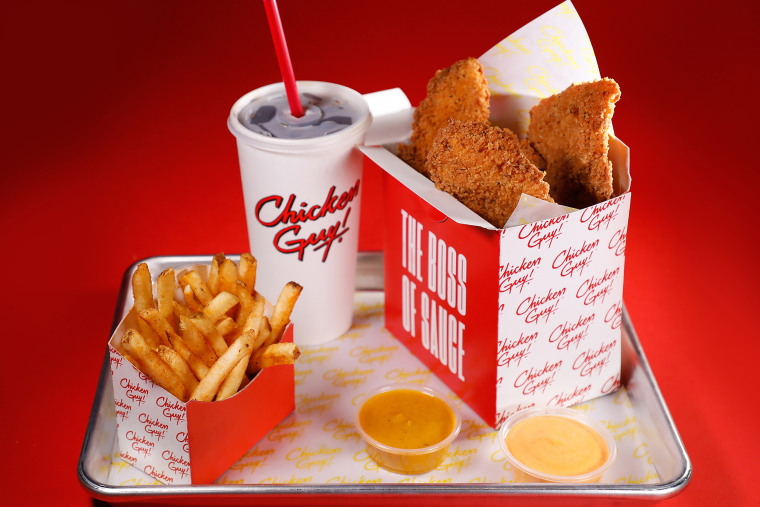 "It's all about the real deal, all-natural chicken but lemme tell you, our sauce game is on point," Fieri said in a press release.
Since Fieri is a huge fan of sauces, like his signature Donkey Sauce, there will be 22 sauces for dipping, slathering and smothering — take that, Chick-fil-A! Fieri's Donkey Sauce recipe (made with mayo, roasted garlic, mustard and lemon juice and Worcestershire sauce —or "Washashasahshashasha" as Fieri calls it) is actually really delicious, so hopefully the other sauces will be just as tasty.
Not only will the restaurant have almost two dozen sauces, but there will also be a designated "sauce slinger" who will wear a holster with the sauces and walk around the restaurant, presumably to squirt and sauce up any customers' orders.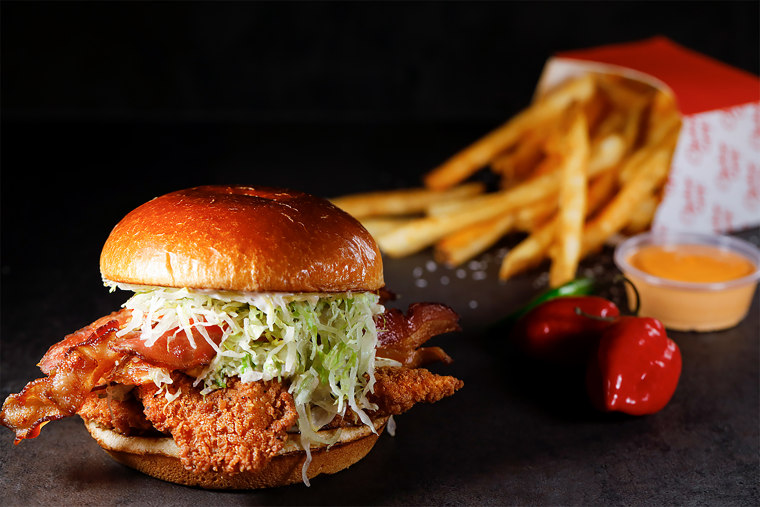 And with even more Fieri flare, cashiers will give customers fist bumps when they order and there will be a selfie wall with an image of the platinum-haired host himself.
Now onto those tenders. According to Disney, the antibiotic-free tenders will be thinly pounded by hand, then tenderized in a brine of lemon juice, pickle juice and buttermilk before they are grilled or breaded and deep fried. Customers will be able to order the tenders plain, skewered, on top of salads and in sandwiches like the Big Bite B.L.A.T., which is topped with bacon, lettuce, avocado, tomato and buttermilk-ranch sauce.
Sides include french fries topped with SMC ("Super Melty Cheese!"), Fieri's signature Mac Daddy Mac 'n' Cheese, fried pickles and coleslaw. And the mayor of Flavortown didn't forget about dessert, which will include several frozen treats like vanilla soft-serve ice cream topped with Cinnamon Toast Crunch and Apple Jacks cereals. Multi-item meals will be over $8, but when visiting a magical place like Disney World, having an under $8 ice cream for breakfast, lunch or dinner may be OK.
Fieri fans will be able to decide whether the food is truly "bomb-dot-com tasty" (or not) when the eatery opens later this summer.
This article was updated on July 27, 2018 with additional information about multi-item meals that will be over $8.