Tens of thousands have been displaced as devastating wildfires rip through homes, wineries and other businesses in Northern California.
Among those displaced last week was celebrity chef Guy Fieri, a longtime resident of Santa Rosa, California.
To aid victims, the Food Network star is partnering with The Salvation Army to continue helping evacuees and volunteers, a spokesperson for Fieri told TODAY Food.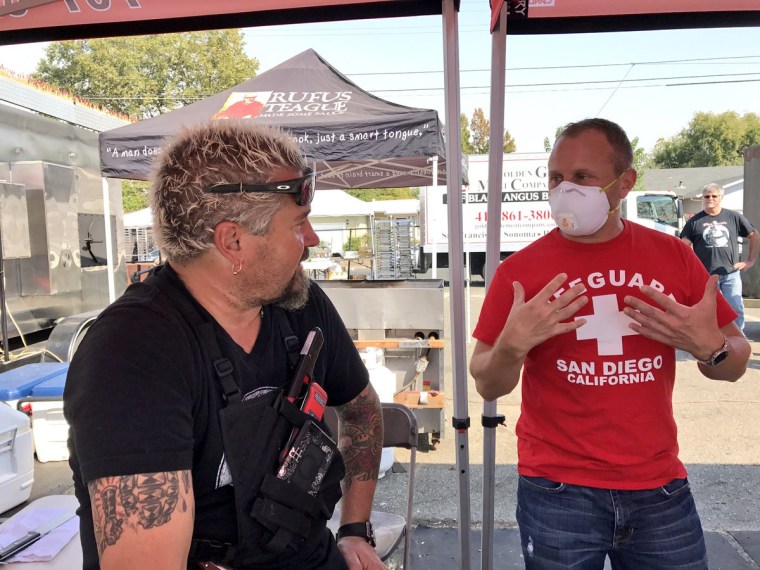 "Over the past week, I've seen a level of destruction in my hometown that I never thought imaginable. But even bigger than the fires has been the outpouring of support and compassion for our community, here in Sonoma County and beyond," Fieri posted on the donation page, thanking The Salvation Army, and "a virtual army of volunteers."
Since late last week, "Guy and his friends and family have been working around the clock to feed the firefighters and community who have been displaced by the fires," his spokesperson added.
He started cooking roughly 1,500 to 2,000 meals a day last week and was up to more than 5,000 meals per day over the weekend, totaling 23,000 meals for the week by end of day Sunday.
Chicken, pulled pork and side dishes flew out of the temporary kitchen, feeding hundreds of Californians. Other local chefs, as well as Operation BBQ Relief, a nonprofit started after the 2011 tornado in Joplin, Missouri, are also assisting with the effort.
Many spotted Fieri with his barbecue smoker outside the Santa Rosa Veterans Memorial Building and fans everywhere took to Twitter to thank the chef for his efforts.
Fieri and his family evacuated their home at 2 a.m. last Monday, Oct. 9., after his wife smelled smoke and woke up, he told KQED. They grabbed pictures off the walls and left with their children and dogs. Their home, just a block and a half from a neighborhood that was leveled, was spared.
Though Fieri may be best known as a traveling taster on "Diners, Drive-Ins and Dives," the chef grew up in rural Ferndale, California, and has lived in Santa Rosa for most of his adult life. He even started his restaurant business there in the mid-1990s. Fans of his shows — or those who know him personally — can vouch for how much the area truly means to Fieri.
"This ordeal is far from over and the need is only growing," Fieri said in his call for donations, signing his message, in true Guy-style with, "Love, Peace & Taco Grease."
You can help Fieri aid wildfire victims by donating here.