It's that time of the year again: When Trader Joe's lets everyone know which of its products are the tastiest and most popular. Popular according to who, though?
How about 18,000 Trader Joe's customers, who responded to the question, "If you were to spend the rest of your life on a deserted island, which nine Trader Joe's products would you take with you?"
Since 2009, the company has been collecting lists of favorite products, then sharing which are the top-five in several categories. But there's a bit of a twist for this, the 14th Annual Customer Choice awards, as Trader Joe's notes in its own blog post. It's retired five products that have won many times in multiple categories over the past 13 years (sorry, Mandarin Orange Chicken!), which has allowed some shakeups in formerly firm categories. (Good news: You can still check out those "retired" products in TJ's "Product Hall of Fame.")
So, let's see what products top the charts for this year in the categories of Overall Favorite, Beverage, Cheese, Entree, Home Bath and Beauty, Produce, Snack, Sweet/Dessert, and Vegan/Vegetarian. Let's get ready to ... shop!
Overall Favorite: Chili & Lime Flavored Rolled Corn Tortilla Chips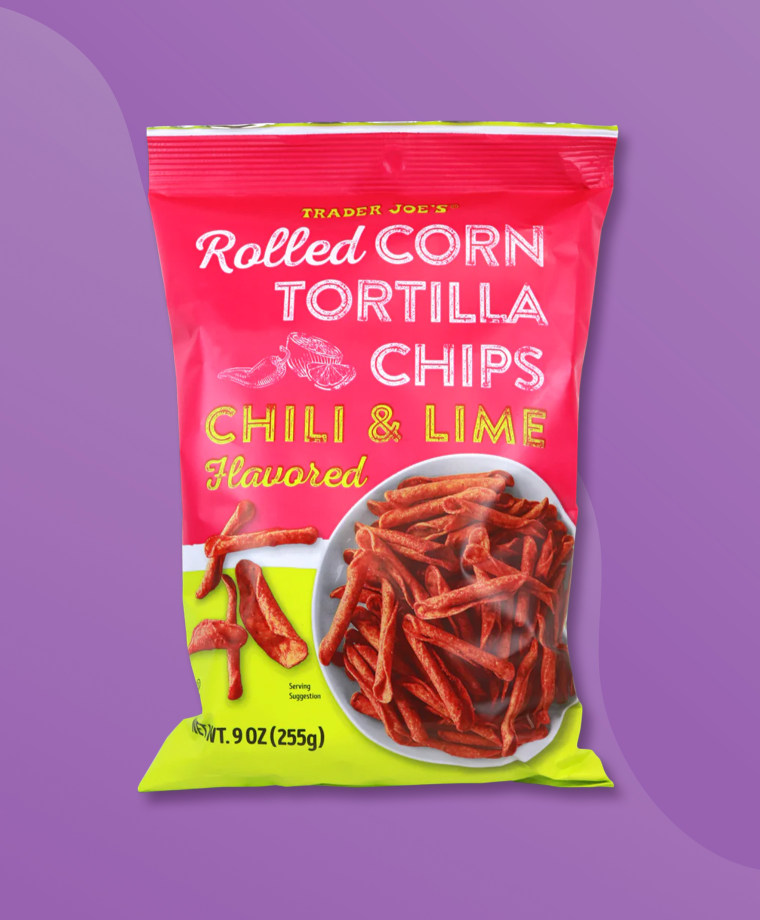 Wait! Where's Mandarin Orange Chicken? Famously, Trader Joe's chicken dish topped the charts for years, causing some to wax rhapsodic about the meal. Well, it's gone, consigned to the Product Hall of Fame.
Instead, there's another tangy taste topping the list this time, thanks to its chili and lime corn tortilla chips.  The Takis-inspired chip is made from stone-ground corn masa which is rolled and fried, then powdered with flavorings. Seriously addicting.
Runners-up
TJ's Hashbrowns
Steamed Chicken Soup Dumplings
Everything but the Bagel Sesame Seasoning Blend
4 Chocolate Croissants
Snack: Chili & Lime Flavored Rolled Corn Tortilla Chips
Nope, you're not seeing double: These kicky snacks are tops in two categories! At this rate, they'll be in the Product Hall of Fame, next to Peanut Butter Filled Pretzel Nuggets, in no time ...
Runners-up
Organic Elote Corn Chip Dippers
Organic Corn Chip Dippers
World's Puffiest White Cheddar Corn Puffs
Crunchy Curls
Beverage: Sparkling Honeycrisp Apple Juice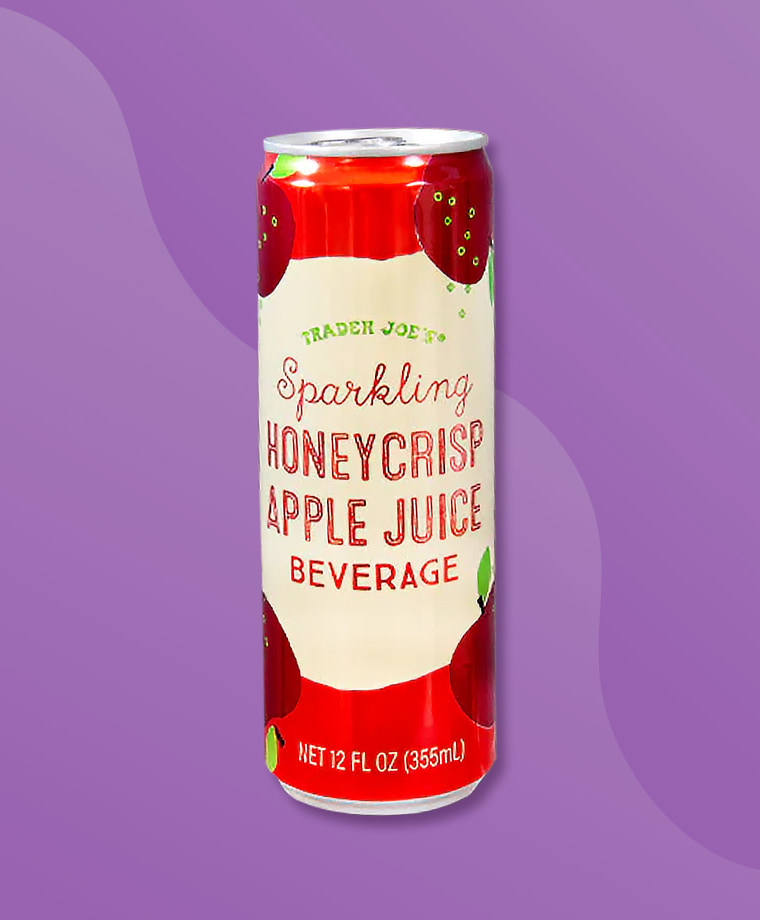 The Sparkling Honeycrisp Apple Juice has only three ingredients: apple juice, water and bubbles, and has a taste like crunching into an actual Honeycrisp apple.
Runners-up
Triple Ginger Brew (seasonal)
Sparkling Peach Black Tea with Peach Juice
Sparkling Cranberry & Ginger Beverage (seasonal)
Non-Dairy Brown Sugar Oat Creamer
Cheese: Cheddar with Caramelized Onions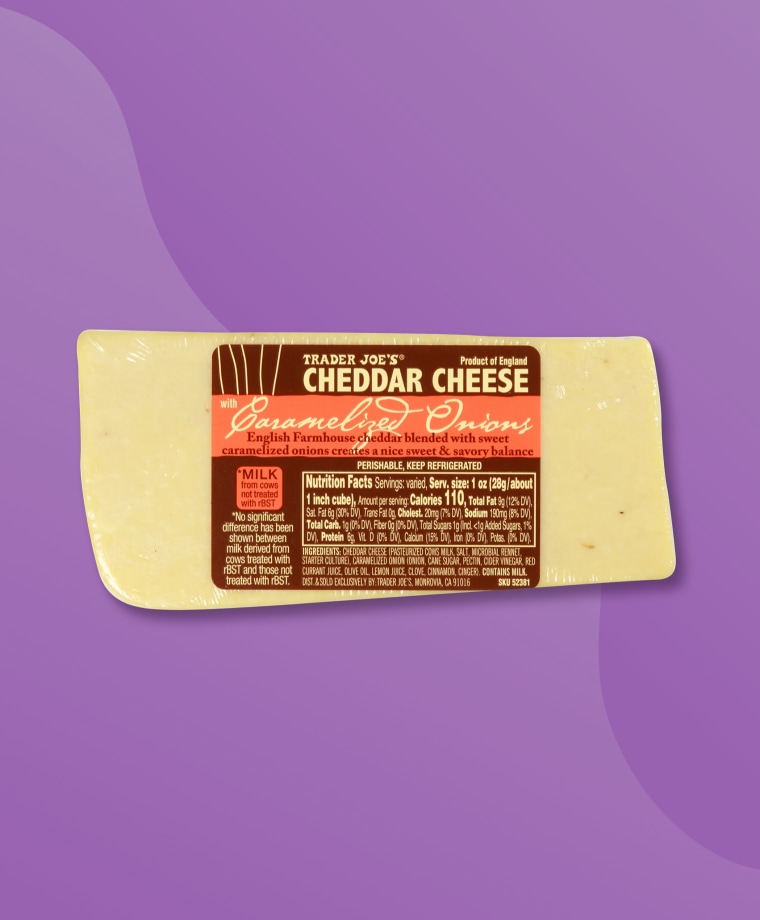 Trader Joe's goes to the source for delightful cheddar: an "established English countryside estate," as the post says. The hearty farmhouse cheddar is then mixed with an onion marmalade that makes it delicious solo, but heavenly as part of your grilled cheese sandwich.
This wildly popular wedge finally got its chance to shine after TJ's Unexpected Cheddar, a longtime winner, got bumped to the Hall of Fame.
Runners-up
Syrah Soaked Toscano
Baked Lemon Ricotta (seasonal)
Blueberry & Vanilla Chèvre
Brie (various)
Entree: Butter Chicken with Basmati Rice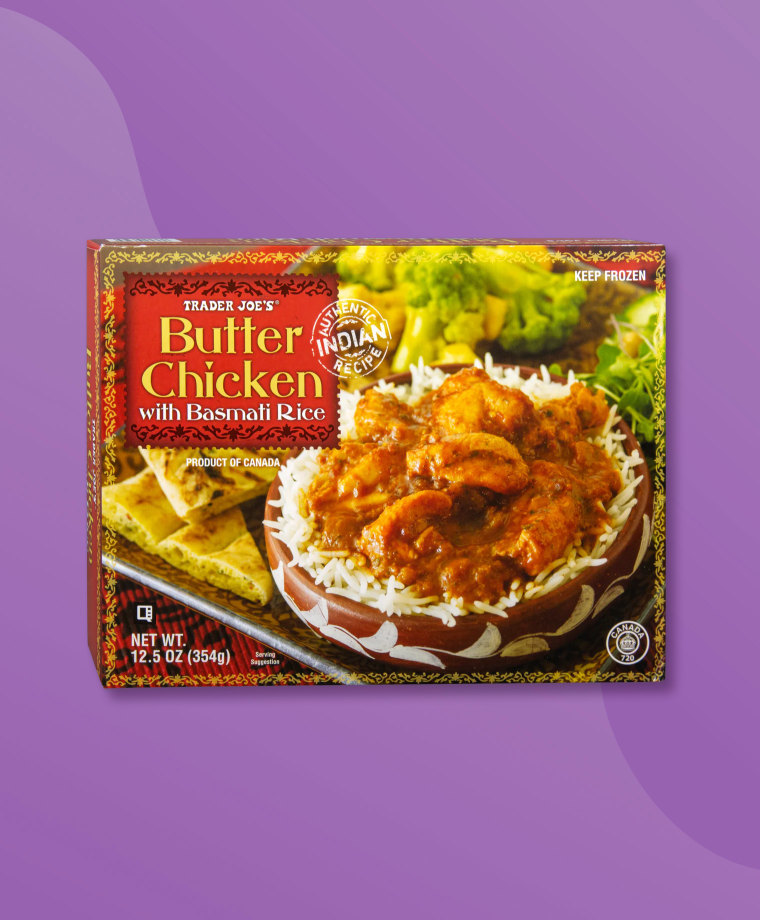 Bring a little classic Indian fare to your dinner table. This popular meal — which includes basmati rice — features chicken, a smooth curry that features tomatoes, cream, onions, garlic, ginger and, no surprise, butter. It's mild in spice but super flavorful.
Runners-up
Chicken Tikka Masala
Kung Pao Chicken
Butternut Squash Mac & Cheese (seasonal)
BBQ Teriyaki Chicken
Produce: Bananas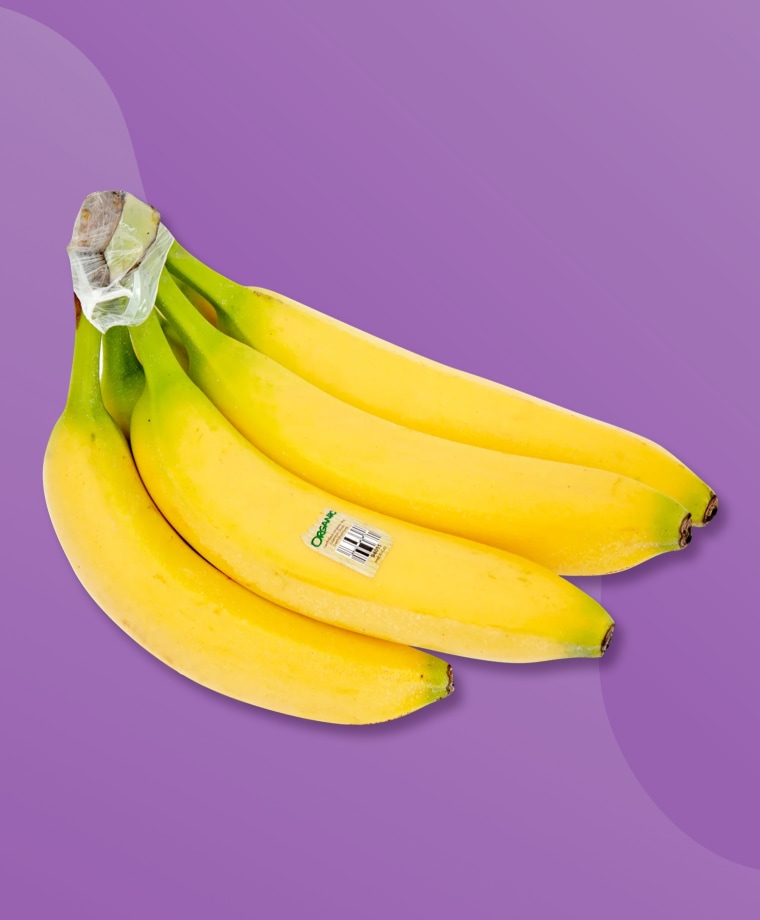 Fruit is fruit is fruit, right? Not in this case. Bananas are sweet and versatile, plus come in their own packaging and are easy to access (sorry, oranges). TJ's says its organic bananas are just 25 cents every day; nonorganics are 19 cents each. Yes, TJ's does have bananas!
Runners-up
Teeny Tiny Avocados
Honeycrisp Apples
Brussels Sprouts
Organic Carrots of Many Colors
Sweet/Dessert: Hold the Cone! Mini Ice Cream Cones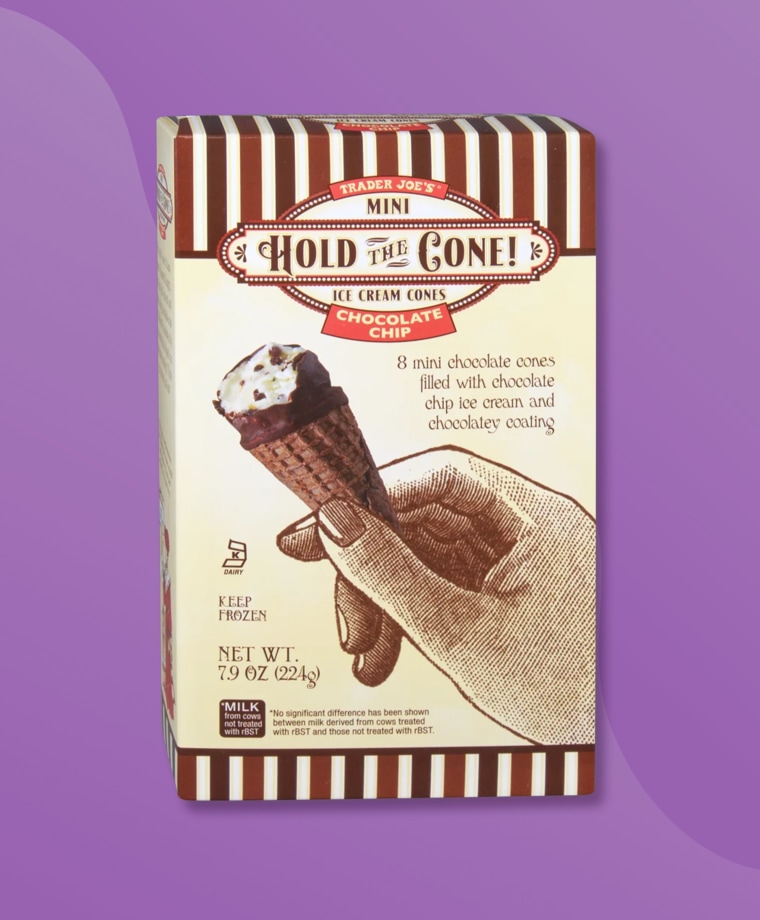 Sometimes, you just don't have time (or room in your stomach) for a whole big ice cream cone. Enter the mini-ice cream cones that have captured everyone's heart. Each cone is lined in chocolate and filled with ice cream, then dipped in a coating. A perfect, miniature delight even for the biggest of appetites.
This sweet little treat finally got its day in the sun after Dark Chocolate Peanut Butter Cups were retired to the Hall of Fame.
Runners-up
Danish Kringle (various)
Sublime Ice Cream Sandwiches
Chocolate Lava Cakes
Brookie
Vegan/Vegetarian: Kale & Cashew Pesto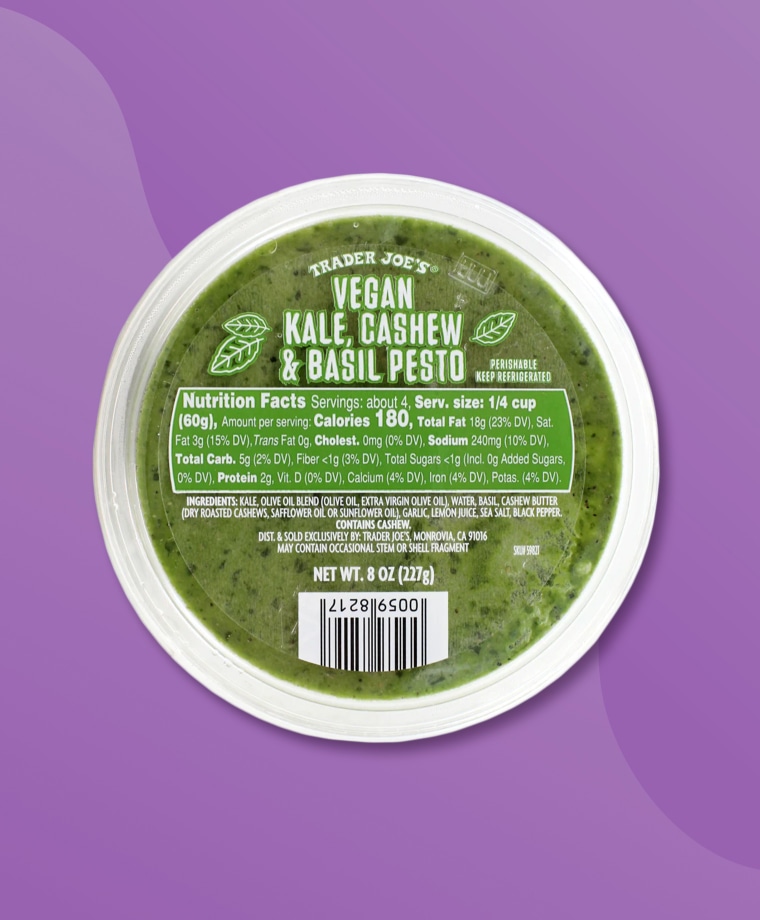 This creamy green condiment is made with kale, cashew, basil and garlic — but no cheese — which makes it universally beloved by all types of eaters. You can use it to dip, spread, as a sauce or marinade — smother it on pretty much anything (probably not the aforementioned mini-ice cream cones, though)!
Runners-up
Vegetable Fried Rice
Beefless Bulgogi
Palak Paneer
Cauliflower Gnocchi