The world's biggest coffee chain is thinking pink in a big way.
On April 3, Starbucks announced a variety of new ready-to-drink bottled and canned beverages that will include fan-favorite items Starbucks Pink Drink and Starbucks Paradise Drink. Already starting to ship this week, the suite of beverages are rolling out wherever groceries are sold nationwide, according to the company.
For those who haven't yet been tinkled pink, the famous Pink Drink combines strawberry and açaí flavors blended with both coconut milk and fruit juices to create a distinctly pastel-colored and Instagrammable beverage. The Paradise Drink combines pineapple and passionfruit flavors blended with coconut milk and fruit juices to create a tropical yellow drink.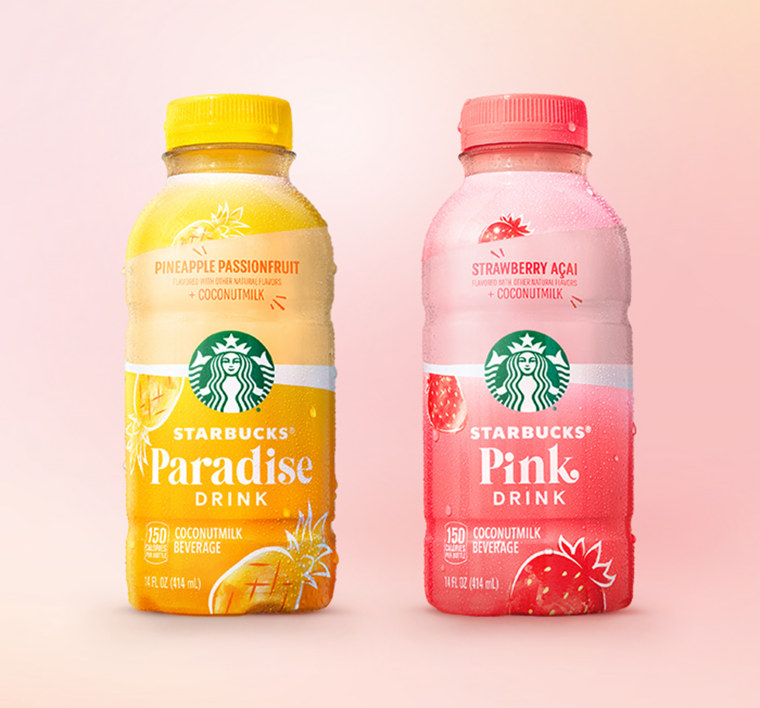 Both colorful, nondairy, ready-to-drink beverages are set to hit grocery stores, national retailers, convenience stores, gas stations as well as online grocery retailers. The pair of color-forward beverages will cost $3.67 per 14-ounce bottle, according to Starbucks, though prices may vary by retailer.
The company also said that a fashion collaboration will be announced later this spring combining the colors, flavors and textures of Starbucks Pink Drink and Paradise Drink with ready-to-wear fashion.
Inspired by the beverages now served at Starbucks around the globe, the new bottled drinks are the latest evolution of beverages which initially started as secret menu items invented by fans of the chain's ability to customize drinks for patrons. The Pink Drink joined the menu in 2017 after gaining buzz on social media, and the Paradise Drink was added to menus in June 2022. 
"Starbucks Pink Drink began as a customer-created beverage in our Starbucks stores and quickly became a fan favorite and permanent beverage on the menu. Offering the popular, plant-based, cold Starbucks Refreshers beverages in grocery channels further extends the Starbucks RTD portfolio," Chanda Beppu, senior vice president and president, global channel development at Starbucks, said in a press release.
The Barbiecore beverage isn't the only drink taking the leap from cafe to store shelves. In addition to the Pink Drink and Paradise Drink, Starbucks is introducing a Starbucks Frappuccino Mini chilled coffee drink, an 8-pack of 6.5-ounce coffee drinks in Caramel and White Chocolate Mocha flavors, as well as new flavors of Starbucks Doubleshot Energy, a Starbucks Frappuccino chilled coffee drink and Starbucks Espresso Americano in both Black Unsweet and Milk & Sugar.
The new Starbucks drinks will all begin to hit store shelves in the coming week, according to the company.