A fan-favorite Oreo flavor is making a major comeback, just in time for summer.
Almost 10 years after their initial debut, Cotton Candy Oreos are returning for a limited time. The sweet sandwich cookies hit store shelves on June 5 and will be available wherever Oreos are sold, while supplies last.
The flavor was first released in April 2015 for a limited time as a customer exclusive. This time around, they'll be available nationwide.
When it comes to warm-weather treats, few flavors scream "summer" quite like cotton candy. To replicate the sugary sweet taste of the carnival and theme-park mainstay, Oreo stuck a double layer of side-by-side pink and blue cotton candy flavored creme in between two golden Oreo cookies.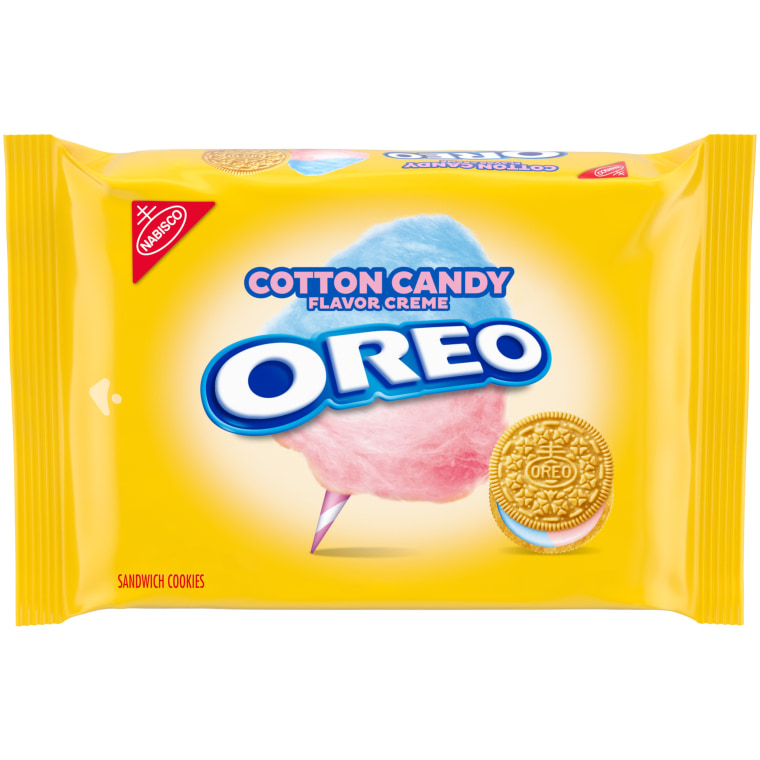 The brand first teased the cookie comeback on Instagram on Tuesday and posted a video that featured social media posts from customers asking them to bring back one fan-favorite flavor.
"You asked…again, and again, and again. We listened. Come back tomorrow for a surprise 👀☁️," the post read.
While the brand blocked out the flavor in question, it was somewhat obvious since the video was set to the song "Cotton Candy Kisses" and had a blue-and-pink cotton candy background.
Some Oreo fans guessed correctly, and one commented, "the song says cotton candy… so i'm guessing cotton candy lol." Another wrote, "Cotton candy?? Oh @oreo Please let it be cotton candy!! I'm planning a vacation soon but I will budget for several packages of those....!!"
Still, others were hopeful that the brand was trying to distract them with the more obvious clues.
"Better be Reese's Oreo!" one wrote. Another commented, "Strawberry shortcake plz."
The brand has been known to revive limited-edition flavors on occasion and brought back Pumpkin Spice Oreos for the first time since 2017 in 2022.
So when they heard that Cotton Candy Oreos were on their way back, many fans were empowered by the news and used the opportunity to suggest other flavors that they'd like to see once again.
"Now we need to campaign for Blueberry Pie," one wrote.
On Wednesday, Oreo made it official and shared the following message on Instagram:
"No longer day dreaming of cotton candy skies & Limited Edition Cotton Candy OREO Cookies ☁️🎠," reads the post. "Back on shelves June 5th 😋."
Just in case cotton candy isn't your thing, Oreo is also reviving another summer-themed flavor. In April, the brand announced that limited-edition S'moreo Sandwich Cookies would hit shelves on May 8. The graham-flavored sandwich cookie features layers of chocolate and marshmallow-flavored creme and was first released in 2021.