McCormick, the world's largest spice company, is redesigning its red-cap bottles for the first time in nearly 40 years.
On March 14, McCormick announced a brand-new design for its spice bottles, stressing that the redesign is more than just a fresh coat of paint on its branding. The news was first reported by CNN.
The Maryland-based company said that its new bottles were both "tested and preferred by consumers" and aim to address the desire to buy and cook with the freshest herbs and spices by making its products the freshest they can be.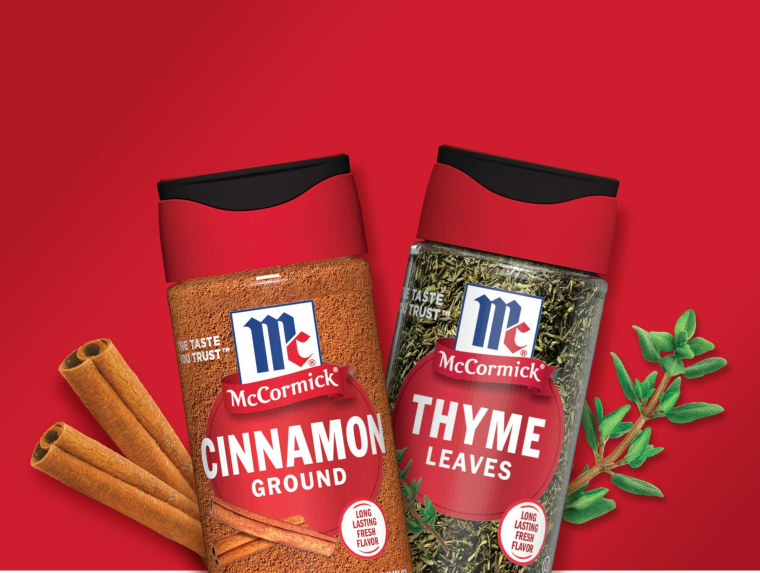 "The brand's new signature SnapTight™ lids will assure home cooks that their bottles are closed tight, locking in flavor and freshness between use," reads the release. McCormick said that the new bottles feature clear label designs, which showcase the quality of its herbs and spices. 
McCormick also said that its new bottles are made from a 50% post-consumer recycled plastic and also implemented an additional manufacturing change that pushes out air during the bottle-filling process. The 134-year-old company said that the new SnapTight lids "audibly seal in flavor" so herbs and spices remain fresher, longer.
"Our new bottle redesign is not only a milestone celebration for the brand, but for our home cooks as well," said Nikki French, vice president of marketing for McCormick, in a press release. "These changes deliver a new standard when it comes to our passion and continued pursuit of flavor."
While spices don't expire in the same way that dairy does nor do they become moldy in the same way fresh produce does, over time, spices do lose their, well, spice. This is because of the spice's exposure to oxygen: The more air circulating through and around the spices, the quicker your cumin goes stale.
Finally, the company has implemented another change that is sure to excite people who store their spices in a drawer: The new design now prominently prints product names and best-by dates right on the lid, helping us all reach for the right flavors.
McCormick's new bottles have already begun to roll out on retail shelves nationwide, so you may have already noticed the change on your regular supermarket trips.
The company says the transition will continue over the year for all its products with red caps, including the "most essential herbs and spices" like Cinnamon, Garlic Powder, Paprika, Parsley and Crushed Red Pepper. Sounds like the base for a really cozy stew.