Summer is steadily approaching, and thanks to one confectionary company, we all can all look forward to adding a bit of sugary chemistry to the campfire.
On April 25, Jet-Puffed, the brand responsible for such spongy confections as red-and-green Holiday Mallows and Candy Corn Marshmallows (hey, don't knock it till you try it) have launched a new type of marshmallow that changes color when heated. The new, first-of-its-kind, squishy, chameleonic treat is called Jet-Puffed Color Changing Marshmallows.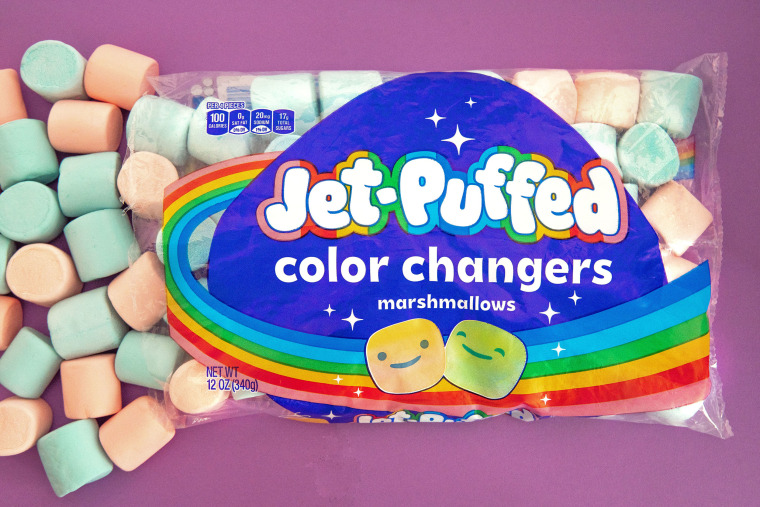 "This is the first time the brand has used the secret color changing ingredient in combination with their jet-puffing technology designed to make the fluffiest and puffiest treats to step up your roasting game," a Jet-Puffed representative told TODAY.com over email. "The never-before-seen color changing marshmallows are igniting families' campfire fun by bringing pops of color to delicious, ooey gooey s'mores."
Jet-Puffed says these new confections will transform right before our eyes as the treats change color. While all marshmallows achieve that deliciously delectable caramelized crunch thanks to the Maillard reaction, these color-changing treats have an additional reaction that starts approximately 10 seconds after heating them up.
Once fire — or the microwave, or a blowdryer, any heat source really — hits the marshmallow, the blue marshmallow will turn green and the pink marshmallow will turn orange.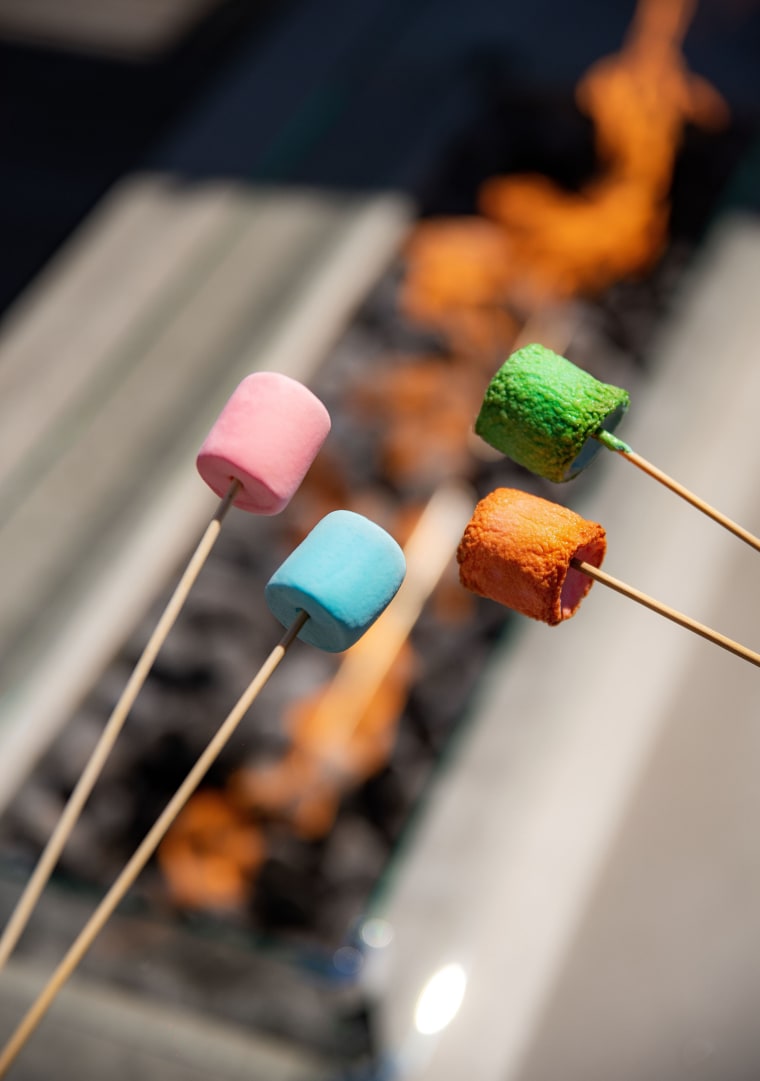 While these marshmallows are Jet-Puffed's first foray into the land of color-changing food, the candy does join a select few foods that utilize this neat little trick. Anyone who has been on beverage TikTok has seen butterfly pea flower tea change as if by magic from a deep blue color to a bright violet hue when an acidic liquid like lemon juice is added to it. 
In addition, sunbutter cookies, made with sunflower seed butter, are known to change color from brown to a deep, grassy green, though this change happens as the cookies cool.
Jet-Puffed says its mesmerizing new marshmallows are set to come in two color-changing varieties per pack: pink to orange and blue to green. The unique treat is available to purchase for $2.99 in grocery stores nationwide until the end of September.