I have a confession to make.
I'm a nutrition professional and I spend a lot of time helping people learn to cook fresh vegetables and whole grains. Most things I eat are homemade, and I pride myself on being open to all kinds of complex textures and flavors. Despite that, while I do love pizza, fries and ice cream, what's my favorite guilty pleasure in the childhood nostalgia category?
SpaghettiOs.
That's why I am absolutely thrilled to see Campbell's new SpaghettiOs variety spiked with the undisputed Buffalo champion of the world, Frank's RedHot. Frank's has already had successful pairing efforts with Goldfish crackers, David Sunflower Seeds and Dunkin' doughnuts, and it makes a mean pizza topping or bloody mary mix, so they aren't just winging it. If you don't see these cans stocked in a store nearby, you will soon; Campbell's says it's gradually proffering this pepped-up product nationwide, retailing for about $1.59.
I know, I know. Isn't this kid stuff? SpaghettiOs don't challenge the palate. No aspect of their flavor is too assertive. They're soft, uniform. But, that's exactly why they're comfort in a can! They instantly transport me back to the latchkey summertime haze of Disney Channel marathons, garden sprinkler shenanigans and comic book binges, punctuated only by things I could microwave. I'm partial to the original flavor with some shredded mozzarella thrown in.
If 1960s convenience food isn't your particular thing, you might be wondering why Campbell's would bother hyping such a corny old product, but it has some surprisingly fashionable stats to share. Of adults 18 to 35 who at least occasionally buy this ringed pediatric delight, about half eat them every week.
Suddenly, they need to appeal to a more grown-up sensibility. Since over a third of respondents also said they add something spicy to perk up their bowl, partnering with Frank's RedHot is a smart move.
A Campbell's spokesperson says last year's label redesign, with a throwback to the original can's smiley noodle face, was the first since 2004. The new colorblock stripes indicate the different flavors like Original, Meatball and Franks.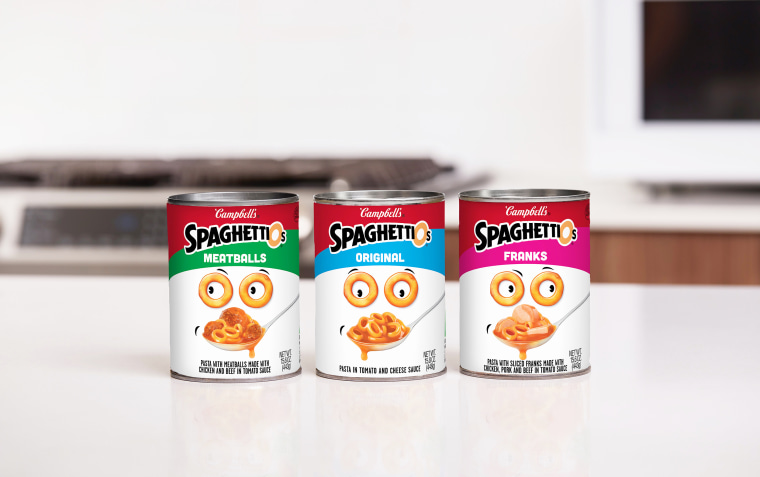 If you're looking for the new one, make sure you get the can that says Frank's as in RedHot, and not Franks as in frankfurter!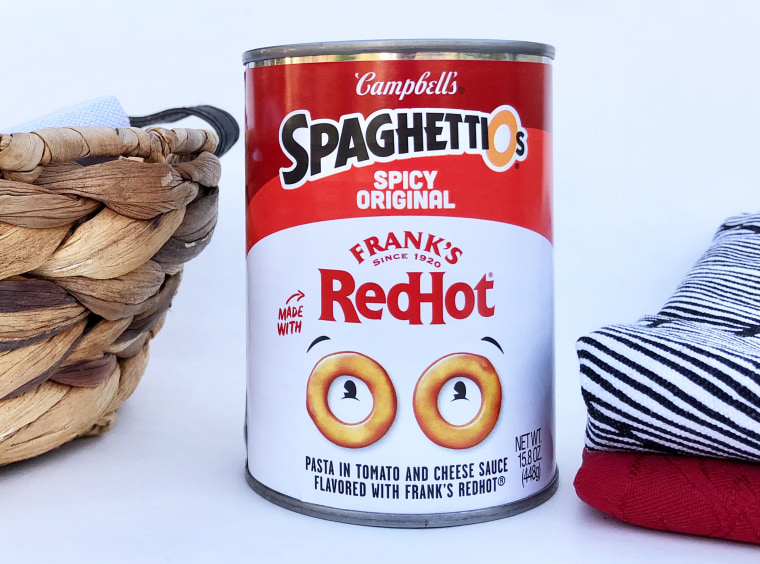 I swear these are more violently red than the original variety. This fills me with a sense of optimism that good things are coming, a better world is possible, and everything is going to be OK.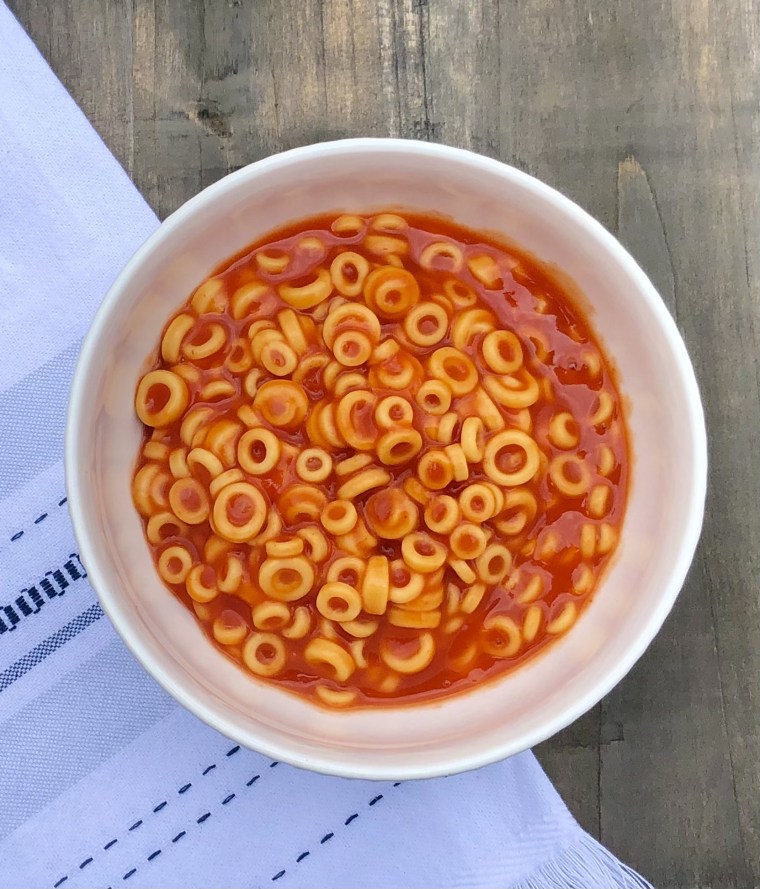 How spicy are they? If you rarely eat spicy food, you might call it moderate, and it's probably too spicy for a lot of smaller children. If you feel cheated when your lips don't burn for half an hour after dinner, though, you'll call them mild. Although I often eat three-alarm chili, I think just the one alarm is appropriate for something so grounded in cozy nostalgia. Since Frank's first two ingredients are vinegar and cayenne, there's a lilting acidity right up front, but not overdone. It's a lovely, sparkly brightness layered over the familiar flavor, like fireflies reflected in the river on a summer night.
I suggest sharp cheddar stirred in for some extra gooey protein, but Gouda or Monterey Jack wouldn't be amiss. Of course, the cheese is entirely optional. Good vibes, however, are guaranteed.